THOUSANDS RAISED FOR DOG'S TRUST AT INAUGURAL GOODWOOF EVENT
A bespoke kennel created by renowned architects Linley was the 'top dog', selling for £6,000, in Sunday's Bonhams Barkitecture Sale at Goodwood's inaugural Goodwoof event, a two-day celebration of canines.
The auction raised more than £30,000 for Dog's Trust, the event's charity partner.
The Doge's House, a Gothic-style plywood Palazzo ode to Doge's Palace in Venice, was the subject of a bidding frenzy in the packed Bonhams saleroom, which saw the hammer fall at twice its pre-sale estimate.

The Doge's House by Linley, sold for £6,000
The ornate kennel was one of sixteen bespoke doghouses offered in the sale, all designed by leading architects and designers including Jony Ive and Marc Newson, Foster & Partners and Haysom Ward Miller Architects. Every kennel was successfully sold, with several exceeding their top estimates, receiving enthusiastic applause (and barks) from the audience and their canines.
The creations were displayed throughout the Goodwoof weekend event as part of its Barkitecture presented by Mastercard architectural exhibition and competition, judged by a panel led by Grand Design's Kevin McCloud and including Stephen Bayley, Design Museum CEO, comedian Bill Bailey and Keith Weed, President of the Royal Horticultural Society.
After much deliberation, the panel announced 'Bonehenge a little Palace for Illy by Bird Portchmouth Russum', the winner. The elliptical kennel, fashioned from fortified dog bones forged from timber, also performed well in the saleroom, selling for £2,500.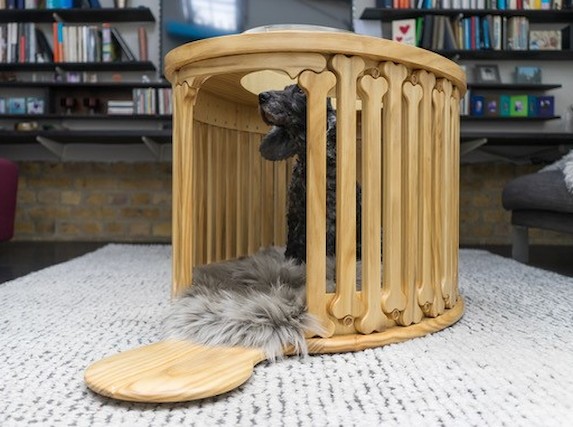 'Bonehenge' a little Palace for Illy by Bird Portchmouth Russum, sold for £2,500'
Maarten Ten Holder, Managing Director, Bonhams Collectors Cars and auctioneer for the sale, said: "We really enjoyed hosting the first Goodwoof Barkitecture Sale and are delighted that we've helped raise monies for the Dog's Trust.
"Although we are more used to Goodwood four-wheeled events, it was a pleasure to welcome the four-legged visitors and their owners to the Bonhams saleroom."
The Bonhams Barkitecture Sale was the culmination of the Goodwoof two-day programme of canine-related activities, ranging from Cani sports to doga (yoga for dogs) and 'Fido's Lido' canine paddling pool. More than 12,000 people and many more dogs attended the event hosted by the Goodwood estate.