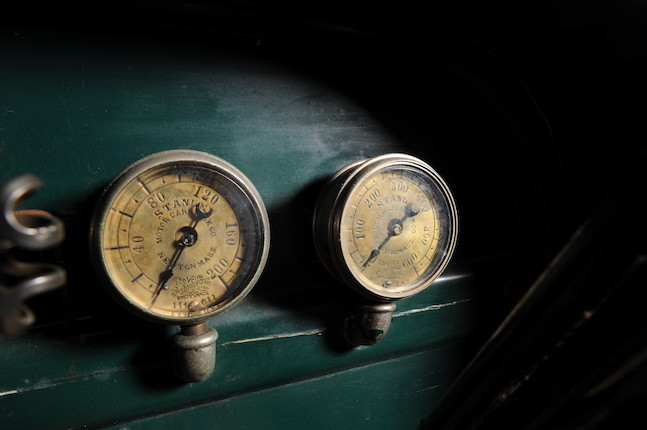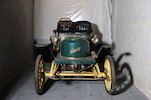 Ex-William Harrah, 1909 Stanley modèle E2 10 HP Runabout
Chassis no. 4852
7 February 2013, 16:30 CET
巴黎,大皇宮
Ask about this lot
Philip Kantor
International Chairman for Motoring
Ex-William Harrah
1909 Stanley modèle E2 10 HP Runabout
Chassis no. 4852
La bicylindre 10 HP resta le fer de lance de production Stanley de 1905 à 1914, aux côtés de modèles 20, 25 et 30 HP qui se vendaient bien également. Le modèle runabout E2 offrant deux ou quatre places et vendu 850 $, était son équivalent en 1909.

Selon le registre Stanley, la voiture n° 4852 fut la propriété de Ken Maxwell aux États-Unis, au milieu des années 1960, avant de passer aux mains du collectionneur William « Bill » Harrah, fameux pour ses casinos. La majorité de la collection Harrah fut dispersée aux enchères publiques, au milieu des années 1980, cette Stanley ayant été proposée comme le lot numéro 203 de la vente de juin 1986. Dans le catalogue, la Stanley était décrite comme ayant été « restaurée par la collection automobile Harrah et en excellent état général. Carrosserie, peinture, plaquages, sellerie et pneus, bons. » Après cette vente, la Stanley étaiten réputée appartenir à Brian Woodford à Singapour et est probablement passée aux mains de M. Brown au début des années 1990, lors d'une vente aux enchères au musée de la RAF à Hendon.

Sa restauration ancienne a subi les attaques du temps, mais comme beaucoup peuvent en témoigner, les restaurations de Harrah étaient sans conteste de la meilleure qualité, se fondant généralement sur un exemplaire authentique. Restées des années aux mains du même propriétaire et n'ayant pas roulé depuis de nombreuses année, il paraît raisonnable de suggérer un rafraîchissement cosmétique de la voiture qui serait le bienvenu. Pour des raisons de sécurité évidentes, comme sur toutes les machines à vapeur, une révision générale méticuleuse et un entretien sont recommandés et devraient être confiés à un spécialiste reconnu.

Avec une provenance incluant une longue période dans l'une des plus grandes collections automobiles du monde, et aujourd'hui proposée à sa sortie d'une longue période de conservation, il s'agit là d'une excellente représentante de la marque et du modèle.

Ex-William Harrah
1909 Stanley Model E2 10hp Runabout
Car No. 4852

The twin cylinder 10hp car was the mainstay of Stanley production from 1905 to 1914 although 20hp, 25hp and 30hp models were also offered and sold successfully. The Model E2 Runabout, was its 1909 iteration, offering seating for 2 or 4 passengers, and retailing for $850.

According to the Stanley Register, car 4852 was owned in the U.S. by Ken Maxwell in the mid-1960s and later passed to renowned collector William 'Bill' Harrah of Casino fame. The majority of the Harrah Collection cars were sold publicly in a series of auctions in the mid-1980s, this car being offered as lot number 203 in the June 1986 sale. In the catalogue, the Stanley was described as 'Restored by Harrah's Automobile Collection and in excellent overall condition. Body, paint, plating, upholstery and tires good'. After that auction, the Steamer is known to have been owned by Brian Woodford of Singapore and is thought to have passed into Mr. Brown's ownership in the early 1990s, being acquired by him at an RAF Hendon Museum auction.

Of course its older rebuild has aged over time, but as many will attest to, a Harrah's restoration was unquestionably carried out to extremely high standards, usually taking a good quality and correct example as its basis. Although now laid up for a number of years in its current ownership, and not run for a number of years, it seems reasonable to suggest that freshening of the car's aesthetics would therefore be a straightforward process. Naturally for safety's sake, as with all steam cars, a careful re-commissioning and regular servicing is required, and this should be considered in need of thorough attention by a knowledgeable specialist.

With a provenance that includes long term ownership in one of the greatest car collections of all time, and now offered from its own long term custodian, this is a fine example of its marque and model.