SPECIAL EDITION WBC BOXING GREATEST FIGHTS OPUS COLLECTORS' BOOKS IN ONLINE CHARITY AUCTION
A one-off special edition of the luxury publication 'WBC Greatest Fights Opus' is being offered by the Luxury Book Company Limited in an online timed auction staged by Bonhams which opened today (20 April) at 12 Noon, having already received an opening bid of $100,000. The sale closes on 5 June, with all proceeds being donated to WithUkraine, the Official Ukraine Fund and The Sport Together Fund – Delivered by Beyond Sport.
The WBC Greatest Fights Opus – also launched today at the Wembley Hilton – is a new limited edition collectors' book celebrating the greatest WBC fights throughout history, as selected by WBC World Champions past and present, including the Mayor of Kyiv and former WBC Heavyweight Champion, Vitali Klitschko, under the Chairmanship of WBC President, Mauricio Sulaimán.
More than 80 fights are depicted over 800 pages in a cinematic format, with many rare archive images and descriptions by award-winning writer Ian Stafford. In addition, the panel of champions chose their ultimate Top 12 fights, among which is the 2003 bout between Vitali Klitschko and Lennox Lewis in Los Angeles.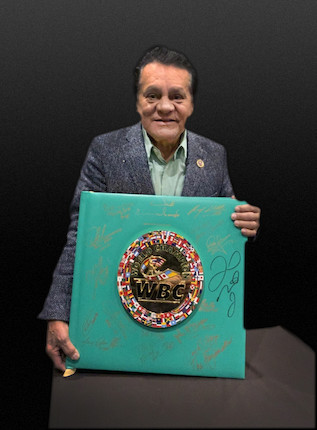 Roberto Duran with the signed Number One edition of The WBC Greatest Fights Opus, part of the UKRAINE PEACE Special Edition
The UKRAINE PEACE Special Edition of The WBC Greatest Fights Opus is a unique package comprising two special collectors' books. The first is the Number One of the limited-edition run which has been signed by 25 WBC World Champions, including current heavyweight Champion Tyson Fury and other boxing greats such as Floyd Mayweather, Sugar Ray Leonard, Mike Tyson, Roberto Duran, Amir Khan, Carl Froch and Oscar De La Hoya.
The other Crystal Edition has a bespoke leatherbound cover adorned with more than 10,000 green and gold crystals and decorated with a full-size official WBC gold belt buckle. This giant 45cm square Opus is also presented in a hand-made clamshell presentation case featuring the blue and yellow colours of the Ukraine flag.
The WBC Greatest Fights Opus – UKRAINE PEACE Special Edition Opus is also offered with a complete collection of 30 WBC Champions portraits that have been captured exclusively for the project, as well as a collection of 15 signed Everlast red boxing gloves (each glove signed by a WBC Champion).
Completing the charity package are two VIP tickets to any WBC sanctioned fight at any worldwide venue of the successful bidder's choosing, including invitations to the weigh-in and pre-fight press conference. The successful bidder and guest will also be invited to the annual WBC conference, with the opportunity to meet a host of WBC world champions, and to attend the convention dinner.
With Bonhams waiving their usual fees, all proceeds from the auction will benefit the Ukraine humanitarian efforts, going directly to both the WithUkraine Official Ukraine Fund and The Sport Together Fund - Delivered by Beyond Sport. Details can be found at: https://www.withukraine.org/ and https://www.beyondsport.org/.
Maarten Ten Holder, Managing Director, Bonhams Collector Cars, said: "We are honoured to be working together with Opus and WBC to host this charity auction and we are glad to be standing alongside our friends at this important initiative. This is a unique opportunity for any boxing enthusiast to bid for – and potentially to own – an incredible piece of boxing memorabilia while supporting this most worthwhile cause."
Mauricio Sulaimán, President WBC, added: "Having Bonhams involved in The WBC Greatest Fights Opus - 'UKRAINE PEACE' Special Edition brings credibility and honour to this noble cause and our final goal of helping those in need. We are deeply thankful to Maarten and his team for their invaluable assistance."
The Bonhams online auction opened at 12pm on Wednesday 20 April – during the official launch of The WBC Greatest Fights Opus - and will run until Sunday, 5 June, the date of the much-anticipated fight between Australian George Kambosos Jr, holder of four WBA lightweight titles vs. Devin Haney, the WBC lightweight champion, in Melbourne, Australia.
Interested parties can place their online bids at Bonhams: The WBC Greatest Fights Opus - Ukraine Peace Special Edition Online Charity Auction. The first five bidders, who are not ultimately successful, will receive a 'thank you' in the form of a copy of the book and the WBC World Championship belt, which will be officially presented to them at home by Opus and WBC representatives.
Contact: [email protected] for further information and to register to bid.