Superbikes from all eras, including a clutch of desirable Brough Superiors, will line up with a more sedate collection of vintage sidecars in next month's three-day Bonhams Summer Stafford Sale which will present more than 330 machines from 2 to 4 July.
Leading the pack is an extraordinary Brough Superior SS100 1,000cc Supercharged Special Re-creation, estimate £120,000 – 170,000, the brainchild of master craftsman and engineer Ewan Cameron.
The Brough devotee and specialist's objective was to recreate Noel Pope's Brough Superior that set the outright motorcycle lap record of 124.51mph at Brooklands 80 years ago, which still stands. Incorporating many original Brough parts, this stunning machine is a formidable re-creation delivering the same power, speed and smell as the original.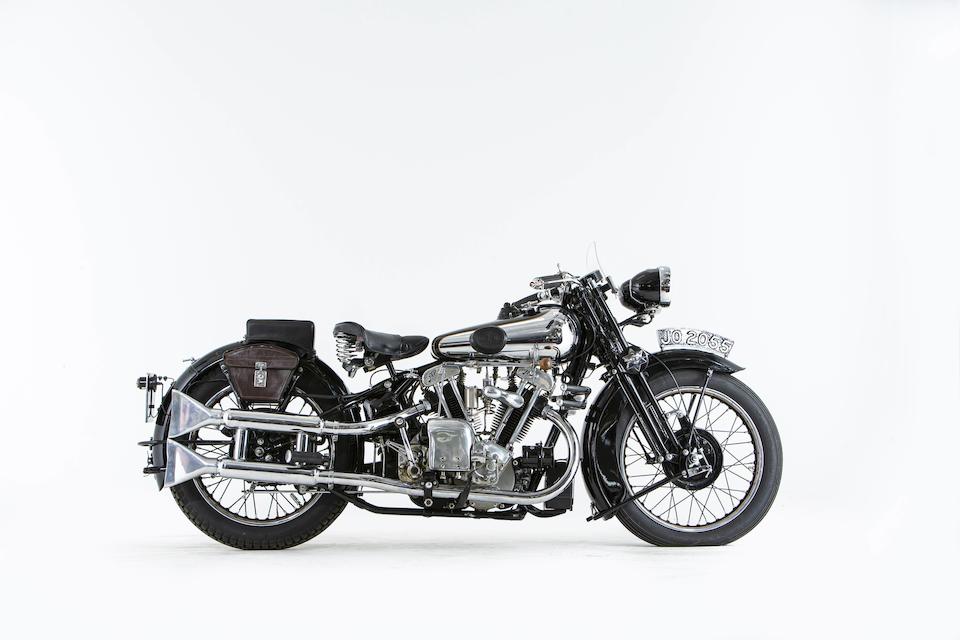 1931 OHV 680 'Black Alpine', estimate £120,000 – 160,000
In its slipstream is another desirable example of the early superbikes a 1931 OHV 680 'Black Alpine', estimate £120,000 – 160,000, offered from the National Motorcycle Museum. Dubbed the 'Miniature SS100', this ultimate middleweight Brough was restored in the late 1970s/early 1980s and has been owned and displayed by the museum since.

1937 Brough Superior 1,096cc 11-50 with Petrol-Tube Sidecar, estimate £55,000 – 75,000
However, not all Broughs were destined for Brooklands or other racetracks. Fitted with a Petrol-Tube Sidecar, the third highlight from the British maker, a 1937 1,096cc 11-50, estimate £55,000 – 75,000, was delivered new to the Sheffield Police force. The largest model of the marque was still capable of a top speed of 90mph solo and an impressive 75mph with its sidecar. Living up to its 'Superior' name, this combination was the finest of its time, with the sidecar offering comfort with its red leather interior, exterior luggage rack and even mascot.

National Motorcycle Museum Sidecar Collection inc.
1923 Martinsyde Motorcycle Combination, (front left) estimate £22,000 – 28,000
Along with the Brough, the Stafford Sale will be offering a collection of ten sidecars, tri cars and hybrids from the National Motorcycle Museum. Representing the golden age of vintage motorcycling, highlights include an extremely rare 1923 Martinsyde Motorcycle Combination, estimate £22,000 – 28,000, produced by the former aircraft manufacturer, and a 1925 Seal 980cc Family Motorcycle Combination, estimate £16,000 – 20,000. This unusual motorcycle/car hybrid is one of only two known survivors and has its controls, with a car-type steering-wheel, inside the sidecar, which can carry two adults and two small children.
From Rust..

1934 Matchless 592cc Silver Hawk project, estimate £10,000 – 15,000
Bonhams Motorcycle Sales are always fertile ground for presenting long-hidden 'barn finds' and never-completed projects. The Summer Stafford Sale continues this tradition, being peppered with fresh to market machines that have not seen the light of day in years or even decades.
The dozen machines offered from the collection of the late engineer David Taylor include a project 1928 Norton 490cc CS1, estimate £3,000 – 5,000, believed to have been ridden by Douglas Lamb at the Isle of Man TT races in 1928 and 1929.
Other notable barn finds in the sale include a 1932 Matchless 592cc Silver Hawk project, estimate £10,000 – 15,000, a rare 1930s 4-cyclinder luxury sports tourer, originally aimed at the top of the market.
...To a Rockstar's Motorcycle
A rather shinier motorcycle, with a touch of stardust, is the 1973 Norton Commando 850 Roadster offered by the family of the late Keith Emerson, estimate £5,500 – 7,500. This was the second Commando for keyboard maestro and founder member of the 1970s 'prog rock' group Emerson, Lake and Palmer, who bought after his first, which he used to commute from his Sussex home to a London recording studio, had been stolen.
The Bonhams Summer Stafford Sale (2 to 4 July) makes a welcome return to the International Classic MotorCycle Show, and will offer in excess of 650 lots, with 75 per cent at No Reserve, comprising important collectors' motorcycles, important early bicycles, spares and memorabilia, led by an ultra-rare example of arguably the 'Holy Grail' of classic racing motorcycles – a 1940s AJS 497cc E90 'Porcupine' Grand Prix racing motorcycle, previously owned by post-war AJS works rider Ted Frend, estimate £250,000 – 300,000.
The sale will be a traditional live auction, welcoming bidders back into the saleroom, in addition to being streamed and available on the Bonhams App, providing registered bidders the opportunity to bid in real time online via Bonhams.com. Absentee and telephone bids are also encouraged.
Sale Days
Friday 2 July Important single-owner collections inc The Ken Senior Collection
Saturday 3 July Bicycles, Spares and Memorabilia
Sunday 4 July Collectors' Motorcycles
Viewing Times
09:00 – 1700 Friday through Sunday
Friday
In accordance with the latest Covid-19 related guidelines, numbers will be limited in the saleroom, so viewers should register in advance with the Bonhams team: [email protected]
Saturday/Sunday
Entry to the International Classic MotorCycle Show and Bonhams Summer Sale Auction is by ticket only, which must be purchased in advance at www.classicbikeshows.com or by calling 01507 529529.
Ticket numbers are limited for both Saturday and Sunday and will no longer be available when the maximum capacity is reached for attendance. There will be no tickets sold on the day.
To register to bid, contact: [email protected] or for further information contact: [email protected]