On 22 September 1985, 300 workers began covering the Pont Neuf in Paris in 40,000 square metres of woven polyamide fabric, turning the city's oldest and best-loved bridge "from an architectural object, an object of inspiration for artists," as the instigator of this project put it, "into an art object, period." Nine years in the planning, seen by three million members of the public – while all the time functioning as a thoroughfare over the Seine – The Pont Neuf Wrapped has become one of the most celebrated works by Christo and his wife and creative partner Jeanne-Claude, with whom his works from 1994 until her death in 2009 are jointly credited. But perhaps the most remarkable and surprising thing about this piece was its colour: a pale yellow, designed to echo the hue of the Paris pavements at sunset. Even on the greyest and most dismal days, the bridge seemed imbued with a transcendent glow entirely separate from its listless surroundings.
The Sixties was the era when artists became associated with a single, signature gesture: think Warhol's silk-screened portraits at one end of the spectrum and, at the other, Rothko's vaporous clouds of colour. Christo, who was born Christo Vladimirov Javacheff in Gabrovo, Bulgaria, in 1935, became globally notorious as "the guy who wraps things up". Starting with humble, everyday objects – bottles and tin cans –bound in grubby pieces of canvas, he progressed rapidly to whole buildings (including some of the world's greatest monuments) and landscape features: trees, lakes, islands and an entire stretch of Australian coastline.

Caption: Christo (American, born 1935). The Pont Neuf Wrapped (Project For Paris), in two parts (1979). Estimate: £120,000 - 180,000 ($160,000 - 230,000).
Christo extended the possibilities of what the art object can be, not merely in the closeted art world, but in the full glare of the world's media, as heroic mega-project succeeded heroic mega-project. And in an art that appeared to be all about scale, volume, structure and surface, light and colour played a surprisingly important role.
The unearthly radiance that seemed to bathe The Pont Neuf Wrappedwas echoed more than 30 years later in The London Mastaba. Christo's only major work for the British capital, it was unveiled at the Serpentine in June 2018. This 20-metre-high trapezoid stack of barrels in reds, blues and violets, anchored on the surface of the lake, seemed to alter its sense of scale, weight and texture with the tiniest shifts in the light, appearing often eerily unreal, as though an image from the artist's sketchbook had been cut out and stuck onto the parkscape.
It will be fascinating to see how such qualities manifest themselves in Christo's next major project, the wrapping of another of Paris's great monuments, the Arc de Triomphe.

Caption: On the drawing board: Christo's next project, wrapping Arc de Triomphe
Photo: André Grossman © 2018 Christo
While Christo is Bulgarian by birth and American by nationality – he has lived in New York since 1964 – Paris is the city that formed him as an artist. It was here that he moved only a year after fleeing Bulgaria for Vienna in 1956. And, while he stayed only seven years, it was in Paris that he met Jeanne-Claude, when he was commissioned to paint her mother's portrait; where he found his feet as an artist as part of the Nouveau Réalisme movement alongside Yves Klein and Niki de Saint Phalle; where he had his first taste of notoriety when he and Jeanne-Claude blocked the Rue Visconti with oil barrels in 1962. And it was in Paris, of course, that he first started wrapping things.
So it feels appropriate, even poignant, that his career is now coming full circle as he returns to Paris at the age of 85, for a project that looks set to be the crowning glory of his career – wrapping the monument around which this great city pivots – backed by a major retrospective, entitled simply Paris!, at the Pompidou Centre.
The exhibition chronicles Christo's Paris years – 1957 to 1964 – in detail, showing how he broke away from the strictures of his original discipline, painting, through a range of strategies that are all very redolent of the tumultuous early Sixties, the era of Nouveau Réalisme, Fluxus and the Zero group: public 'actions', vitrines, mocked-up shopfronts that feel very Pop in spirit, before he finally began appropriating objects by 'packaging them'.
Among all this material is a photomontage from 1962, in which Christo, then renting a small apartment close to the Arc de Triomphe, shows the great arch already 'bundled' in canvas. Nearly six decades later, the project will be realised this autumn using 25,000 square metres of silver-bluish polypropylene and 7,000 metres of red rope, colours which embody, of course, the French flag and its 'universal' values of liberty, equality and fraternity.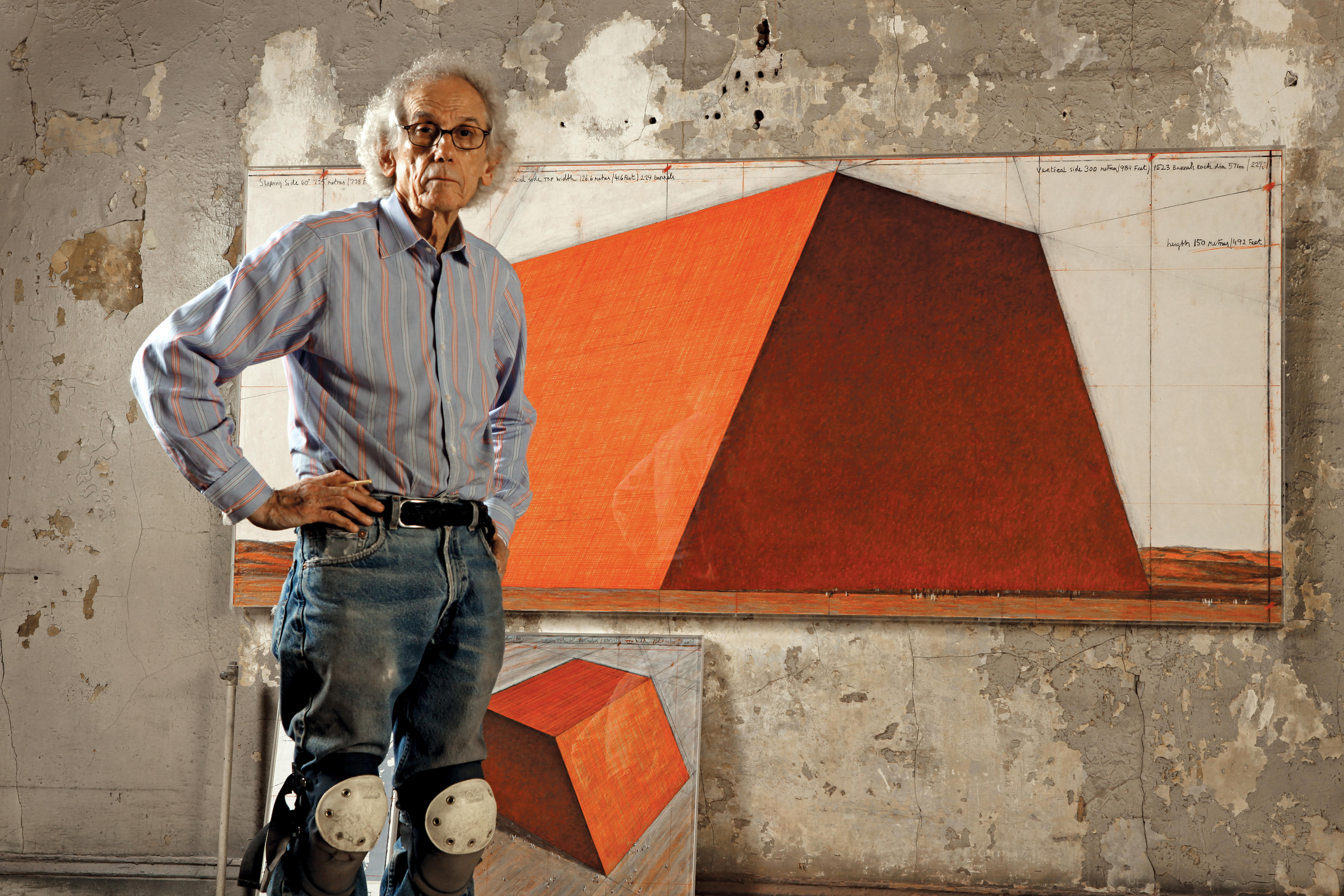 Caption: Christo in his studio with a preparatory drawing for The Mastaba (Project for Abu Dhabi), 2012
Wolfgang Volz © 2012 Christo
Long gestation times are nothing new for Christo. The nine years spent negotiating with Paris's then-mayor Jacques Chirac to wrap the Pont Neuf feel as nothing beside the 51 years between the conception of The London Mastaba – intended originally as a floating sculpture for Lake Michigan – and its final realisation. Some projects have taken even longer, and many more will probably never leave the planning stage, despite incurring substantial development costs. Feasibility studies for projects that "appropriate or borrow spaces which do not naturally belong to sculpture", as Christo puts it, often run into the millions, whether they are for wrapping Berlin's Reichstag in 1995 or The Gates, for which 7,503 gateways of brilliant orange fabric were distributed along 23 miles of paths in New York's Central Park in 2005. Since Christo doesn't accept sponsorship – feeling it would compromise his creative integrity – the $21 million costs for the latter work were met entirely by the artists themselves, as they are with all Christo projects, from the sale of preparatory drawings and studies. And these are hardly scrawlings on the backs of cigarette packets.
A 'drawing' for The Pont Neuf Wrapped – offered at Bonhams Post-War and Contemporary sale in March – is an elaborate and surprisingly realistic mixed- media representation of the proposed wrapped bridge, incorporating pastel, wax crayon, charcoal, graphite and printed paper on paper, measuring eight feet in width.
Another large drawing in the auction offers a similarly intricate projection of one of the pair's epic landscape works: The Umbrellas (Joint Project for Japan and USA), in which thousands of umbrellas – blue in Japan, yellow in America – were dotted through inland valleys in the two countries, reflecting "the similarities and differences in the ways of life and the use of the land".

Caption: Christo. The Umbrellas (Joint Project for Japan and USA), in two parts (1990).Estimate: £50,000-70,000 ($65,000 - 90,000).
While Christo's works have often been interpreted as comments on political issues – from the Berlin Wall to the Arab–Israeli conflict – they have, in Jeanne-Claude's words, "absolutely no purpose, except to be a work of art. We don't give messages." And, at a time when we're increasingly pressed to interpret art in terms of quasi- literary themes, that feels refreshing: it leaves our minds free to dream and wonder in the optimistic and uplifting spirit the couple intended.
But none of these works have survived in physical form. Nine years in the making, The Pont Neuf Wrapped was on view for a mere 14 days, a typical lifespan for a Christo work. It was then rapidly disassembled and all its components recycled, as they are in all Christo works,
to live on only in the preparatory drawings and collages, and – far more importantly – in the minds of those who saw it. Thus, in the wider folk and cultural memory, these works take on, as Christo puts it, "an almost legendary character". The fact that he has no "artworks that exist" is a source of pride to Christo: "I think it takes much greater courage to create things to be gone than to create things to remain."
Christo and Jeanne Claude: Paris!' is at Centre Pompidou from 18 March to 15 June.