Bonhams Offers the Ultimate Custom Motorcycles by Street Artist D*Face in December Sale
A trio of custom motorcycles by pioneering street artist D*Face will be offered by Bonhams in the Modern & Contemporary art sale in London on Tuesday 17 December, giving motorcyclists and collectors alike the choice of riding a Spoiled Brat, First Born or Green Terror motorcycle.
D*Face, a leading figure in urban contemporary art, is best known for his murals celebrating outcasts and scrutinising society in cities worldwide. As well as the owner and curator of London's first street-focused contemporary art gallery, 'StolenSpace', he has also been a life-long biker, with his first taste of two-wheels riding to school on his father's motorcycle.
In December, his love of art and motorcycles come together with a collection of bespoke motorcycles he created at his Rebels Alliance Store in Shoreditch. D*face, who has personally customised the trio, has exchanged his usual concrete canvases for motorcycles and transformed them into contemporary works of art. They are represented by this unique trio and this is the first time they are offered at auction.

First Born 2012, estimate £10,000 – 15,000
Based on a 1978 Honda CB550, First Born was conceived in 2012. Featuring a hand-formed metal tank with a hand-stitched leather seat, the red, black and gold motorcycle is finished in a striking one-off paint scheme. Estimate £10,000 – 15,000.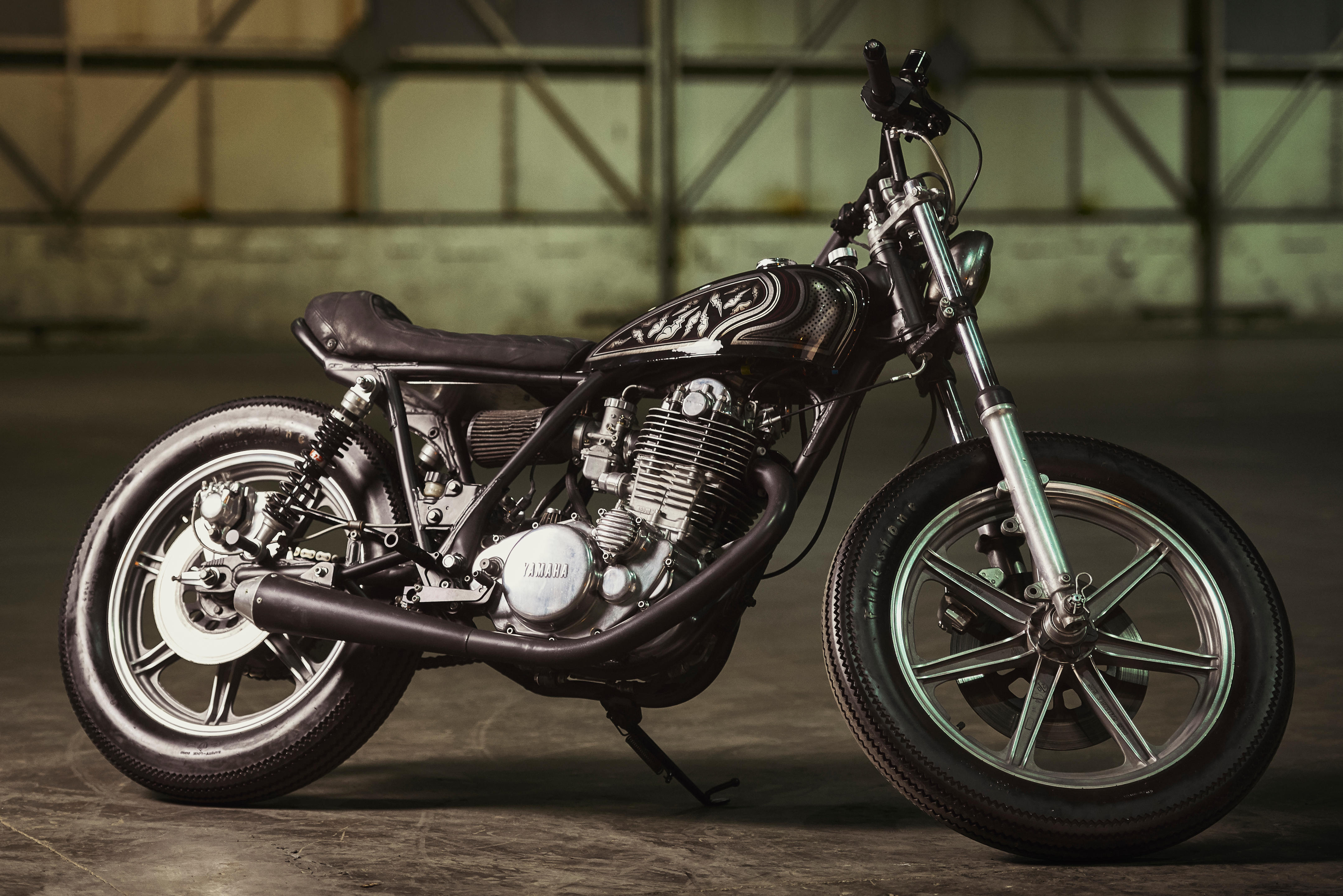 Spoiled Brat 2014, estimate £5,000 – 7,000
Spoiled Brat is the reinvention in 2014 of a 1978 Yamaha SR500. With a hand-made leather seat and one-off hand-painted tank.
Estimate £5,000 – 7,000.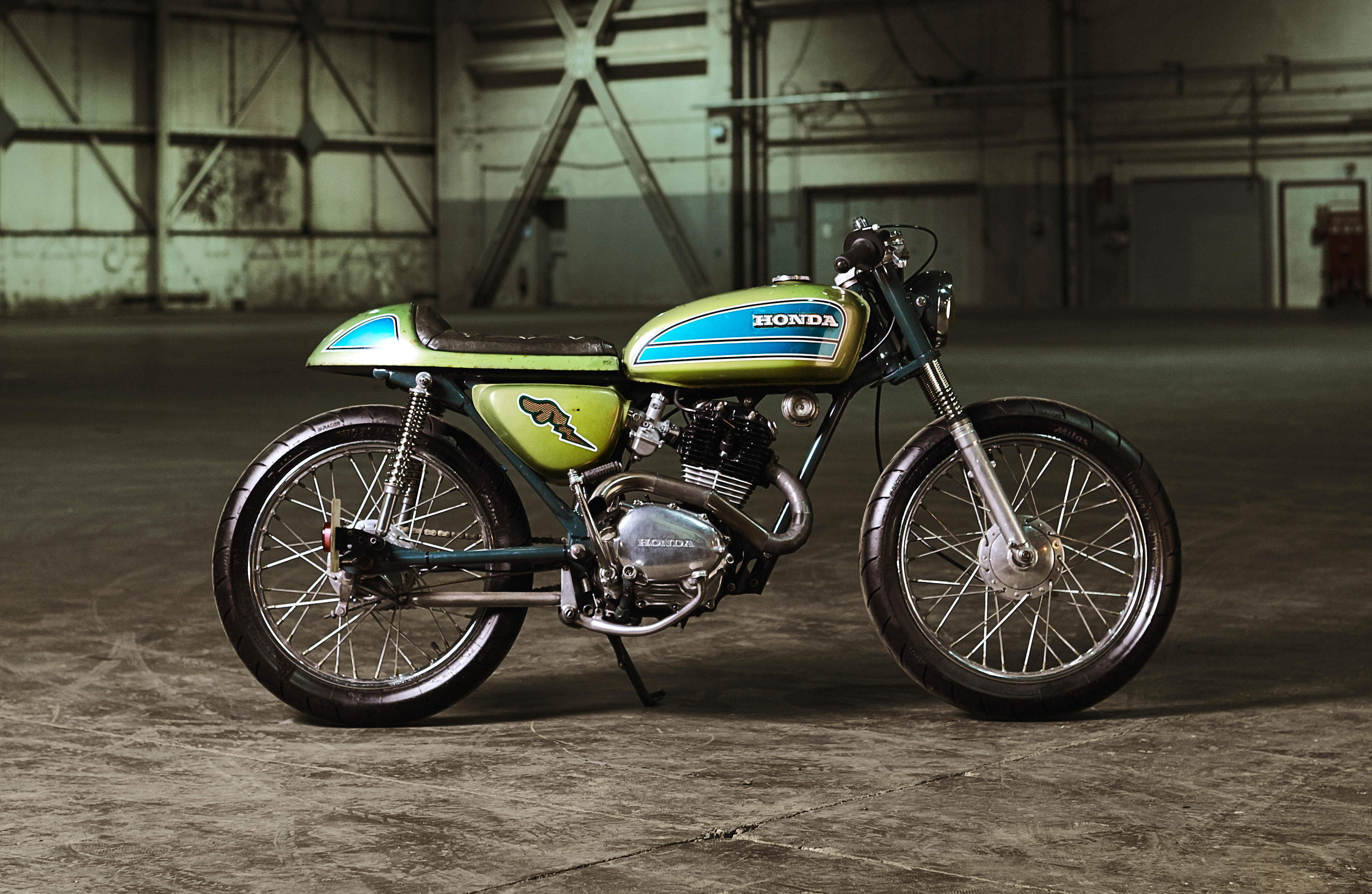 Green Terror 2015, estimate £2,800 – 3,500
The third motorcycle is Green Terror. A commuter's favourite in its former life, this Honda CB125 was transformed in 2015 by being completely stripped, its metal parts smoothed and its components painted to match the patina of the original machine. Estimate £2,800 – 3,500.
Speaking about his bespoke bikes, D*Face said, "They're rideable, functional sculpture, with the ability to be rolling artworks, fit for the museum but also the road and track.
"I enjoy bending that line to see where I can stretch it to – that's part of what drove the concept of Rebels Alliance. I've never liked anything standard, for me it has to be unique – that's what these three bikes were born from."
Cassi Young, Head of Bonhams Modern & Contemporary Art Sale, said "We are thrilled to offer this customised trio, designed and painted by D*Face. Canvases in their own right, D*Face has applied his bold motifs, bravado and style to the motorcycles."
The three motorcycles will be on view at the following Bonhams previews:
• The Bond Street Sale at Bonhams New Bond Street, London on Friday 6 and Saturday 7 December.
• Bonhams Modern & Contemporary Art Sale, New Bond Street, London from Sunday 15 to Tuesday 17 December.