Edmund de Waal's studio is not at the epicentre of bohemian London. It's next to a bus station in Norwood. From outside, the only clue that this is anything other than a light industrial
plant are the tasteful grey walls and a discreet bell. The gate slides open and one steps directly into a large white space. There is a kind of office section in one corner, its desks democratically arranged as a single long block. The rest of the space is dedicated to the physical act of making art – from creating the raw components for the pieces to assembling those elements into finished works.
This year, de Waal has had exhibitions of his ceramic installations in the Venice Ghetto, at the Frick Collection in New York, and in Madrid. Meanwhile, the works in progress are very much in evidence on the walls and in vitrines. It's as if they are auditioned before being allowed out into the world. De Waal looks at one of the glass cases: "This is not there yet at all," he says, in a slightly doleful voice. "I make the vessels, glaze them, and bring those elements together. Then it becomes an iterative thing, about coming and going. Putting things in, taking them out and changing them around." He points to a long glass case with four exquisite ceramic pieces in it. "This one is nowhere near..." One vitrine has a heavy, black steel frame. I ask if there is any sense of these delicate pieces having been captured. De Waal looks genuinely horrified. "No! God, no. Its containment is a sort of embrace."
We are meeting because de Waal has, for some years, taught masterclasses for the National Saturday Club, an organisation – founded by the designers John and Frances Sorrell – that opens up the opportunity for children to attend free art classes on Saturday mornings (see page 42). In October, Bonhams is holding an auction to raise funds to extend the network even further. The Saturday Club initiative is very close to de Waal's heart, because it was at a Friday evening family art-class that his life was changed by the discovery of clay and the experience of making a bowl on a potter's wheel.
"All my evangelism for the National Saturday Club", he says with genuine fervour, "comes from that moment, that encounter, when my creativity was taken seriously. I feel that experience should be a birthright." He insists that it wasn't a case of finding a natural talent for throwing a pot. "It wasn't about being good at it – it was more about transforming one material into another. As a child, you don't have much agency in the world, but if you can change one thing – make one thing – it gives you an extraordinary feeling."
From that moment, it seems his life was set. At his public school, King's Canterbury, he was remarkably fortunate to find Geoffrey Whiting as the resident potter in the art room, and spent two years as his apprentice. After reading English at Cambridge, de Waal went
to Japan to work with a master maker. But one of his great moments in the sun was when he published his celebrated book The Hare with Amber Eyes (2010), which brought together two strands in his life that he had been trying to combine: objects and their memory, the way that they bear witness to history. In this memoir,
de Waal traces the story of his family through a collection of netsuke that had been acquired by his forebear, the Parisian collector and aesthete Charles Ephrussi, in the 1870s. The gripping narrative ends with the family fleeing from Vienna and the Nazis – to Kent. The netsuke collection eventually followed suit to end up in Norwood. Last year, after discussion with his family, de Waal sold the pieces to raise money for refugees.
Refuge and being forced to carry your own world from one place to carve out a niche in another is a recurring theme in his art. De Waal's current exhibition is psalm – "the poetry of exile", as he calls it. As if to unite his two worlds, art and literature, in a literal sense, he is writing in porcelain for this exhibition. The show, in Venice, is in two parts, which feels symbolic.
Below: Psalm I, 2019. De Waal's temporary library in the Ateneo Veneto contains works by exiled writers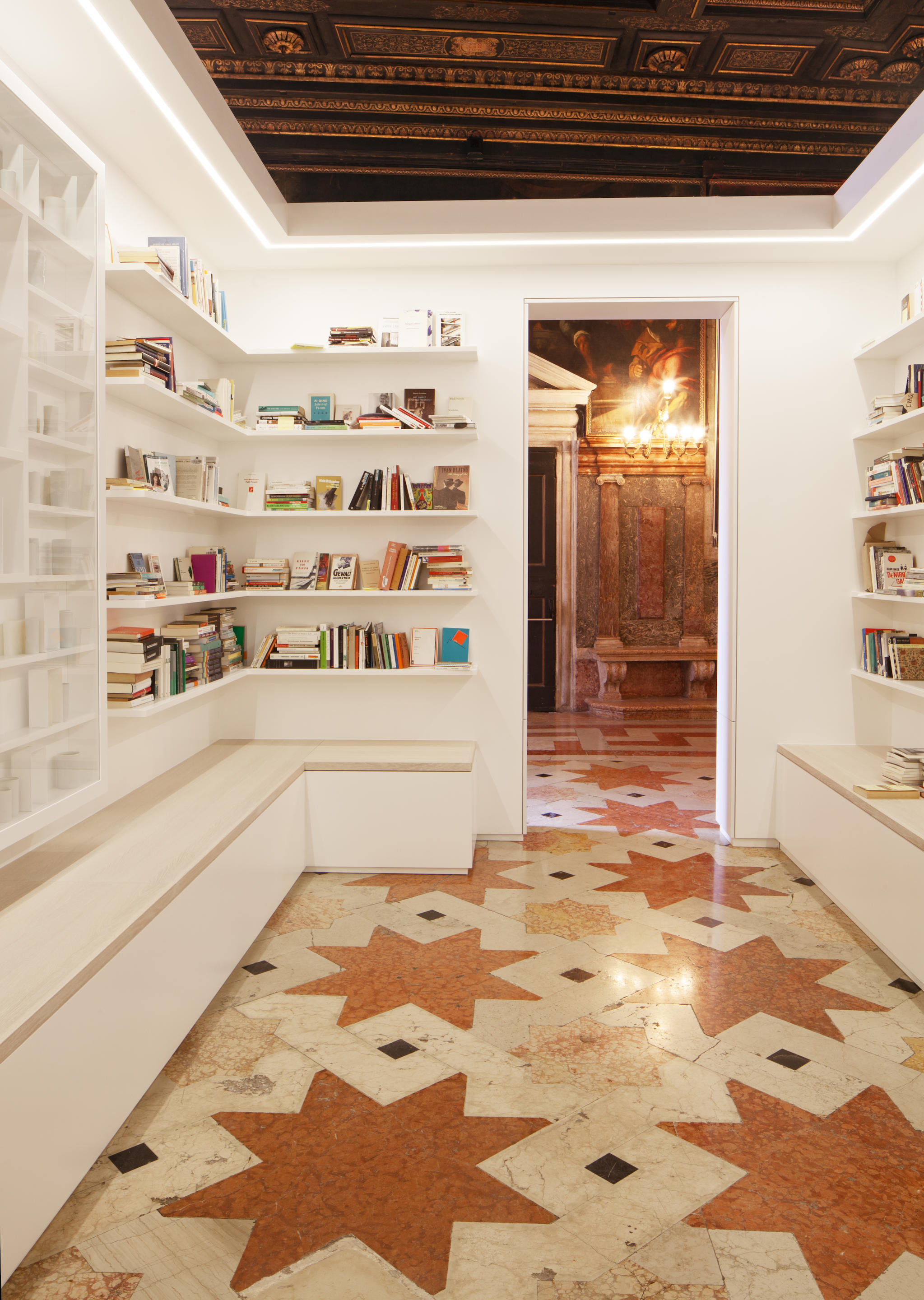 At the Ateneo Veneto, in the heart of the city, he has created a library in a white box, the external walls of which have been covered in gold-leaf and then coated in a wafer-thin layer of porcelain, into which de Waal has inscribed the names of libraries that have been destroyed and when. But, while those physical structures have been obliterated, the memory of them – as both cultural and physical entities – refuses to shift. Indeed, in de Waal's piece, the names gleam through as if to say their legacy is indestructible.
The companion installation is at the Canton Scuola synagogue in the Ghetto on the northern fringes of the city, where de Waal's pieces have a conversation with the space. As de Waal points out, "If you're working in the Ghetto, you are working with profound cultural history. Any move you make has an impact and, in a way, is amplified." It is in this astonishing building, which has survived against all odds, that one realises de Waal's ceramics – his fragile creations – are not being imprisoned by the vitrines: they are being given protection and shelter, while making a connection with what is around them.
A project that encompasses such broad themes brings us back to the question of why it is so important that people have art in their lives. Why does de Waal care so deeply about passing on the experience to future generations through, for example, his work as a Trustee of the Saturday Club? He pauses. "I'm trying to think of some lyrical response... I think art expands what it is to be a human being. It brings imagination and compassion and draws together the whole of you – body, mind and spirit. That's why we need art."
Lucinda Bredin is Editor of Bonhams Magazine.
Edmund de Waal is donating work to The Saturday
Club auction at Bonhams on 3 October.
His work can be seen at the Jewish Museum and Ateneo Veneto in Venice until 29 September 29, psalmvenice.org; at The Frick Collection, until 30 November, frick.org and a sort of speech, Galerie Max Hetzler, Berlin, 27 September to 2nd November.