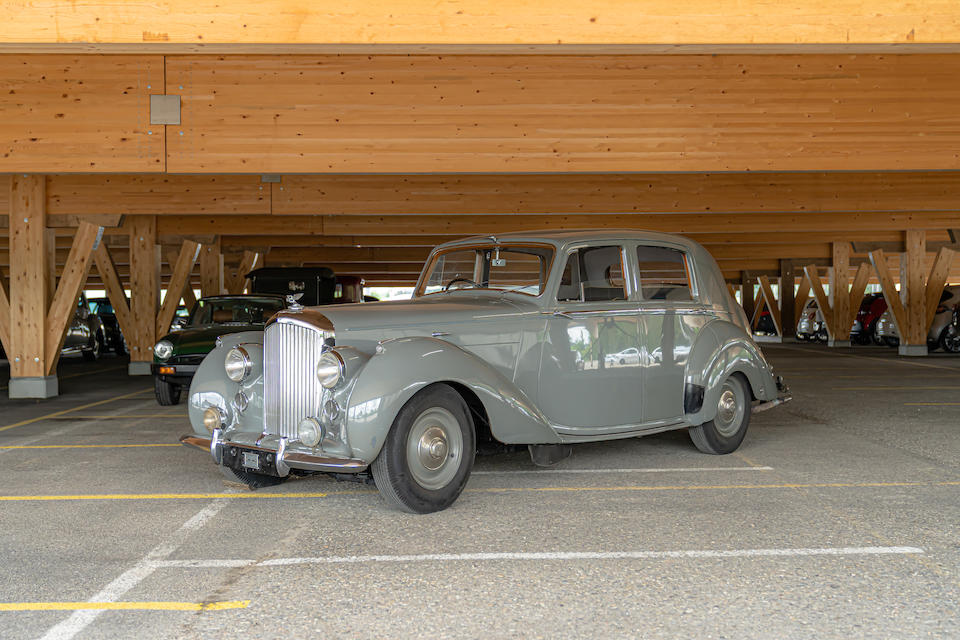 Lot 224
1948 Bentley Mark VI 4¼-Litre Sports Saloon
Chassis no. B464CF
Sold for €16,100 inc. premium
Lot to be sold without reserve
1948 Bentley Mark VI 4¼-Litre Sports Saloon
Chassis no. B464CF
• Factory 'standard steel' body
• Not driven for some considerable time
• Offered for re-commissioning/restoration
• Registered in Switzerland

* Please note that this motor car will be available for viewing by prior appointment in Switzerland.
Footnotes
'In a very short time, however, it was easily seen that the pressed steel Bentley bodies were as elegantly proportioned, as highly finished and as comfortably furnished as anything the traditional coachbuilders of the past had done; with the added virtues of immunity from rot and greater rigidity.' - Anthony Bird & Ian Hallows, 'The Rolls-Royce Motor Car', 1964.

The policy of rationalisation begun in the late 1930s continued at Rolls-Royce after the war with the introduction of standard bodywork on the Mark VI Bentley. Rolls-Royce's first post-WW2 product, the Mark VI was introduced in 1946, a year ahead of the Rolls-Royce Silver Wraith. Although mechanically similar to the Mark VI, the latter was exclusively a coachbuilt car, the first 'standard steel' Rolls-Royce, the Silver Dawn, not appearing until 1949.

The decision to offer a complete car with 'in house' bodywork had been dictated by harsh economic reality. 'Export or die' was the watchword of the late 1940s and the manufacture of standardised steel-bodied cars was deemed essential to selling in sufficient quantities to overseas markets. Despite the misgivings of traditionalists, exports rose steadily and, when the home market stabilised, the classically styled 'standard steel' bodywork proved equally acceptable, making up 80% of total production of this first post-war Bentley.

This early, right-hand drive, 'standard steel' Mark VI is finished in light grey with blue leather interior and is presented in correct original condition. The car has not been driven for some considerable time and is offered for restoration. It failed to start when inspected and will need a thorough check over and careful re-commissioning at the very least before returning to the road. Registered in Switzerland.