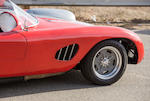 c.1959 Devin Special
Chassis no. 22

389ci OHV Pontiac V8 Engine
3 Single-Barrel Carburetors
Est. 225bhp at 5,000rpm
4-Speed Manual Transmission
Front Suspension by ChassisWorks / Austin-Healey Rear Axle
Wilwood Disc Brakes

*Fitted with potent Pontiac powertrain
*Offered with much paraphernalia
*Devin special fitted Austin-Healey chassis with many upgrades
*Sporting and fast sports racing special

DEVIN ENTERPRISES

Bill Devin was a pioneering California exotic car dealer and sports car racer. In 1955, he took an impression from a friend's Ermini Roadster that was bodied by Carrozzeria Scaglietti. Soon, he began selling a fiberglass replica with similarities in styling to that of some of the finest Italian coachwork designs. Apart from the appealing shape and reasonable price, two things distinguished the Devin bodies: The wide range of sizes of bodies available, but also that these could be assembled in a variety of ways to create one of 27 possible sizes for a customer's fiberglass body. This allowed the company to produce a recognizable Devin body that would fit a wide variety of chassis, from the tiny Crosley, through the British MGs, Triumphs and Austin-Healeys right up to some American car frames. The other feature that made the Devin bodies popular was the high quality of the finish. Devin used fiberglass cloth for the outer layer of their bodywork rather than the coarser glass mat often used by other manufacturers, which produced a very smooth surface finish on the bodies. Later, kits could be bought that included a Devin-designed ladder frame as an option along with the body. In the Fifties, dozens of sports/racing and street-legal two-seaters were built using Devin bodies, including Dean Moon's bright yellow "Moonbeam" Bonneville land speed record car, A.K. Miller's various Pikes Peak Hillclimb racers and the three famous Echidna road racers.

THE MOTORCAR OFFERED

This Devin-bodied Special was created on an Austin-Healey chassis frame, while utilizing a front-end by ChassisWorks featuring rack-and-pinion steering. It runs a potent Pontiac 389ci OHV engine, being fed by triple carburetors. Wilwood disc brakes is fitted for excellent stopping power, and a 4-speed manual gearbox transforms the power to speed. Finished in a striking red and silver livery, the sporting cockpit is adorned by a classic wood-rimmed steering wheel to hang onto through those tight corners. The Devin Special is offered with a comprehensive history file, containing much period paraphernalia including sales brochures, and many receipts and records.