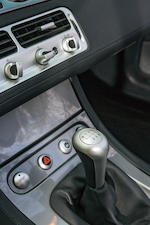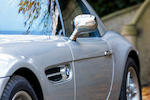 BMW Z8 Roadster avec hard-top 2000
Châssis n° WBAEJ11040AF78099

•Modèle rare et exclusif, produit en série limitée
•Livrée neuve en Allemagne
•Première main
•Environ 20 000 km effectués
•Immatriculée en France

Ces derniers temps, de nombreux constructeurs automobiles, en particulier les héritiers d'un passé sportif, souhaitent se référer à un modèle légendaire du passé lors du lancement d'un nouveau modèle. BMW adhère à cette tendance "rétro", qui s'est initialement manifestée en 1996 avec les coupé et cabriolet Z3, dont le style rappelait avec brio celui des 328, les légendaires sportives d'avant-guerre. Dans le même esprit, le concept-car Z07 de 1997 se référait à la 507 d'après-guerre, un roadster de luxe dessiné par Alfred Goetz et produit en série limitée.

La Z07 fit sensation au Salon de Tokyo 1997 ; elle reçut un accueil si enthousiaste que BMW décida d'en dériver une version de série, la Z8. Celle-ci resta pour l'essentiel remarquablement fidèle au concept original, dont elle retint la calandre à deux ouvertures et les évents d'ailes avant caractéristiques de la 507. L'un des points les plus remarquables de la Z07 était son intérieur dans le style de l'époque ; il fut repris sur la Z8.

La caisse et le soubassement de la Z8 sont en aluminium, léger et résistant à la corrosion ; son moteur, le V8 32 soupapes de 4 941 cm3 qu'elle partage avec la berline M5, est fabriqué par la division Motorsport de BMW. Avec ses 400 chevaux, la Z8 atteint les 100 km/h en 4,7 secondes et sa vitesse de pointe est bridée à 250 km/h par un limiteur de régime intégré. Sa boîte manuelle 6 rapports est une Getrag ; elle transmet la puissance à des pneus capables de rouler à plat. Il est inutile de préciser que la Z8 est dotée de tous les accessoires modernes qu'on est en droit d'attendre sur une telle vitrine : sa dotation comprend l'antipatinage, le contrôle de stabilité, les airbags frontaux et latéraux, la navigation GPS, l'air conditionné et la motorisation du réglage des sièges et du volant, ainsi que de la manœuvre de la capote.

Le fait que la Z8 soit un modèle de faible diffusion, assemblé essentiellement à la main, permettait à BMW de proposer à ses clients de larges possibilités de personnalisation. Pour la rendre encore plus attractive aux yeux des collectionneurs, l'usine avait annoncé qu'un stock de pièces de Z8 serait maintenu disponible pendant 50 ans. Malgré un prix de lancement aux Etats-Unis de plus de 128 000 dollars, la demande initiale fut si forte que des enchères prirent naissance, de nombreuses Z8 se vendant bien au-dessus de ce prix. Sa fabrication cessa fin 2002, après production de 5 703 de ces merveilleuses voitures.

De couleur gris argent avec intérieur noir, cette Z8 de première main fut livrée neuve en Allemagne et est actuellement immatriculée en France. Cette magnifique et attirante voiture a à peine effectué 20 000 km ; elle est complète, avec son hard top et sa capote d'origine, son carnet d'entretien et sa notice d'utilisation.

2000 BMW Z8 Roadster with Hardtop
Chassis no. WBAEJ11040AF78099

•Rare and exclusive limited edition model
•Delivered new in Germany
•One owner from new
•Circa 20,000 kilometres from new
•Registered in France

In recent times many motor manufacturers, particularly those with a significant sporting heritage, have felt the need to reference iconic models from the past when launching their latest. BMW has proved adept at exploiting this 'retro' trend, commencing in 1996 with the Z3 coupé and convertible, the styling of which brilliantly recalled its fabulous '328' sports car of pre-war days. Its next effort along similar lines - the 'Z07' concept car of 1997 - took its inspiration from the post-war Alfred Goetz-designed '507', a luxurious limited edition roadster.

The sensation of the 1997 Tokyo Auto Show, the Z07 was received so enthusiastically that BMW took the decision to press ahead with a production version: the Z8. For the most part the Z8 remained remarkably faithful to the original concept, retaining the 507-like twin-nostril front grille and distinctive front-wing vents. A period-style interior had been one of the Z07's most remarked upon features, and that too made it into the Z8.

The Z8's body panelling and spaceframe chassis were fabricated in lightweight and corrosion resistant aluminium, while the 32-valve 4,941cc V8 engine, shared with the M5 saloon, was built by BMW's Motorsport division. With 400bhp on tap, the Z8 raced to 100km/h (62mph) in 4.7 seconds and only the built-in rev limiter stopped it from exceeding 250km/h (155mph). Power reached the run-flat tyres via a Getrag six-speed manual gearbox. Needless to say, the Z8 also came with all the modern appurtenances one would expect of a flagship model: traction control, stability control, front and side air bags, GPS navigation, climate control, and power operation of the seats, steering wheel, and convertible hood all being included in the package.

The fact that the Z8 was a low-volume model assembled, for the most part, by hand, enabled BMW to offer customers considerable freedom in personalising their cars. Further enhancing its appeal to collectors, the factory announced that a 50-year stockpile of Z8 parts would be maintained. Despite a (US) launch price of over $128,000, initial demand was so high that a bidding war broke out, with many Z8s selling for well in excess of that figure. By the time production ceased at the end of 2002, 5,703 of these fabulous cars had been built.
Finished in silver grey with black interior, this one-owner Z8 was delivered new in Germany and is currently registered in France. This beautiful and desirable car has covered a mere 20,000 kilometres from new and comes complete with hardtop and original cover, service book and instruction manuals.