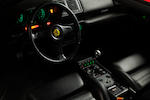 Ferrari F355 Berlinetta 1995
Châssis n° ZFFPA41B000099851

•Livrée neuve en Europe
•21 110 km au compteur
•Magnifique exemplaire en boîte manuelle
•Entretien récemment effectué par Ferrari et certifiée Ferrari Classiche
•Immatriculée en Allemagne


"Complexe, raffinée et très rapide, elle représente un bond en avant qui permet au V8 Ferrari de se mesurer avec fierté aux 456GT et 550 Maranello," concluait avec enthousiasme le magazine Car après son essai de la F355. Présentée à la presse automobile en mai 1994, la F355 a effectivement restauré l'image des V8 Ferrari qui, malgré les 328 et 348, avait pâti du lancement de la Mondial, voiture "pour tous pays". Celle-ci, avec ses quatre places, son habitacle bien équipé et sa suspension relativement douce, était considérée comme beaucoup trop raisonnable pour être une "vraie" Ferrari. Mais la F355 était coulée dans le moule de la voiture des grands pilotes, la Dino 246GT. On mesurera son degré de modernité par son meilleur temps sur la piste Ferrari de Fiorano, plus court de trois secondes que celui de la formidable 512TR.

Malgré ses prodigieuses performances, la F355 n'était pas qu'une "voiture de course sur route" ; c'était aussi une voiture très moderne qui tirait parti de la meilleure technique du moment, un amortissement variable piloté par calculateur qui permettait de concilier des exigences aussi contradictoires qu'une tenue de route parfaite et un confort acceptable. Une pédale d'embrayage douce, une assistance de direction variable et un airbag conducteur étaient autant d'items contribuant à rendre la voiture rassurante et agréable à utiliser.
Mais le cœur de la F355 était son impressionnant V8 de 3,5 litres. Avec ses quatre arbres à cames en tête et ses cinq soupapes par cylindre, architecture empruntée au moteur Ferrari de F1, ce remarquable moteur était donné pour 370 chevaux à 8 250 tr/min et 364 Nm de couple entre 5 000 et 6 500 tr/min. Une boîte à six rapports, montée transversalement derrière le moteur implanté longitudinalement, présentait un étagement suffisamment resserré pour maintenir le moteur dans les tours en toute circonstance. La F355 était construite sous trois formes : Berlinetta, GTS et Spider.

Cette impeccable Ferrari F355 Berlinetta fut livrée neuve en Europe, dans la classique livrée Rosso Corsa avec intérieur noir. Elle a parcouru moins de 21 500 km et est proposée avec le très précieux certificat Ferrari Classiche, qui atteste que son châssis, son moteur, sa boîte de vitesses, ses transmissions, sa suspension, ses freins, ses roues, sa carrosserie et son intérieur sont d'origine. Sa peinture peut être considérée comme essentiellement d'origine, et son intérieur est en très bon état, sans zone "collante", ce qui est un problème courant. Cette belle F355 Berlinetta a récemment bénéficié d'un entretien (nouvelles courroies de distribution, etc.) par les soins de Ferrari ; elle est présentée avec son carnet d'entretien, son historique et le certificat Classiche déjà cité.

1995 Ferrari F355 Berlinetta
Chassis no. ZFFPA41B000099851

•Delivered new in Europe
•21,110 kilometres recorded
•Desirable manual transmission example
•Recently serviced by Ferrari and Ferrari Classiche certified
•Invited to Red Bull Ring Austria
•Road registered in Germany

'Complex, sophisticated, and very fast, it is the quantum leap that has enabled the Ferrari V8 to run in proud parallel with the 456GT and 550 Maranello,' enthused Car magazine's review of the F355. First presented to the motoring press in May 1994, the F355 effectively re-forged the reputation of Ferrari's V8 which, 328 and 348 notwithstanding, had suffered since the introduction of the Mondial 'world car'. The latter, with its four seats, well-appointed interior, and - relatively - soft ride, was considered far too sensible to be a 'proper' Ferrari; the F355 though, was cast in the mould of that great drivers' car, the Dino 246GT. Just how great an advance it was may be gauged from the fact that the F355's best time around Ferrari's Fiorano test track was three seconds quicker than the formidable 512TR's.

Despite its prodigious performance the F355 was no mere 'racer on the road', but a thoroughly modern automobile employing state-of-the-art technology, in the form of computer-controlled variable damping, to reconcile the differing requirements of ultimate roadholding and acceptable comfort. A light-action clutch, proportional power-assisted steering, and driver's air bag were other features calculated to make the car reassuringly user-friendly.

The heart of the F355 though, was its phenomenal 3.5-litre V8 engine. Equipped with four overhead camshafts and five valves per cylinder - a layout borrowed from Ferrari's Formula 1 engine - this remarkable unit produced a claimed 370bhp at 8,250rpm, with 268lb/ft of torque available from 5,000 to 6,500rpm. A six-speed gearbox, mounted transversely behind the longitudinally disposed engine, ensured a sufficiency of ratios to keep the motor on the boil whatever the situation. The F355 was built in three different configurations: Berlinetta, GTS, and Spider.

Finished in classic Rosso Corsa with black interior, this pristine Ferrari F355 Berlinetta was delivered new in Europe. The car has covered fewer than 21,500 kilometres from new and comes with the all-important Ferrari Classiche Certificate confirming that the chassis, engine, gearbox, transmission, suspension, brakes, wheels, bodywork, and interior are original. The paintwork is believed mostly original, while the interior is in very good shape with no 'sticky' parts (a common problem). Recently serviced by Ferrari (new timing belts, etc), this beautiful F355 Berlinetta is offered with service booklet, history file, and the aforementioned Classiche certificate.