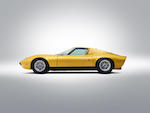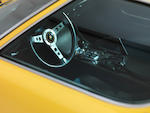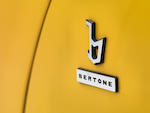 Ex-musée Schlumpf
Lamborghini Miura P400 S coupé 1968
Carrosserie Bertone
Châssis n° 3474

•Dans la collection Schlumpf pendant 12 ans
•Aux mains du même propriétaire pendant 25 ans
•Entièrement d'origine

« Mais prenez du recul pendant un instant et cherchez ce qui rend la Miura si spéciale. En 1966 il n'y avait rien de comparable. Seules les voitures de compétition et la discrète petite Bonnet/Matra Djet française proposaient un moteur central. La principale routière de Ferrari était la très traditionnelle 275 GTB à moteur avant. Aussi, lorsque le magnat du tracteur agricole Ferruccio Lamborghini lui ravit la vedette au Salon de Genève avec la Miura, le public fut autant surpris par l'audacieuse disposition de sa mécanique que par la modernité de son style et son incroyable beauté.» – Classic Cars, juillet 2004.

L'audacieux défi de Ferruccio Lamborghini à l'encontre de Ferrari avait commencé en 1964 avec la 350 GT, mais c'est l'arrivée de la Miura – sans conteste la pionnière des supercars – qui installa Lamborghini comme l'un des principaux constructeurs de sportives haut de gamme. Avant les débuts officiels du modèle au Salon de Genève en 1966, les automobiles Lamborghini étaient respectées pour leurs impressionnantes caractéristiques techniques, mais elles manquaient un peu de personnalité. Tout changea avec la Miura, baptisée du nom de Don Eduardo Miura, un éleveur de taureau de combat réputé. Le projet Miura avait vu le jour sous forme d'un châssis roulant exposé au Salon de Turin en 1965, mais personne ne s'attendait à ce qu'il soit mis en production. Pourtant, au moment du Salon Genève l'année suivante, la première voiture terminée était dévoilée à la presse et à un publique stupéfaits.

Les caractéristiques techniques de la voiture étaient à couper le souffle par leur sophistication et leur complexité. Conçue par Gianpaolo Dallara, la Miura recevait un moteur central monté transversalement dans un châssis à caisson, ce dernier habillé d'une carrosserie stupéfiante dessinée par Marcello Gandini chez Bertone. Comme la 400 GT contemporaine, la Miura faisait appel à la version 4 litres du V12 à quatre arbres à cames en tête Lamborghini conçu par Giotto Bizzarrini. Avec ses 350 ch, la Miura offrait des performances éblouissantes, une vitesse de pointe de 290 km/h étant revendiquée. Les exemplaires de série étaient régulièrement chronométrés à plus de 270, confirmant que la Miura était la plus rapide voiture de série du monde. Au début de 1968, après la 125e voiture, l'épaisseur de la tôle d'acier utilisé pour le châssis fut portée de 0, 9 mm à 1 mm, tandis qu'à partir d'avril de la même année, les clients pouvaient demander un intérieur en cuir. La production de la P400 originale prit fin plus tard dans l'année 1968 lorsque son héritière la version S fut dévoilée, alors que plus de 470 de ces magnifiques automobiles avaient déjà été construites.

Equipée de la carrosserie numéro 177, le châssis numéro 3474 a été achevé en avril 1968 peint en bleu métallisé avec intérieur moutarde et fut livré en Italie par le concessionnaire Carpanelli. L'historien de Lamborghini et président du club Lamborghini de Belgique, Olivier Namèche, nous informe que 3474 a été accidenté peu de temps après sa livraison et a été retourné à l'usine Lamborghini. La voiture étant irréparable, Lamborghini suggéra de fournir une Miura P400 S avec le même numéro de châssis que la Miura P400 originale (accidenté), évitant ainsi à leur client de payer un montant considérable en taxes. La voiture reçut également une nouvelle carrosserie Bertone de P400 S (numéro 476) tandis que le moteur d'origine (numéro 1896) de la P400 était transféré sur la nouvelle voiture qui fut peinte en Giallo (jaune) avec intérieur bleu, la livrée qu'elle conserve encore aujourd'hui. Il se trouve que la Miura de Johnny Hallyday (châssis 3006), la première P400 livrée en France, a elle aussi reçu un châssis et une carrosserie de Miura S de rechange.

Cette voiture, qui fut achetée pense-t-on par un collectionneur particulier italien, fut la propriété du fameux musée Schlumpf de Mulhouse de la fin des années 1970 jusqu'au début des années 1990. Elle fut vendue car le musée entendait se concentrer sur les marques françaises, aussi, la Lamborghini étant italienne, dut laisser la place et passa aux mains de l'actuel propriétaire en 1993. On pense que cette Miura S n'a eu que quatre propriétaires en tout et que les 43 000 kilomètres du compteur sont d'origine.

En 1994 le moteur a été entièrement refait en Belgique par l'actuel propriétaire, un ancien mécanicien Lamborghini et autorité reconnue de la marque. On nous dit que le moteur est en excellent état, avec toute sa puissance et peut atteindre les 9 000 tr/min. Les freins, la suspension et la transmission ont été révisés en même temps, alors qu'en 2017 une nouvelle révision complète était effectuée. Cette Miura S est hautement originale et bien conservée, l'intérieur que l'on pense d'origine présentant une belle patine. Les Miura sont réputées pour prendre feu facilement, aussi celle-ci est-elle équipée d'un extincteur automatique.

Entre 1995 (lors de sa première immatriculation en Belgique) et 2017, la voiture a été rarement conduite et seulement pour de courts trajets et quelques sorties, couvrant un total de seulement 3 000 kilomètres au cours des 22 dernières années. L'une de ses rares sorties fut effectuée en 2017, cette Miura S participant au Classic Grand Tour et recevant le 1er Prix de la classe 1960-1970 du concours d'élégance. Une magnifique opportunité d'acquérir un exemplaire largement d'origine de la révolutionnaire Lamborghini Miura, un modèle unanimement reconnu comme l'une des sportives les plus importantes de tous les temps.

Ex-Schlumpf Museum
1968 Lamborghini Miura P400/S Coupé
Coachwork by Carrozzeria Bertone
Chassis no. 3474

•Part of the Schlumpf collection for 12 years
•Long-term private ownership (25 years)
•Highly original

'But step back for a minute and work out what makes the Miura so special. In 1966 there was nothing like it. Only racing cars and the obscure little French Bonnet/Matra Djet had mid-mounted engines. Ferrari's road-going mainstay was the traditional front-engined 275GTB. So when tractor magnate Ferruccio Lamborghini stole the attention of the Geneva Salon crowd with the Miura, people were shocked as much by its audacious mechanical layout as they were by its era-defining and stunningly gorgeous styling.' – Classic Cars, July 2004.

Ferruccio Lamborghini's bold challenge to Ferrari had begun in 1964 with the 350GT but it was the arrival of the Miura - arguably the founder of the supercar class - that established Lamborghini as a major manufacturer of luxury sporting cars. Prior to the model's official debut at the 1966 Geneva Salon, Lamborghini cars were respected for their impressive mechanical specifications but they somehow lacked a distinctive persona. All this changed with the arrival of the Miura, named after Don Eduardo Miura, a famous breeder of fighting bulls. The Miura project first surfaced as a rolling chassis displayed at the 1965 Turin Motor Show but was not expected to become a production reality. Nevertheless, by the time of the Geneva Salon the following year, the first completed car was ready for unveiling to an awe-struck press and public.

The car's technical specification was breathtaking in its sophistication and complexity. Designed by Gianpaolo Dallara, the Miura carried its transversely mounted engine amidships in a box-section platform chassis, the latter clothed in stunning coupé coachwork styled by Bertone's Marcello Gandini. Like the contemporary 400GT, the Miura used the 4.0-litre version of Lamborghini's Giotto Bizzarrini-designed four-cam V12. With 350bhp available, the Miura was capable of shattering performance, a top speed of 180mph being claimed. Production examples were independently tested at more than 170, confirming that the Miura was the world's fastest production car. Early in 1968, after the 125th car had been completed, the steel used in the chassis was increased from 0.9 to 1mm in thickness, while from April that year customers could specify a leather interior. Production of the original P400 ended later in 1968 when the successor 'S' version was introduced, by which time a little over 470 of these wonderful cars had been produced.

Fitted with body number '177', chassis number '3474' was completed in April 1968 finished in blue metallic with mustard interior and was delivered via the concessionaire Carpanelli in Italy. We are informed by Lamborghini historian and Lamborghini Club Belgium president, Olivier Namèche, that '3474' was crashed shortly after delivery and was returned to Lamborghini. As the car was irreparable, Lamborghini suggested that it could supply a new Miura P400S with the chassis number from the original (crashed) Miura P400, thereby saving their client a considerable amount of tax. The car also received a new Bertone P400/S body (number '476') while the original engine (number '1896') of the crashed P400 was transferred to the new car, which was finished in Giallo (Yellow) with blue interior, the colour combination it retains today. As it happens, Johnny Hallyday's Miura (chassis '3006'), the first P400 delivered in France, as well has a replacement Miura S chassis/body.
Believed purchased from an Italian private collector, this car was owned by the famous Schlumpf Museum in Mulhouse from the end of the 1970s until the beginning of the 1990s. It was sold because the Museum wanted to focus more on French marques so the Lamborghini, being Italian, had to go, passing to the current owner in 1993. It is believed this Miura S has had only four owners in total, and that the odometer reading of circa 43,000 kilometres is genuine.

In 1994 the engine was completely rebuilt in Belgium by the current owner, an ex-Lamborghini mechanic and recognised authority on the marque. The engine is said to be in excellent condition, with a healthy power output and capable of 9,000 revs. The brakes, suspension, and transmission were revised at the same time, while in 2017 a further complete overhaul was carried out. This Miura S is said to be highly original and well preserved, the believed original interior having a lovely patina. Miuras have been known to catch fire easily, so this one is fitted with an automatic fire extinguisher.

Between 1995 (when first registered in Belgium) and 2017, the car has rarely been driven and then only for short trips and outings, covering a total of only some 3,000 kilometres in the last 22 years. One of its rare outings was in 2017, this Miura S participated in the Classic Grand Tour and deservedly won the 1st Prize in the 1960s-1970s Class at the Concours d'Élégance. A wonderful opportunity to acquire a highly original example of the groundbreaking Lamborghini Miura, a model widely recognised as one of the most influential sports cars of all time.