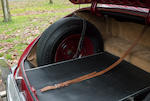 Mercedes-Benz 300 S coupé 1953
Châssis n° 188011 00318/53

•Luxe et élégance inégalés
•Une des 560 construites
•Livrée neuve en Italie
•Rénovation mécanique récente et complète

Plus chère que la très sportive 300 SL et coûtant presque le double du haut de gamme Cadillac, la Mercedes-Benz 300S était l'une des automobiles les plus exclusives du monde. Habillée dans un style d'avant-guerre élégant, mais techniquement très en avance, la 300 S était construite selon les exigences de qualité sans compromis de la firme de Stuttgart. Inévitablement, la production en fut limitée et seulement 760 unités des 300 S/Sc (560/200) quittèrent l'usine entre 1951 et 1958.

La 300S était un dérivé à empattement court de la berline 300, l'une des premières créations d'après guerre de Mercedes-Benz, qui avait été dévoilée au Salon de Francfort en 1951. L'avènement de la 300 S replaçait Mercedes-Benz au premier rang des constructeurs de prestige et marquait un retour de la marque à la tradition des voitures de luxe de haute performance de la meilleure qualité.

« Aux caractéristiques de hautes performances, d'allure exceptionnelle et de finition dans les moindres détails typiques des modèles Mercedes d'avant guerre, s'ajoutent de nouvelles qualités de silence, de souplesse et de confort de conduite, tandis que les nouvelles suspensions arrière, fruit d'une longue expérience dans les voitures de compétition et de grand tourisme, apportent un niveau de sécurité à haute vitesse sur revêtement dégradé et glissant avec lequel il est difficile de rivaliser », soulignait le magazine Autocar.

Alors que Mercedes-Benz s'orientait vers la construction monocoque pour ses produits d'attaque et de milieu de gamme au cours des années cinquante, le recours au châssis séparé pour la gamme 300 permettait de proposer un large éventail de carrosseries. Le châssis à croisillon de tubes ovales de la 300 reprenait le schéma des 170 et 220 à suspension indépendante et freins à tambour aux quatre roues, mais apportait un supplément de raffinement avec un différentiel à pignons coniques, des roues équilibrées et un réglage électrique de la hauteur des suspensions arrière à distance. Le six cylindres 3 litres à arbre à cames en tête de 115 ch – celui utilisé avec une injection d'essence sur la 300 SL – vit sa puissance augmentée sur les 300b et 300c suivantes, adoptant finalement l'injection sur la 300d restylée de 1957. Construite à l'unité par les meilleurs artisans de Mercedes-Benz, la 300 était éminemment luxueuse et habillée de matériaux de la meilleure qualité.

La berline au style suranné fut rapidement épaulée par la 300 S (Super), un modèle qui reprenait le flambeau de l'élégance des 540 K d'avant-guerre. Présentée au Salon de Paris en octobre 1951, la 300 S était proposée en coupé et cabriolet sur le châssis de la berline raccourci. Non seulement la 300 S était bien plus légère que la berline, mais elle était aussi plus puissante, disposant d'une alimentation à trois carburateurs Solex au lieu de deux et d'un taux de compression plus élevé. La puissance maximale s'élevait à 150 ch et la vitesse de pointe à 176 km/h. Une seule évolution marqua le cours de la production, l'injection d'essence sur la 300 Sc, qui adoptait également d'autres améliorations – notamment la nouvelle suspension arrière – apportées à la berline.

Grande routière rapide, dans la veine des 540 K, la 300 S était plus rapide, avec une meilleure tenue de route, plus confortable, et de façon générale bien supérieure à sa devancière d'avant-guerre. C'était le porte-drapeau de la marque, stylée, exclusive, destinée à une riche clientèle raffinée qui exigeait des performances hors pair, mais qui n'entendait pas pour autant sacrifier les équipements luxueux et une généreuse habitabilité. La 300 S fait aujourd'hui partie des Mercedes-Benz d'après-guerre les plus recherchées, inégalée en luxe et en style.

Vendue neuve en Italie, cette Mercedes-Benz 300 S coupé appartient au vendeur depuis 2014 et a passé un temps considérable et bénéficié de dépenses somptueuses pour la réfection de sa mécanique, il y a quelques années. Décrite par le vendeur comme étant en excellent état de marche, la voiture est vendue avec un certificat de Mechatronik GmbH.

1953 Mercedes-Benz 300 S Coupé
Chassis no. 188011 00318/53

•Unsurpassed style and luxury
•One of only 560 made
•Delivered new in Italy
•Recent extensive mechanical refurbishment

More expensive than the 300 SL sports car and almost double the price of the contemporary top-of-the-range Cadillac, the Mercedes-Benz 300 S was one of the world's most exclusive automobiles. Elegantly styled in the pre-war manner yet technologically bang up to date, the 300S was built to the Stuttgart firm's uncompromising quality standards. Inevitably, production was limited, only 760 examples of the 300 S/Sc (560/200) leaving the factory between 1951 and 1958.

The 300 S was a short-wheelbase derivative of the 300 saloon, one of Mercedes-Benz's first all-new designs of the post-war era, which had debuted at the Frankfurt Auto Show in 1951. The 300's arrival re-established Mercedes-Benz in the front rank of prestige car manufacturers, marking as it did a return to the marque's tradition of building high-performance luxury automobiles of the finest quality.

'To the characteristics of high performance, impressive appearance and fine detail finish which distinguished the big Mercedes models of pre-war days are added new virtues of silence, flexibility and lightness of control, while the latest rear suspension, a product of long experience on Grand Prix cars and touring cars, confers a degree of security at high speeds on rough and slippery surfaces which it would be very difficult indeed to equal,' observed Autocar magazine.

Although Mercedes-Benz would adopt unitary chassis/body construction for its lower and mid-priced cars as the 1950s progressed, the retention of a traditional separate frame for the 300 family enabled a wide variety of coachbuilt body types to be offered. The 300's cross-braced, oval-tube chassis followed the lines of the 170 S and 220, with independent suspension all round and four-wheel drum brakes, but incorporated the added refinements of hypoid bevel final drive, dynamically balanced wheels and remote electrical control of the rear suspension ride height. Initially developing 115bhp, the 3.0-litre, overhead-camshaft, six-cylinder engine - used in fuel-injected form in the 300SL sports car - was boosted in power for the succeeding 300b and 300c models, finally gaining fuel injection in the re-styled 300d of 1957. Custom built by Mercedes-Benz's most experienced craftsmen, the Mercedes-Benz 300 was luxuriously appointed and trimmed with materials of the highest quality.

The conservatively styled saloon was soon joined by the 300 S (Super), a model which succeeded in recapturing all the elegance of the pre-war 540 K. Introduced at the Paris Salon in October 1951, the 300 S was built in coupé and cabriolet forms on a shortened 300 saloon chassis. Not only was the 300 S considerably lighter than the saloon, it was also more powerful, boasting an engine equipped with triple (as opposed to twin) Solex carburettors and a raised compression ratio. Maximum power output was increased to 150bhp and top speed to 176km/h (109mph). Only one significant change was made in the model's lifetime: the introduction in 1955 of the fuel-injected 300 Sc which incorporated improvements - including revised rear suspension - also made to the saloon.
A fast touring automobile in the tradition of the legendary 540 K, the 300 S was faster, better handling, more comfortable, and generally superior to its pre-war ancestor. It was Mercedes-Benz's flagship model: stylish, exclusive and intended for a wealthy and discerning clientele that demanded superlative performance but were unwilling to sacrifice luxurious appointments and generously sized accommodation. Today the 300 S is among the most sought after of post-war Mercedes-Benz automobiles.

Sold new in Italy, this Mercedes-Benz 300 S Coupé has belonged to the current vendor since 2014, benefiting from considerable time and expense spent on refurbishment of the mechanicals a couple of years ago. Described by the vendor as in excellent running order, the car is offered with a Mechatronik GmbH certificate.