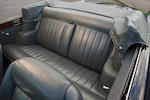 Bentley S2 Continental cabriolet 1962
Carrosserie Park Ward Ltd
Châssis n° BC119LCZ

•Ultime cocktail de performance et d'élégance à l'époque
•Livrée neuve aux Etats-Unis
•Conduite à gauche
•Récente et complète rénovation par Frank Dale & Stepsons
•Immatriculée au Royaume-Uni

Dévoilées à l'automne 1959, la Rolls-Royce Silver Cloud II et la Bentley S2 paraissaient identiques à leurs devancières Silver Cloud et S Type, malgré leurs performances nettement supérieures, dues au nouveau moteur en alliage d'aluminium de 6 230 cm3. « La Bentley S2, comme sa jumelle Rolls-Royce, permet de voyager en silence à grande vitesse dans le luxe, conducteur et passagers savourant ce bien-être que seul peut procurer le savoir-faire artisanal britannique. Le V8 avec ses accélérations foudroyantes contribue certainement à ce résultat et représente un pas en avant considérable de la technologie Rolls-Royce » affirmait Autosport. On notait peu de changement à la transmission, même si la direction assistée était désormais installée en série et la boîte manuelle abandonnée, la boîte automatique maison de Rolls-Royce étant désormais la seule proposée.

Construite sous sa forme S2 à moteur V8 à partir de l'automne 1959, la Continental de Bentley restait, comme toujours, un modèle carrossé sur mesure. Les carrossiers H. J. Mulliner, Park Ward, James Young et Hooper (pour un exemplaire unique) habillèrent tous le châssis Continental S2 qui se distinguait du modèle de série par ses freins avant à quatre étriers, son radiateur plus bas et, jusqu'au châssis n° BC99BY, par un rapport de pont plus élevé. Sur les quatre carrossiers, James Young et Hooper allaient bientôt arrêter leur activité, laissant Mulliner et Park Ward continuer seuls cette noble tradition.

Le châssis numéro BC119LCZ est un parfait exemple du style « straight through wing » de Park Ward. C'est l'une des 124 carrossées de cette façon par Park Ward, et l'une des 61 voitures dotées d'une conduite à gauche d'origine. Cette Continental a été livrée neuve à Rolls-Royce Inc. à New York, aux Etats-Unis où elle a été vendue par J. S. Inskip Inc. à son premier propriétaire, Gordon P. Kelley de Chicago, dans l'Illinois. Une copie de la fiche de châssis figurant au dossier atteste que la voiture était à l'origine bleu Dawn avec capote bleu clair et intérieur assorti, et avait quitté l'usine équipée de vitres et d'une antenne électriques, d'une capote électrique et de vitres Sundym. Un seul autre propriétaire est recensé sur la fiche de châssis, un certain Adrian West de Morrisville, dans le Vermont (à partir d'avril 1971).

Au cours des dernières années la voiture est revenue en Europe où elle faisait partie d'une petite collection privée en Hollande. Les spécialistes renommés de la marque, Frank Dale & Stepsons, ont récemment ramené cette magnifique automobile à l'état d'un modèle d'exposition, avec une préparation mécanique et électrique partout où cela s'avérait nécessaire, une restauration de la carrosserie et des chromes, une nouvelle capote avec sa doublure, une restauration des boiseries et de nouvelles moquettes (factures fournies). Dans un état de présentation et de fonctionnement irréprochable, cette superbe Bentley Continental est vendue avec sa trousse à outils complète, prête pour des randonnées estivales agréables sur la Côte d'Azur ou d'autres destinations enchanteresses.

1962 Bentley S2 Continental Drophead Coupé
Coachwork by Park Ward Ltd
Chassis no. BC119LCZ

•The ultimate combination of speed and elegance in its day
•Delivered new to the USA
•Left-hand drive
•Recent extensive refurbishment by Frank Dale & Stepsons
•Registered in the UK

Introduced in the autumn of 1959, the Rolls-Royce Silver Cloud II and Bentley S2 appeared externally unchanged from their Silver Cloud and S-Type predecessors, though their performance was considerably enhanced by the new 6,230cc aluminium-alloy V8 engine. 'The Bentley S2, with its sister Rolls-Royce models, gives high-speed travel in silence and luxury, while the driver and passengers enjoy the sense of well being that only British craftsmanship can give. The V8 engine, with its flashing acceleration, certainly contributes to the result and is a definite step forward in Rolls-Royce technique,' enthused Autosport. There were few significant changes to the running gear, though power-assisted steering was now standard and the manual gearbox had been dropped, Rolls-Royce's own four-speed automatic transmission being the sole offering.

Built in 'S2' form from the autumn of 1959, Continental version of the Bentley remained, as ever, exclusively a coachbuilt car. The firms of H J Mulliner, Park Ward, James Young, and Hooper (with a solitary example) all offered bodies on the Continental S2 chassis, which differed from the standard version by virtue of its four-leading-shoe front brakes, shorter radiator and, up to chassis number 'BC99BY', higher gearing. Of these four, James Young, and Hooper would soon cease coachbuilding, leaving only Mulliner and Park Ward to carry on a noble tradition.

Chassis number 'BC119LCZ' is an example of Park Ward's influential 'straight through wing' body style; it is one of 124 bodied in this fashion by Park Ward, and one of only 61 original left-hand drive cars. This Continental was delivered new to Rolls-Royce Inc in New York, USA where it was sold via J S Inskip Inc to its first owner: Gordon P Kelley of Chicago, Illinois. Copy chassis cards on file record that the car was originally finished in Dawn Blue with light blue hood and matching interior, and left the factory equipped with electric windows and aerial, power operated convertible hood, and Sundym glass. Only one other owner is listed on the chassis cards: an Adrian West of Morrisville, Vermont (from April 1971).

In more recent years the car returned to Europe where it formed part of a small private collection in Holland. Renowned marque specialists, Frank Dale & Stepsons have recently brought this handsome motor car up to showroom condition, with mechanical and electrical preparation as and where necessary, coachwork restoration, chrome restoration, a new hood and headlining, woodwork restoration, and new carpets (bills available). Now presenting and driving beautifully, this superb Bentley Continental comes with a complete small tool kit and is ready for pleasurable summer motoring to the Côte d'Azur and other such delightful destinations.