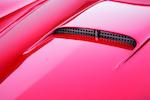 Autrefois propriété de Tony Franciosa
Facel Vega HK 500 coupé 1958
Châssis HK6-A6

•La sixième HK 500 produite
•Livrée neuve à Rome au fameux acteur américain, Tony Franciosa
•Restauration professionnelle complète par un spécialiste de la marque (2010-2014)
•Attestation d'identification Facel Véga au dossier


Dans sa vie relativement courte, la marque française Facel Véga a produit environ 2 900 voitures, toutes élégantes, luxueuses et rapides. Elles étaient évidemment très onéreuses – la Facel II se situait dans la zone de prix des Rolls-Royce – et étaient achetées par une clientèle de personnalités richissimes en quête d'exclusivité. La liste des clients comprend des rois, des politiciens et des vedettes de cinéma dont Tony Curtis, Danny Kaye, Ringo Starr, Joan Fontaine, Ava Gardner et Tony Franciosa – dont la voiture est proposée ici – font partie. Confirmant que derrière ce style incomparable se cachaient de hautes performances, elles furent aussi la propriété de grandes figures de la compétition automobile comme Sir Stirling Moss, Maurice Trintignant et Rob Walker.

Fondée par Jean Daninos en 1939, les Forges et Ateliers de Construction d'Eure-et-Loir (FACEL) étaient spécialisées dans la construction de composants pour l'aviation et la fourniture de métaux. Après la guerre, la société se lança dans la construction de carrosseries pour Panhard, Simca et Ford France avant de devenir constructeur de ses propres automobiles en lançant la Véga au Salon de Paris en 1954. Les législations gouvernementales avaient de fait tué les rares constructeurs français de voitures de luxe qui avaient survécu à la seconde guerre, mais cela n'avait pas dissuadé Jean Daninos dans sa tentative de ressusciter la grande tradition française de l'automobile de luxe. Luxueuse grande routière, la Véga devait son nom à l'étoile la plus brillante de la constellation de la Lyre et arborait une carrosserie particulièrement élégante, soudée à un châssis tubulaire. Ne disposant pas de moteur français adéquat, Daninos s'était tourné vers les Etats-Unis pour sa Véga, choisissant dans un premier temps un V8 Chrysler 4,5 litres de 180 ch avec au choix une transmission automatique ou manuelle.

Les modifications aux premiers modèles FV ne tardèrent pas, la FV 1, présentée en mars 1955, disposant d'un empattement plus long, pour une meilleure habitabilité à l'arrière, et d'un V8 Chrysler 4, 8 litres de 200 ch. Quelques cabriolets FV1 furent construits, mais Daninos ne raffolait pas des voitures ouvertes et la production se concentra sur les coupés, bien qu'il y eut aussi l'Excellence, une berline quatre portes à la production limitée sur un empattement allongé.

Une version améliorée, la HK 500, fut dévoilée en 1957. La puissance maximale s'établissait désormais à 360 ch, grâce à la dernière version 5, 9 litres (puis, plus tard, 6, 3 litres) du V8 Chrysler Hemi et la vitesse maximale grimpait à 225 km/h, faisant de la HK 500 l'une des voitures les plus rapides de sa génération. La direction assistée était proposée en option et les freins à disque Dunlop furent montés en série à partir de 1960. Capable de rouler en silence sans effort à une vitesse de croisière de 190 km/h, la HK 500 offrait, selon le magazine The Motor, « un brillant cocktail de confort et de tenue de route tout à fait exceptionnelle ». La production de la HK 500 s'élève à environ 500 exemplaires entre 1958 et 1961 ce qui fait de cette grande routière franco-américaine un modèle particulièrement recherché.

Sixième HK500 produite, HK6-A6 a été immatriculée en France sous le numéro 3662 TTB 75 une plaque de transit temporaire. L'attestation d'identification de Facel au dossier indique que la voiture était à l'origine gris colombe avec intérieur noir, tandis que les options comprenaient la transmission automatique, la direction assistée, les roues Rudge et une radio Radiomobile. La voiture fut immédiatement exportée le 29 juillet 1958 et livrée à l'Hôtel Excelsior à Rome à son premier propriétaire, le fameux acteur américain Tony Franciosa. Elle ne fut pas livrée par un agent, mais directement par Facel SA. À l'époque, Franciosa était en Italie pour le tournage de La Maja nue, dans lequel il tient le rôle du peintre espagnol Francisco Goya, aux côtés d'Ava Gardner. Peu après sa livraison, la Facel fut photographiée avec Tony Franciosa et Ava Gardner, qui possédait elle aussi une Facel. Pendant longtemps, on a cru que la voiture de cette photo bien connue était celle d'Ava Gardner, mais la documentation Facel confirme que c'est bien celle de Franciosa.

Ensuite, la HK500 trouva le chemin des Etats-Unis où elle passa de la Californie à l'Orégon, où elle resta jusqu'en 2011. Il est intéressant de noter qu'à un moment au cours de cette période, les feux arrière ont été « américanisés » alors que sur la photo avec Ava Gardner la voiture a encore les feux arrière européens. Lorsqu'elle fut proposée à la vente, la Facel fut décrite comme exceptionnellement bien préservée, avec des portes fermant parfaitement, un moteur refait et un état général particulièrement bien conservée, largement d'origine.

L'actuel propriétaire (belge) a acheté la voiture aux Etats-Unis et a fait procéder à une restauration complète, état concours, effectuée en France entre 2011 et 2014 par le spécialiste de la marque, l'Atelier Tisserand. Une véritable fortune a été dépensée pour ramener la voiture à sa gloire antérieure, la couleur ayant été changée pour une nuance rouge au cours de la restauration. Durant les quatre dernières années, la voiture a participé à de nombreuses manifestations de voitures anciennes telles que le prestigieux Grand Prix de Zoute en Belgique. Réputée en parfait état de marche, cette automobile suprêmement élégante est vendue avec son ancien titre américain, une correspondance du club Facel Véga, des photographies et les factures de la restauration, ses papiers d'immatriculation belge en cours (2014) et l'attestation d'identification de Facel Véga mentionnée plus haut.

First owned by Tony Franciosa
1958 Facel Vega HK500 Coupé
Chassis HK6-A6

•The sixth HK500 produced
•Delivered new to Rome for the celebrated American movie star, Tony Franciosa
•Full professional restoration by marque specialist (2010-2014)
•Facel Vega Attestation d'Identification on file


In its relatively short life, the French firm of Facel produced approximately 2,900 cars, all of which were stylish, luxurious and fast. Hand built, they were, of course, necessarily very expensive – the Facel II was priced in Rolls-Royce territory – and were bought by the rich and famous seeking something exclusive and distinctive. The roll call of owners includes royalty, politicians, diplomats and entertainers: Tony Curtis, Danny Kaye, Ringo Starr, Joan Fontaine, Ava Gardner, and Tony Franciosa - whose car is offered here - being counted among the latter. Confirming that there was high-performance substance behind Facel's unquestionable style, they were owned and driven by great motor racing figures such as Sir Stirling Moss, Maurice Trintignant and Rob Walker.

Founded by Jean Daninos in 1939, Forges et Ateliers de Construction d'Eure-et-Loir (FACEL) specialised in the construction of aircraft components and metal furniture. After the war the company engaged in the supply of car bodies to Panhard, Simca and Ford France, before branching out into automobile manufacture in its own right with the launch of the Vega at the 1954 Paris Salon. Government legislation had effectively killed off France's few surviving luxury car manufacturers after WW2, but that did not deter Jean Daninos in his bold attempt to revive what had once been a great French motoring tradition. A luxurious Grand Routier, the Vega took its name from the brightest star in the Lyra constellation and featured supremely elegant coupé bodywork welded to a tubular-steel chassis. There being no suitable French-built power unit, Daninos turned to the USA for the Vega's, that chosen initially being Chrysler's 4.5-litre, 180bhp V8, while there was a choice of push-button automatic or manual transmission.

Improvements to the first FV model were not long in coming, the FV1, introduced in March 1955, featuring a lengthened wheelbase for increased rear seat room and a 4.8-litre, 200bhp Chrysler V8. A few FV1 cabriolets were built but Daninos was not keen on soft-tops and production concentrated on fixed-head coupés, although there was also the Excellence, a limited-edition four-door saloon on an extended wheelbase.

An improved model, the HK500, appeared in 1957. Maximum power was now around 360bhp courtesy of the latest, 5.9-litre (later 6.3-litre) version of Chrysler's 'Hemi' V8 while top speed rose to around 140mph, making the HK500 one of the fastest cars of its era. Power steering became an option and Dunlop disc brakes were adopted as standard equipment in 1960. Capable of effortless and virtually silent 120mph cruising, the HK500 possessed, according to The Motor magazine, 'a brilliant combination of good comfort and quite exceptional roadholding'. HK 500 production amounted to just 500-or-so units between 1958 and 1961, and today this rare Franco-American Grande Routière is highly sought after.

The sixth HK500 produced, 'HK6-A6' was first registered in France as '3662 TTB 75' for 'Temporary Transit'. Facel's Attestation d'Identification on file shows that the car was originally finished in Dove Grey with black interior, while optional equipment included automatic transmission, power assisted steering, Rudge wheels, and a Radiomobile radio. The car was immediately exported and on 29th July 1958 was delivered to the Hotel Excelsior in Rome for its first owner, the celebrated American movie star, Tony Franciosa. It was not delivered through an agent but directly from Facel SA. At this time, Franciosa was in Italy for the filming of The Naked Maja, in which he played the role of Spanish painter Francisco Goya, starring alongside Ava Gardner. Soon after delivery, the Facel was photographed with Tony Franciosa and Ava Gardner, who also owned a Facel. For a long time it was assumed that the car in this famous photograph must have been Ava Gardner's, but Facel documentation confirms that it was Franciosa's.

Subsequently, the HK500 found its way to the USA where it went from California to Oregon, remaining there until 2011. Interestingly, somewhere during this period the rear lights were 'Americanised' while in the picture with Ava Gardner the car still had the European style rear lights. When advertised for sale, the Facel was described as phenomenally well preserved, with doors that shut perfectly, engine re-commissioned, and all over in very well maintained and largely original condition.

The current (Belgian) owner bought the car in the USA and proceeded to commission a full restoration to concours condition, which was carried out in France between 2011 and 2014 by marque specialists, Atelier Tisserand. An absolute fortune was spent to bring the car to its former glory, the exterior colour being changed to red in the process. Over the past four years the car has participated in several classic car events such as the prestigious Zoute Grand Prix in Belgium. Said to drive superbly, this supremely elegant motor car is offered with its old US Title, Facel Vega Car Club correspondence, restoration photographs and invoices, current Belgian registration papers (2014), and the aforementioned Attestation d'Identification from Facel Vega.