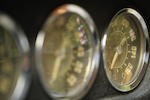 Lancia Appia coupé 1959
Carrosserie Pinin Farina
Châssis n° 812.01-2254

•Un des 302 exemplaires construit par Pinin Farina
•Achetée par une éminente collection privée d'Italie
•Restauration et réfection moteur il y a environ 20 ans
•Régulièrement entretenue
•Exemplaire largement d'origine

Reprenant le style de sa grande sœur Aurelia B10, la nouvelle petite voiture de Lancia, l'Appia, de construction monocoque, débuta en 1953. Venant seconder les berlines Appia de série, on trouvait des modèles produits en série limitée, construits sur un châssis séparé et carrossés par les plus grandes Carrozzeria, Pinin Farina étant chargé du coupé, Vignale du cabriolet et Zagato du coupé GT. La puissance du moteur était portée à 53 ch pour ces Appia plus sportives qui, avec des carrosseries aérodynamiques allégées, pouvaient atteindre les 160 km/h. Lancia avait rejeté la première proposition de Pinin Farina mais donna son feu vert pour la seconde qui fut dévoilée au Salon de Genève en 1957. La production fut reprise plus tard par la Carrozzeria Viotti, dont les voitures étaient identiques à celles de Pinin Farina, hormis quelques différences de détail. Pinin Farina avait construit 302 voitures et Viotti 785 lorsque la production cessa en 1963.

Le vendeur a acheté ce coupé Appia à un collectionneur du nord de l'Italie qui avait acquis la voiture en 2000. Au sein de sa collection, la Lancia a été bien entretenue et l'intérieur regarni en utilisant des matériaux conformes à ceux d'usine, tout l'entretien ayant été effectué par un atelier familial local établi de longue date qui s'occupe encore de la voiture aujourd'hui. Au cours des dix dernières années, l'Appia a été remisée dans la collection familiale et révisée chaque année pour la maintenir en état de marche. L'huile du moteur et de la transmission a été changée depuis l'acquisition par le vendeur (les freins et la suspension avaient été révisés auparavant par l'atelier en Italie). Les outils et le cric d'origine font partie du lot.

1959 Lancia Appia Coupé
Coachwork by Pinin Farina
Chassis no. 812.01-2254

•One of only 302 examples built by Pinin Farina
•Purchased from a prominent private collection in Italy
•Car restored and engine rebuilt circa 20 years ago
•Regularly maintained
•Highly original example

Styled like its Aurelia B10 big brother, Lancia's new small car, the unitary construction Appia, arrived in 1953. Complementing the standard Appia saloon was a series of limited edition models produced on a separate chassis (code number '812.01') and bodied by leading carrozzeria, Pinin Farina being responsible for the 2+2 coupé, Vignale the cabriolet, and Zagato the GT coupé. Engine power was increased to 53bhp for these more sporting Appias which, when equipped with lightweight coachwork, could touch 100mph. Lancia had rejected Pinin Farina's first proposal but gave its blessing to the second attempt, which was unveiled at the 1957 Geneva Motor Show. Production was later taken up by Carrozzeria Viotti, whose cars were identical to Pinin Farina's apart from some relatively minor differences. Pinin Farina had built 302 cars and Viotti 785 by the time production ceased in 1963.

The current vendor purchased this Appia Coupé from a collector in Northern Italy who had acquired the car in 2000. While in his collection, the Lancia was maintained and the interior re-upholstered using factory-correct materials, with all maintenance carried out by a local long-established family-owned workshop that still looks after his cars today. For the last ten years, the Appia has been stored as part of the family's collection and serviced annually to keep it roadworthy. The engine and transmission oils have been changed since the car's acquisition by the vendor (the brakes and suspension had been overhauled previously by the workshop in Italy). The original tools and jack are included in the sale.