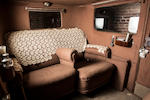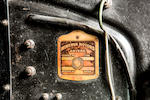 Minerva Type AD « Feval » berline à carrosserie toilée 1925
Carrosserie D'Ieteren licence Weymann, carrosserie N° 3258
Châssis No. 42501
Moteur N° 42500

•Deux propriétaires
•Voiture à remonter le temps
•Rare survivante à carrosserie Weymann en toile d'origine
•Charmante voiture des années 1920

Plus jeune de deux décennies, mais tout aussi importante sinon d'une plus grande originalité que le modèle K de la même collection, voilà un petit bijou vintage. La voiture arbore une carrosserie construite par D'Ieteren sous une signature de licence séparée qu'ils utilisaient pour certaines de leurs carrosseries quand elles étaient construites selon les principes de Weymann. Weymann étaient bien sûr une des sociétés les plus connues pour expérimenter les carrosseries allégées en utilisant une structure en bois fexible recouverte de toile. Ils allaient être dépassés et remplacés dans cette voie par le brevet Superleggera de Touring pour les carrosseries en métal allégées.

Connue sous le nom de « Marguerite », d'après le prénom de l'épouse du premier propriétaire, cette Minerva est une survivante d'un grand raffinement, offrant le charme authentique que seul peut apporter un entretien soigné. Son historique est simple et bien étayé par la documentation du dossier. Dedans, on trouve la facture d'achat originale de l'agent Minerva René Kuhling et Cie de Bruxelles au nom de M. Frederic Theis de cette même ville, avec le carnet de bord, le catalogue de pièces détachées et un mode d'emploi pour la magnéto. Plus intéressant, on trouve une photo de la voiture dans les années 1920 avec la dite Marguerite debout à côté, bien en chair avec son costume d'époque et son chapeau cloche !

M. Theis conserva la voiture pendant presque 40 ans, l'entretenant bien et prenant grand soin de la toile qui offre aujourd'hui une gracieuse patine et une usure très peu marquée. En mai 1962, il la vendit à Jacques Vander Stappen dans lequel il trouva le plus approprié des seconds propriétaire qui la conserva pendant 55 années supplémentaires.

C'est une voitures des années 1920 fascinante et riche de détails, avec de nombreux accessoire et caractéristiques d'époques. Une inspection attentive est toujours inévitablement récompensée par la découverte de nouveaux aspects à chaque fois que l'on s'y plie, de même lorsque l'on s'extasie sur son état général. Comme elle n'a pas été utilisée au cours des dernières années, il est plus que probable qu'elle aura besoin d'une remise en route avant d'être utilisée. Une fois remise en service, malgré ses petites dimensions, on voit bien comment elle pourrait convaincre les jurés et s'avérer une « tueuse de géantes » dans n'importe quelle classe de concours d'élégance.

1925 Minerva Type AD 'Feval' Fabric Saloon
Coachwork by D'Ieteren to Weymann Patents, Body No. 3258
Chassis No. 42501
Engine No. 42500

•Two owners from new
•Time-warp car
•Rare survivor of original Weymann Fabric design
•Charming Twenties automobile

Two decades newer but of equal if not greater originality than the Model K in this collection is this vintage gem. The car features coachwork built by D'Ieteren under a separate patent name of that they used for some of their coachwork when built on Weymann principles. Weymann were of course one of the best-known companies to experiment with lightening coachwork with the use of a flexible wooden structure and fabric skin. They would be succeeded in concept by Touring's Superleggera for lightweight metal bodies.

Known as 'Marguerite', after the wife of its first owner, this Minerva is a truly exquisite survivor of its kind, carrying the genuine charm that only careful aging can create. Its history is a simple one, and is well-supported by its documentation file. In there is the original invoice for its purchase from Minerva Agents Rene Kuhling et Cie of Brussels by M. Frederic Theis of that city, together with its handbook, spare parts catalogue and magneto operation guides. More interestingly is a period photo of the car in the 1920s with said Marguerite standing beside it, replete with contemporary clothing including cloche hat!

M. Theis would retain the car for nearly 40 years, clearly maintaining it well and caring for the fabric which to this day has a graceful patina but only modest attrition. In May 1962 he sold it to Jacques Vander Stappen in whom he found a most appropriate second owner, who kept it a further 55 years.

This is a fascinating Twenties motorcar replete with numerous period accessories and features, close inspection is inevitably rewarded with the discovery of new aspects each time it is viewed, as it is to marvel at its condition generally. Although not used in recent years it is more than likely that it would need some recommissioning, prior to use. When back on the road, despite its modest proportions, it is easy to see how this might win over judges and the car could almost certainly be a 'giant killer' in any preservation class at concours level.