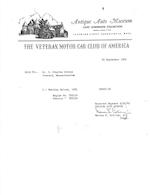 Formerly in the Larz Anderson and William B. Ruger Jr. Collections
1931 Bentley 8 Liter 'Silent Bloc' Saloon
Coachwork by Vanden Plas
Chassis no. YX 5113
Engine no. YX 5115

7983cc SOHC Inline 6-Cylinder Engine
Single Smiths 50BVS Carburetor, 147bhp at 3,500rpm
4-Speed 'F' Manual Transmission
Semi-Elliptic Leaf Spring Suspension
4-Wheel Mechanical Servo Assisted Drum Brakes

*Desirable short chassis example of legendary model
*Well-documented history
*Single family ownership since 1962
*Carefully maintained and toured
*Ideal tour car for Bentley Vintage Meets

THE 8 LITER BENTLEY

Although the prevailing image of Bentley cars during the Cricklewood period of the company's life is that of out-and-out sports cars and fast tourers, it is often overlooked that W. O. Bentley made a determined bid for the carriage trade, particularly with his larger 4½-Liter, 6½-Liter, and 8-Liter models. It is largely because of this that Napier's bid for the company, in 1931, was thwarted by Rolls-Royce, which doubtless saw that a rejuvenated Bentley company would present strong competition for its own models.

As it is, only 100 examples of the 8-Liter model had been produced before bankruptcy overtook the original Bentley company; had they been in a stronger financial position, it may have been a different story. With a chassis price of £1,850, the 8-Liter Bentley was in direct competition with the Rolls-Royce Phantom II while offering better performance, and the contemporary motoring press was lavish with its praise for the 8-Liter model. The latter had debuted at the 1930 London Motor Show, and was the largest-engined car made in the UK at that time, and arguably the fastest. Bentley's advertising claimed "100mph without noise" and tests bore out that claim, the 8-Liter being fully capable of the "ton," even when burdened with weighty formal coachwork. As W. O. Bentley said, "I have wanted to produce a dead silent 100mph car, and now I think we have done it."

The 8-Liter represents an evolutionary step in the development of the Vintage-era Bentley, combining proven features of the 6½-Liter model with the latest engineering advances. Rather than trying to extract more power from the existing 6½-Liter engine, W. O. Bentley followed his long-preferred method of improving performance and simply enlarged it, increasing the bore size from 100 to 110mm. Although the 8-Liter's engine followed conventional Bentley practice, its gearbox—designated "F-type"—was radically different from its predecessors, the redesign having been necessitated by the greatly increased power and torque it was required to transmit, as well as the quest for silence.

The massive chassis frame likewise was entirely new, being of the "double drop" design that enabled overall height to be reduced and the center of gravity lowered, these aims also dictating the use of a hypoid-bevel rear axle. Seven tubular cross members resulted in a much stronger and less flexible frame than hitherto, which was available in a choice of two wheelbases: 12' or 13'. Revised suspension incorporating longer road springs, out-rigged at the rear, together with Bentley & Draper shock absorbers, made for increased smoothness and stability, both vital considerations when designing a large and weighty vehicle capable of three-figure speeds. The 8-Liter's steering and braking systems also featured numerous detail improvements.

In December of 1930, The Autocar eulogized, "Motoring in its very highest form," having recorded a top speed of 101.12mph in W. O. Bentley's own saloon-bodied 8-Liter over the half-mile. Between 1930 and 1939, Britain's foremost motoring magazine bettered that figure only once, while testing an Alfa Romeo 8C 2300. The 8-Liter was destined to remain the fastest production Bentley until the R-Type Continental's arrival in 1953.

THE MOTORCAR OFFERED

This handsome Bentley encapsulates the last years of the W.O. Vintage era. It is the definitive article of the genius that has created the essence of what the marque stands for. It has a thorough purity in its components and coachwork, and a provenance which stretches back to the day it was built and can chart more than 55 years with the present family.

YX 5113 has been confirmed as being the penultimate 8-Liter that was sold by Bentley Motors, which according to the copies of the Works record, would be delivered new to one J.A. Player. Player was a member of the well-known family that produced cigarettes. This was of course a name that would later, in the era of racing sponsorship, have its own connection with the world of motorsport, as their company would become synonymous with Lotus, in their iconic black and gold "John Player Special" livery.

For Mr. Player, the car was factory fitted with the striking and highly sporting closed saloon coachwork by Vanden Plas. It was an eminently modern design, built in aluminum body to the Weymann "Silent Bloc" lightweight patent principles. The interior featured sporting bucket seats for the driver and front passenger. Sadly, but importantly, it remains today the only surviving example of the three such cars originally built.

For British road registration purposes, it was registered the license plate "VO6960," its prefix signifying it being domiciled within the County Council of Nottingham. Mr. Player would keep the Bentley for four years in total, quite a long time for an owner of these cars; therefore, he must have been rightly impressed by its performance.

At this point the car crossed the sea to Ireland, where it became the property of C.W. Mason of York Street in Belfast. Though, this was a brief sojourn and by September 1936 the Bentley had returned to the UK. Here, it became the property of H. Dagnall, in Weybridge, Surrey, just around the corner from the famed Brooklands Motor Circuit, where Bentley had so many victories. Mr. Player had accrued a mere 23,667 miles in his four years and Mason would add a further 1,000. But, by November 19, 1937, nearly 84,000 miles had been covered; Mr. Dagnall had certainly enjoyed and used the car! Bentley records cease in the immediate pre-war era.

Throughout and after the war, the Bentley, which would have been incredibly expensive to run in the UK on war-rationed gas, was almost certainly laid-up and unused. The wide-open roads of America are well suited to the 8-Liter, so perhaps it is not surprising that they have appealed to the clientele this side of the Atlantic for many years and that a number emigrated here. This fate would be the next chapter of the "Silent Bloc's" life.

It was advertised in Motorsport Magazine in October 1955, as a "Four-door short-wheelbase saloon, completely overhauled" by a Mr. Taeffe of Redditch, Worcs. There it was spied by Bruce Fagan, who recalled in correspondence on file, "Back in those days I would have gotten my copy of MotorSport something about October 18-25th. Probably wrote to him about the end of that month. He still had the car – no other buyer's in sight, I guess, so I offered him $1,000.'' He accepted, and the deal was done.

Fagan was based in California; therefore it was shipped there, suffering a minor mishap when it was dropped a couple of feet when being loaded off the ship, immediately necessitating repair to the right hand front wheel. In any event, it was Fagan's intention to refurbish the car, which he commenced with. Not long after it was finished, he put it up for sale and it was acquired by Leonard Potter of the famous dealership, The Vintage Car Store, in Nyack, New York.

From 1958 until 1961, the car was owned by a youthful William Ruger Junior, one of the Northeast's most prominent collectors. In 1961, Mr. Ruger traded YX5113 for another 8-Liter (then owned by John Ballantine of Connecticut) and agreed to donate YX5113 to the Larz Anderson Auto Museum Collection in Ballatine's name. Ruger was studying at Harvard at the time and was able to locally assist him in negotiating its transition to the Museum.

There, the Bentley would sit, but not for long as it turned out. The Museum would offer it for sale by auction in September 1962. Through the sale, it passed to G. Clayton Greene of Concord, Massachusetts and has remained in his family ever since.

For nearly 56 years, YX5113 has been in the same fastidious hands, a true enthusiast owner who treated the car with the respect deserving of such a monumental motor car. Extensive records were made throughout, noting every bit of service and maintenance, while it was cherished and sympathetically refurbished. Its work has been carried out by knowledgeable experts for pre-war cars, specifically Bentleys (e.g. Bob Jefferson and Mr. Greene himself).

Aesthetically, the car is a well-proportioned owner driver design, with moldings sweeping down from the windshield and across the scuttle. Its light refurbishment has now aged slightly, as can be seen in the car's paint. Despite the exterior wear, the interior, in a number of places, appears to still be original and/or closely matched to the original form. The front bucket seats and rear divided bench have likely been re-trimmed, though all the door panels and wood caps appear original. Pulling up what could be original rugs reveals correct original floor boards with proper linoleum-type coverings. The car is mentioned in Brian Smith's book, Vanden Plas Coachbuilders, and survives as one of very few original short-chassis 8-Liters fitted with its factory coachwork (Smith 119).

On close inspection, the mechanicals are highly original and lack noticeable reproduction items. The Electron motor castings clearly show the original scraping marks. All number stampings are crisp and correct for this chassis including the hood sides, steering box, and crank case. The SU carburetors serial numbers are just two digits apart leaving little question about their authenticity. As one would expect from such a well looked after car, it starts instantly and settles into a smooth idle. One is immediately reminded of the power on tap with a light press of the accelerator. The car has been lightly used in the last five years so some routine maintenance is advised before extended touring.

In the 1980s, Clayton Greene was tracked down by Bill Player, the nephew of the original owner Clayton Greene would correspond with Bill Player, this and further correspondence with both Fagan and Ruger make for fascinating reading, but the 'piece de resistance' in the file is the fact that it still retains its original numbered handbook!

The car has also been a frequent, and well-admired, participant on many Vintage Bentley Rallies throughout the US. Rarely was the imposing machine ever trailered to an event, as it was almost always seen barreling along the interstate in a manner few cars of this era can dream of.

These cars are legendary for their torque, being able to pull away from standstill in top gear and take off to their guaranteed "ton." As other members of the North American Vintage Bentley Club have commented, this was a very popular car on the wetter days of a tour! With a known history throughout its life, handsome looks, and the performance abound that these amazing cars are well-known for, this is an excellent and tourable Bentley.

Offered from 55 years of tenure from an owner who meticulously and fastidiously maintained the car, as well as keeping flawless documentation on everything completed, this Bentley is truly exceptional. Today, it survives as a highly original and correct example of the desirable short-chassis 8-Liter. Bonhams is delighted to offer this exquisite motor car and this is genuinely a once in a generation opportunity.
Saleroom notices
Please note, the title will be in transit.