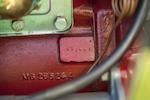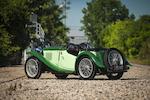 1935 MG Midget P-Type 2-Seater
Chassis no. PA2015

847cc SOHC Inline 4-Cylinder Engine
2 SU Carburetors
36bhp at 5,500rpm
4-Speed Manual Transmission
4-Wheel Leaf-Spring Suspension
4-Wheel Drum Brakes

*Beautifully restored example
*Sporting and desirable 2-seater version of the legendary P-Type Midget
*Presented in its factory-delivered livery
*Fun entrant to a host of driving events
*Documented by factory build records

THE MG P-TYPE

"This latest model is a marked improvement in all respects over its forbears", reported The Autocar after road-testing the new P-Type in November 1934. A replacement for the successful J2 Midget, the PA followed the general lines of its predecessor but was equipped with a more robust version of MG's 847cc, four-cylinder, overhead-camshaft engine. A cross-flow cylinder head, stronger, three-bearing crankshaft and better lubrication marked the key developments made with this motor.

Chassis alterations, many resulting from competition experience, included a longer wheelbase, strengthened transmission and 12"-diameter (up from 8") brakes. Top speed was in the region of 75mph. Built in two- and four-seater variants, the PA in the latter form was the last Midget to offer sports car motoring for the whole family.

THE MOTORCAR OFFERED

Finished at the Abingdon MG factory in April 1935, this charming P-Series Midget was configured as the more sporting 2-Seater version, finished in duotone color-scheme of Dublin Green over Ulster Green, and trimmed with an Apple Green interior. The new MG was purchased in July of 1935 by its first owner, a Mr. G. Robinson of Kent, UK. The car is believed to have remained in the UK for many decades, before it was exported to New Zealand, where it reported to have been owned by a Mr. Frank Carter in the 1980s.

By the early 2000s, the sporting P-Type resided in Colorado, USA, where it is believed to have gone through a comprehensive restoration. It was awarded its AACA National First Prize in 2003 and still looks very fresh. It has recently had its carburetors rebuilt by SU specialist Joe Corto and is reported to be in fine running order.

Offered with copies of period factory paraphernalia and the model's instruction manual, as well as copies of the original build sheets and early registration cards, this beautifully presented P-Type must be one of the finest examples available anywhere. Solidifying this claim is a AACA National first prize. Eligible for many driving events, the Midget offers its next owner a healthy dose of fun, pre-war British motoring at a fraction of "big-brother Bentley" pricing.