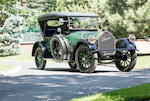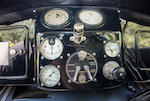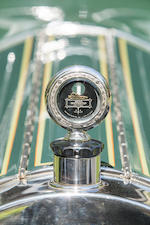 1919 Pierce-Arrow Series 51 Four Passenger Touring Car
Chassis no. 514350
Engine no. 514498

524ci T-Head Six Cylinder Engine
75bhp at 2,500rpm
4-Speed Manual Transmission
Solid Front Axle – Semi-Floating Rear Axle
2-Wheel Mechanical Brakes

*One of two known to exist
*Desirable four-valve configuration
*Well cared for by a marque aficionado
*A rare example from one of America's most esteemed automakers
*Listed in the Pierce-Arrow Society Roster
*Recognized by the Classic Car Club of America

THE PIERCE-ARROW SERIES 51

In the early days of motoring, the George N. Pierce Co. of Buffalo, New York vaulted from being a maker of birdcages and other household goods to establishing itself as a manufacturer of some of America's most highly regarded automobiles. The price tags were steep, but Pierce's cars delivered full value for the money, boasting the kind of sophisticated engineering and robust construction that allowed the company's four-cylinder Great Arrow to win the demanding Glidden Tour in 1905, and the next four years as well.

As the cars grew in displacement and size, their prestige did, too. The company's first six-cylinder car, introduced in 1907, was powered by a colossal 618.5-cu.in. inline six, rode on a 135-inch wheelbase and weighed more than two tons. Despite prices that ranged from $6,500 to $7,750 – more than twice that of a Cadillac – the production run was sold out before the year began.

President Taft, the first U.S. president to use an automobile for formal occasions, ordered two Pierce-Arrows for the White House, establishing a tie that would continue until 1935. Together with Packard and Peerless, Pierce-Arrow was venerated as one of the "Three P's," the trio that for many years dominated the American luxury-car market.

By 1910, Pierce-Arrow was offering three distinct chassis, establishing an all-six-cylinder range that would see it through the next decade. There was not a modest car among them. The smallest, the Model 36 (later the Model 38), featured a 329-cu.in. straight-six and a wheelbase that stretched 129 inches; the largest was the magnificent Model 66, which flaunted 824.7 cubic inches and a 147.5-inch wheelbase. Splitting the difference was the Model 48.

Though the 48 was named for its fiscal horsepower rating, the dynamometer told another story. Its 524-cu. in. T-head inline-six, subjected to multiple tests at the factory before being installed in a chassis, actually produced as much as 75 hp at its 2,500 rpm redline. The engine was of time-tested design, composed of three blocks of two cylinders each, each block cast integral with its head. There were two spark plugs per cylinder, with two independent distributors for dual ignition. Oil was fed to all crankshaft and connecting rods bearings under pressure. Pierce-Arrow designed and manufactured its own carburetors, which featured automatic mixture adjustment.

Pierce-Arrow engineers increased the efficiency of this engine in July 1918 by giving it sophisticated, four-valve cylinder heads. This Dual Valve Six was even more muscular than its impressive predecessor, so much so that it made the mighty Model 66 redundant. The 38 and 48 were carried forward, renamed the Series 31 and Series 51, respectively.

A conventional frame with sturdy pressed-steel side members and cross-bracing provided a strong foundation. The front axle was of drop-forged steel, and suspended by semi-elliptic leaf springs; the semi-floating rear axle was held by three-quarter elliptic springs. Brakes were on the back wheels only: An external contracting brake, operated by lever, and an internal expanding brake operated by the foot pedal. All Pierce-Arrows of this era were right-hand drive; the company was one of the last U.S. automakers to relocate its steering wheel to the left.

A leather-faced cone clutch was a nod to tradition, but the all-electric lighting system was thoroughly up to date. The headlamps moved to the fenders in 1913, though Pierce-Arrow gave customers the option of conventional headlamps – an option few chose. With the launch of the Series 51, the parking lamps were removed from the cowl and incorporated into the headlamps for a cleaner look.

"Whatever the motorist may exact of his car is to be found in a Pierce-Arrow," the company's 1919 catalog declared. "Whether he wants the comfortable riding for the long distance tour, or the flexibility so essential in the congestion of city streets, it is here and is instantly available without complication or disappointment."

THE MOTORCAR OFFERED

Considered by many to be the ultimate configuration this Series 51 Four-Passenger Touring Car, believed to be one of two examples of its type remaining, weds the most potent chassis with the sleekest and lightest touring coachwork. The combination of brute power and skimpy body make for a Pierce with startlingly quick performance. A recent road test by a Bonhams specialist saw this machine full up with four passengers tear off from a stop in a manner more expecting of a Mercer or Stutz Bearcat. It effortlessly pulled through each gear and found its way into fourth in what seemed like a flash. The late dual-valve engine is amazingly flexible with a long smooth power band but does no give up any of the low-end torque for which the brand is so famous.

As an example of a pre-1922 or "Golden Era" Pierce-Arrow the coachwork is crafted entirely from aluminum castings. The process saw no conventional sheet metal used save for the hood which was fabricated from sheet copper. This four-passenger tourer arguably the most handsome of the extensive offering is without fault in style and proportion. The sleek look is enhanced by the low door line and near straight line from the top of the radiator to below the windshield. New, it was priced at $7,650; other options ranged from $6,450 for a bare chassis to $9,450 for the largest enclosed cars.

The interior is as stylish as the outside. The cast separated bucket seats envelop the occupants and allow walk through space. The seat backs contain storage compartments with fitted doors. The driver looks out at one of the handsomest dashboards ever conceived.

Once owned by noted West Coast collector and Pierce-Arrow expert John Mozart, this Series 51 has been in the long-term ownership of a marque aficionado who has driven it on tours, and maintained its excellent mechanical and cosmetic condition. Best described today as an older but excellent quality restoration that has held up well. A careful examination reveals a highly correct and unmolested car without any noticeable changes or modifications from stock.

With its rare, sporting coachwork, and such desirable late-model features as the more powerful dual-valve engine and clean cowl design, this Pierce-Arrow is an exceptional example from one of the truly great prewar American manufacturers. It is at home on road tours and concours fields alike.