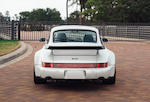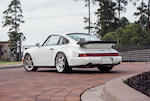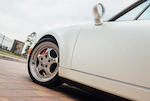 1992 Porsche 911 Turbo 3.3 Coupe
VIN. WP0AA2963NS480308
Engine no. 61N01407

3,299cc SOHC Flat 6-Cylinder Engine
Electronic Fuel Injection
320bhp at 5,750rpm
5-Speed Manual G50 Transaxle
4-Wheel Independent Suspension
4-Wheel Disc Brakes

*Time-capsule condition with just 720 miles and one owner for more than 2 decades
*A complete custom 'Special Wishes' 964 Turbo with 'Paint to Sample' paint
*Highly optioned and believed to be the very last 3.3 Liter Turbo to come to the US
*A very special Porsche in all-original condition

THE PORSCHE 911 TURBO

Few sports cars have proved as versatile as Porsche's perennial 911, a model that, for the past 50 years, has proved equally capable as a Grand Tourer, circuit racer or rally car. A 'modern classic' if ever there was one, the 911 first appeared at the 1963 Frankfurt Motor Show as the '901', but shortly after production proper commenced in 1964 had become the '911' following Peugeot's complaints about the use of '0' model numbers. The preceding Type 356's rear-engine layout was retained but the 911 switched to unitary construction for the bodyshell and dropped the 356's VW-based suspension in favor of a more modern McPherson strut and trailing arm arrangement. In its first incarnation, Porsche's single-overhead-camshaft, air-cooled flat six engine displaced 1,991cc and produced 130bhp; progressively enlarged and developed, it would eventually grow to more than 3.0 liters and, in turbo-charged form, put out well over 300 horsepower.

Representing a major step forward for the 911, the new Carrera 4 and Carrera 2 - code named '964' - were launched in 1989, the former marking the first time that 4-wheel drive had been seen on a series-production 911. Porsche had experimented with 4-wheel drive on the 959 supercar, and many of the lessons learned from that scenario influenced the design of the 964's chassis and suspension. Although the normally aspirated duo shared the same 3.6-liter, 247bhp, flat-six engine, the Turbo kept its existing 3.3-liter unit, which now developed 320bhp. Power-assisted steering (another 911 'first'), anti-lock brakes and a five-speed manual transaxle were standard.

THE MOTORCAR OFFERED

Offered here must be the most exciting and collectible example of the Porsche 964 Turbo model range. Not only is this car a complete time warp example with just 720 miles on the odometer and a one owner from new until recently, but it was a 'Special Wishes' Porsche, receiving custom details at the factory such as the 'Paint to Sample' exterior color. The impressive history file offered with this very desirable 964 Turbo includes many letters between the first and longtime owner and Porsche in Germany. The build specification of the car was carefully spec'd out to this first owners wishes and included a very long list of optional extras and bespoke details. The new car was finally completed on April 1992 (as probably the very last Porsche 911 3.3 Turbo to come to the US) and joined the owners impressive Porsche collection in St. Petersburg, FL, where it would remain until recently. During his ownership, just over 700 miles was put on this very special Porsche, and the car was kept in a climate-controlled environment, in completely original condition. The car was shown at various Porsche and Concours d'Elegance shows while in his ownership and was naturally a very prized part of his impressive Porsche collection.

To this day this 'Special Wishes' Porsche 964 remains in remarkably original condition inside and out, with just 720 miles on the odometer at the time of cataloging. The car is offered with all the documentation one can dream of, including the original window sticker, many letters of correspondence between the first owner and Porsche, the original owner's manuals, original tool kit and spare. This is indeed a very rare opportunity to buy a time-capsule example of a desirable air-cooled Turbo Porsche, built to custom specifications through and through. The very special Porsche will undoubtedly be even more collectible in decades to come and perfectly represents the era in which it was built.