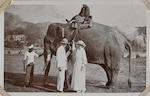 PHOTOGRAPHY: CHINA AND VICINITY.
Approximately 600 vintage gelatin silver print photographs, 3 x 6 to 4.5 x 6.5 inches, housed in 5 photo albums, oblong 8vo, comprising images of China and Southeast Asia, with small "line a day" journal of George W. Philleo, 1923-24.

WITH: Picturesque Hongkong. [Hong Kong: Y.O.P. (Ye Olde Printerie, Ltd.), 1920s.] Illustrated with 26 tipped-in gelatin silver print photographs. Paper wrappers with gelatin silver print photograph of Hong Kong harbor to upper cover. With related ephemera.

AND WITH: Shanghai of Today. A Souvenir Album of Fifty Vandyck Prints of "The Model Settlement." Shanghai: Kelly & Walsh, Ltd., 1928. 4to. Cloth-backed flexible boards, lettered in red, mounted photo. With 50 photographic prints.

Album and photographs collected by George W. Phillio, an engineering graduate of the University of Illinois who spent 16 years in China and Southeast Asia during the teens and 1920s. In addition to Shanghai and Hong Kong, Phillio seems to also have spent time in The Philippines, Myanmar and India. His obituary claimed he was in Asia on behalf of Rotary International.