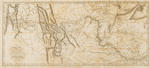 LEWIS, MERIWETHER. 1774-1809; & WILLIAM CLARK. 1770-1838.
Travels to the Source of the Missouri River and Across the American Continent to the Pacific Ocean. Performed ... in the years 1804, 1805, and 1806. London: Longman, Hurst, Rees, Orme, and Brown, 1814.
4to (274 x 206 mm). [iii]-xxiv, 663, [1 ad] pp. Without half-title. With large engraved folding map, A Map of Lewis and Clark's Track Across the Western Portion of North America, from the Mississippi to the Pacific Ocean, 5 engraved maps or charts on 3 sheets, and extra-illustrated with 4 engraved plates on 2 sheets. Contemporary half calf over marbled boards, gilt lettered spine label. Light foxing mainly to plates, light offset from some plates, generally internally clean, binding with old rebacking, original spine chipped, lower cover detached, boards with general wear.

FIRST ENGLISH EDITION OF THE OFFICIAL ACCOUNT OF THE LEWIS & CLARK EXPEDITION, EXTRA-ILLUSTRATED with 4 plates by Captain Basil Hall. Following Lewis's death in 1809, the text was edited by Nicholas Biddle and Paul Allen, and the first edition was published in Philadelphia in 1814. The American sheets were sent to the English publisher, Thomas Rees. In the preface, Rees states that "the only liberty that has been taken with the language, has been merely the correction of a few inadvertent grammatical or typographical errors" and the omission of Lewis's appendix on the state of the Indian nations ("as the subject is altogether of a local nature"). However, he does incorporate Jefferson's "Message on the Subject of this Expedition" of 19 February 1806 as well as an extract from Lewis's "Fort Mandan" letter of 17 [7th] April 1805 to Jefferson. The folding map is a close copy of the map in the American first edition. Field 929; Graff 2480; Hill 1018; Howes L317 "b"; Sabin 40829; Streeter sale 3128; Wagner-Camp 13; Wheat Transmississippi 317 (map).
Footnotes