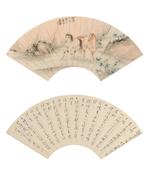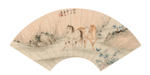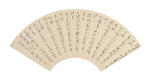 Pu Ru (1896-1963) and Pu Zuo (1918-2001)
Poems in Running Script; Horses
Ink on paper, ink and colour on paper, fan leaf, framed
Signed Pu Ru, with a dedication, and two seals of the artist. The other leaf, signed Pu Zuo, with the same dedication, and one seal of the artist
19.5 x 53cm (7⅝ x 20⅞in) each. (2).
Footnotes