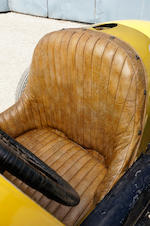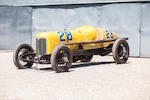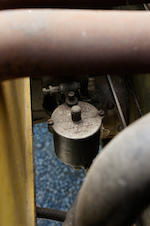 c.1926 Chandler SIX Two-man Racing Car

288 Ci Straight-six side-valve engine
90 HP (estimated)
Three Winfield Updraft carburetors
3-Speed constant mesh transmission

In the 1920s a passenger car could serve as a basis for a competitive racing car. Stout engines powering better production cars could be tuned to produce good power and good reliability. Indianapolis even instituted a change to the rules to allow "Junk Formula" racing cars to compete. By removing the restrictive capacity limits that had mirrored the Grand Prix formulas modified passenger car engines could be competitive with the more exotic machinery. The 122ci and 91ci formulas had made racing prohibitively expensive, and Indianapolis began a battle ground for Miller and Duesenberg primarily. The "Junk Formula" brought in an eclectic and colorful group of cars that varied from crude amateurish machines to finely built racers with heavily modified passenger car engines.

This Chandler is a good example of the type of capable racecar a skilled builder could construct getting most of his parts from the wrecking yard. The Chandler engine sports some racing specific goodies like the triple up draft Winfield carburetors and finely made intake and exhaust manifolds. The chassis has been reworked to take the track standard Franklin steering box and is most likely shortened a fair. The drivers compartment is authentic and typical of a racer of the era with modified pedals and riding mechanic foot rests.

No specific history for the Chandler is in the Bothwell records, but it is no doubt a genuine racing car of the 1920s and 30s. It is likely that it competed at local circuits like Legion Ascot where this was a typical racing car. Today this is an interesting and very usable car. As it is a two man machine, it can be readily set up for road use, and as it features an electric starter, it should be an easy machine to live with.
Saleroom notices
Please note, this vehicle is sold on a bill of sale.