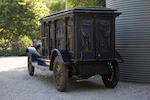 1915 Studebaker Model SD4 Hearse
Engine no. 4c-44459

192ci Four-Cylinder Side-Valve Engine
30HP
3-Speed transmission
2-Wheel mechanical brakes

THE STUDEBAKER

The Studebaker Brothers Manufacturing Company founded in 1852 and at one time the largest vehicle producer in the world. In addition to a plethora of wagons and carriages formal hearses were an important product. Nearly every town had at least one funeral parlor and many needed a formal hearse. The hearses could vary from a conservative simple brake to the most elaborately carved and adorned coach. These formal hearses demonstrated some of the finest design and skilled carvings of any vehicles of their time.

Though initially slow to transition to motorized hearses, funeral parlors began in earnest around WWI. By this time Studebaker had successfully entered the motorcar business while not completely abandoning its roots in horse drawn apparatus. Studebaker, aware they had many loyal horse-drawn hearse clients, produced modern motorcar based hearses that embodied much of the elegance and refinement they were famous for.

Seldom seen today the early Studebaker motor hearse are a wonderful fusion of centuries of carriage tradition and refinement with the modern motor car.

THE MOTOR HEARSE OFFERED

This rare survivor of a highly original early Studebaker hearse is a wonderful example of the skill and styling of this product. Highly ornate carvings decorate the sides with a motif of drapes and tassels flanked by Corinthian columns. The untouched interior displays all the original rollers and posts for serving its solemn task.

The chassis is a standard SD-4 type powered by a 30 horsepower side-valve four. This reliable drive train was more than adequate for the more dignified speed requirements of the vehicle.

Per family records it was acquired directly from a Los Angeles funeral parlor though no date is indicated it is safe to assume it was before the 1950s. The car is largely untouched today and has appeared in several Hollywood productions over the years including; Mae West (1982), Man with a Thousand Chains (1987), and Tall Tale 2 (1993).
Saleroom notices
Please note, this vehicle's title is in transit and its chassis number is 4039383.