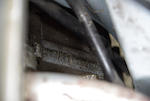 1981 Alfa Romeo Giulietta Barchetta
Carrozzeria di Dall'Ara
Telaio nr. DU 003

* Carrozzeria unica su una vettura sportiva italiana
* Telaio tubolare in acciaio
* Carrozzeria in alluminio
* Meccanica dell'Alfa Romeo Giulietta

Oltre che per i suoi piccoli e grandi produttori di motori, l'Italia è da tempo famosa per la sua innovativa attività nel campo della carrozzeria, settore in cui la miriade di specialisti indipendenti sono stati, per lungo tempo, la prima scelta dei costruttori automobilistici di tutto il mondo. L'auto offerta qui non è stata però commissionata da un grande produttore, ma, invece, da un privato (il suo precedente proprietario) che entrò in contatto con il carrozziere Ugo Dall'Ara, che ha sede a Forlì, intorno al 1980.

Ugo Dall'Ara è stato un restauratore e costruttore di numerose repliche, spesso scambiate per gli originali a cui si sono stati ispirate. L'auto offerta, però, non è una replica ma, un disegno unico di Dall'Ara. Utilizzando come base un'Alfa Romeo Giulietta, Dall'Ara ha completato questa bellissima Barchetta intorno al 1981. Il telaio è una struttura in acciaio in tubi ovali, che "indossa" una spettacolare carrozeria in alluminio, che ricorda i classici prototipi sportivi degli anni '50 e '60. L'affidabile motore a quattro cilindri da 1,290cc, doppio albero a camme in testa, della Giulietta sviluppa una potenza massima di 88 Cv, più che sufficiente per regalare ad un'automobile con un peso stimato di 660kg, prestazioni mozzafiato.

Si ritiene che il primo proprietario abbia tenuto la Dall'Ara Barchetta per circa 35 anni, per poi venderla all'attuale appassionato che adesso la offre all'asta. Si prega di notare che l'auto non è attualmente immatricolata per un utilizzo su strada e viene offerta con fattura di vendita e una scheda tecnica rilasciata dallo scomparso Ugo Dall'Ara.
 

1981 Alfa Romeo Giulietta Barchetta
Coachwork by Dall'Ara
Chassis no. DU 003

* Unique coachbuilt Italian sports car
* Tubular steel spaceframe chassis
* Aluminium coachwork
* Alfa Romeo Giulietta mechanicals

As well as its motor manufacturers, both large and small, Italy has long been famed for its innovative coachbuilding industry, whose myriad independent specialists have long been the first choice of the world's carmakers whenever something really special was required. The car offered here though, was not commissioned by a major manufacturer but a private individual (its previous owner) who approached Forli-based coachbuilder Ugo Dall'Ara around 1980.

Ugo Dall'Ara was a restorer and builder of a number of replica cars, which were often mistaken for the originals that they were inspired by. The car on offer is not a replica though, but a unique design of Dall'Ara's. Using an Alfa Romeo Giulietta as the basis, Dall'Ara completed this beautiful Barchetta circa 1981. The chassis is a steel spaceframe fabrication with oval-section tubing, which carries a striking aluminium body reminiscent of the classic sports-racing prototypes of the 1950s and '60s. The dependable 1,290cc Giulietta four-cylinder twin-overhead-camshaft engine produces a maximum of some 88bhp, which is more than enough to endow a car with an estimated dry weight of just 660kg with breathtaking performance.

The previous owner is believed to have kept the Dall'Ara Barchetta for some 35 years before selling it to the current vendor. Please note that the car is not currently road registered; it is offered with a Bill of Sale only and a technical data sheet issued by the late Ugo Dall'Ara.

Saleroom notices
Please note the chassis number cannot be located. Si prega notare che il numero di telaio non può essere individuato.