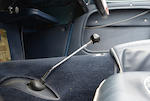 1955 Austin-Healey 100 BN1 Roadster
Telaio nr. BN1L 227424

* Consegnata nuova negli Stati Uniti
* vettura italiana dal 1994
* Restaurata svariati anni fa
* Immatricolata in Italia
* iscrivibile alla Mille Miglia

L'elegante Austin-Healey 100 di Donald Healey, ha causato sensazione quando, nel 1952, ha fatto il suo debutto in occasione del Salone di Londra. Destinata ad essere una vettura sportiva di normale, seppur limitata, produzione con un costo contenuto, capace di alte prestazioni e principalmente rivolta al mercato statunitense, che infatti, almeno inizialmente, ha assorbito la quasi totalità della produzione, l'Austin-Healey 100 ha mutuato i suoi componenti principali dalla berlina Austin Atlantic. Per la sua prima apparizione a Earls Court, merita ricordare, il nome della vettura esposta era quello di "Healey Hundred", trasformato poi in "Austin-Healey" quando la macchina si trovava ancora sullo stand, non appena il capo dell'Austin, Leonard Lord, ne aveva acquistato i diritti di progetto. E 'stato, comunque, un bene, visto che l'Healey avrebbe finito il salone con oltre 3000 ordini di acquisto, ma l'azienda che l'aveva creata non aveva mai prodotto più di 200 auto in un solo anno! Lord era stato ben felice di accettare di fornire le componenti dell'Austin Atlantic, in quanto il modello non si vendeva come previsto in quello che si pensava essere il principale mercato. gli Stati Uniti, e ne era già stata prevista la sua eliminazione dal listino. Il motore a quattro cilindri da 2.660 cc dell' Atlantic sviluppava una potenza massima di 90 Cv, non girava alto ma aveva una buona coppia. Abbinato alla Healey, più leggera ed aerodinamica, si comportò in modo egregio, permettendo ala nuova vettura di raggiungere le 100 mph (160 km/h) e di raggiungere le 60 mph (ca 100 Km/h) in meno di 11 secondi. Un cambio a tre velocità, dotato di overdrive sui due rapporti più alti, era una caratteristica insolita della BN1 originale, ma è durato poco, sostituito dopo breve tempo dal un più convenzionale cambio a quattro rapporti installato sulla BN2 del 1956. Una vettura sportiva ben delineata nella sua forma, capace di deliziare il purista, la 100 non è stata eccessivamente surclassata nelle sue prestazione dalle successive versioni a sei cilindri, almeno fino all'introduzione sul mercato della Austin-Healey 3000 nel 1959.

Un modello destinato al mercato statunitense, questa 100/4 sfoggia quella che, senza dubbio, è la migliore combinazione di colori: Argento/Blu Opalescente su interni in pelle scura blu. Importata in Italia nel 1994, con un restauro eseguito svariati anni fa, si presenta ancora molto bene e ha visto un uso occasionale, tra le mani del suo attuale proprietario, un chirurgo di Roma, che la descrive come in buone condizioni generali. Viene fornita completa di documenti di immatricolazione italiani e di un'appena scaduta carta d'identità FIVA. Assolutamente importante notare che questo modello di Healey può partecipare alla Mille Miglia, oltre a permettere di godere delle migliori sensazioni offerte da una vettura d'epoca sportiva, di produzione inglese.



1955 Austin-Healey 100 BN1 Roadster
Chassis no. BN1L 227424

* Delivered new to the USA
* Resident in Italy since 1994
* An older restoration
* Registered in Italy
* Mille Miglia eligible

Donald Healey's stylish Austin-Healey 100 caused a sensation when it debuted at the 1952 London Motor Show. Intended as a low-cost, high-performance, limited production sports car and aimed at the US market, which took almost 100% of production initially, the Austin-Healey 100 sourced its major components from the Austin Atlantic saloon. In fact, the car first appeared at Earls Court badged as a 'Healey Hundred' and was re-badged 'Austin-Healey' while still on its stand after Austin boss Leonard Lord bought the rights to the design. It was just as well that he did, for Healey would take over 3,000 orders during the Show yet his company had never made more than 200 cars in a single year!

Lord had been happy to agree to supply Austin Atlantic components as the model had not been selling well in its intended market - the USA - and was scheduled for deletion. Low-revving and torquey, the Atlantic's 2,660cc four-cylinder engine produced an unremarkable 90bhp but when installed in the lighter and more streamlined Healey the result was a genuine 100mph-plus car capable of reaching 60mph in under 11 seconds. A three-speed gearbox equipped with overdrive on the top two ratios was an unusual feature of the original BN1, which was superseded by the short-lived, conventional four-speed BN2 for 1956. A muscular sports car to delight the purist, the 100 was not bettered by its six-cylinder successors in terms of outright performance until the introduction of the Austin-Healey 3000 in 1959.

A US-market model, this 100/4 in arguably the best colour combination of opalescent silver blue with dark blue leather interior was imported to Italy in 1994. An older restoration, the car still presents very well and has only seen occasional use in the hands of its current owner, a surgeon based in Rome, who describes it as in generally good condition. It comes complete with Italian registration documents as well as a recently expired FIVA identity card. Most importantly, these big Healeys are Mille-Miglia eligible and provide classic British sports car motoring at its very best.

Saleroom notices
Although the FIVA Identity card lists the engine number as BN1L 227424, this lot is fitted with a BMC supplied replacement engine (No. 89845). Sebbene la scheda FIVA Identity indica il numero del motore come BN1L 227424, questo lotto è dotato di un motore di sostituzione fornito da BMC (n. 89845).