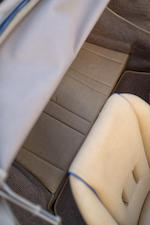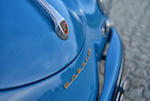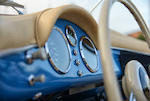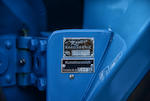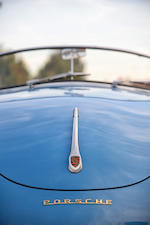 1954 Porsche 356 Pre-A 1500 Speedster
Carrozzeria Reutter
Telaio nr. 80196

* La Porsche Spider più rappresentativa
* Proprietà attuale dal 2011
* Il più recente restauro completato nel 2017
* Iscrivibile alla Mille Miglia

Sebbene Ferdinand Porsche avesse stabilito la sua azienda di consulenza per la progettazione automobilistica nei primi anni '30, il suo nome non apparirà su un'auto fino al 1949. Quando lo ha fatto, è stato per presentare una delle automobili sportive più mitiche di tutti i tempi: la Porsche 356. Dopo aver avviato la produzione con una piccola serie di vetture, con carrozzeria in alluminio, costruite a Gmünd, Porsche ha spostato la produzione in serie della sua 356 Coupè, con carrozzeria in acciaio, nella sua vecchia sede di Stoccarda. Un'opera di Ferry Porsche, la 356 era basata sulla Volkswagen progettata da suo padre. Come gli immortali 'Maggiolino', le 356 impiegavano un telaio a piattaforma, con motore raffreddato ad aria posizionato dietro e sospensioni indipendenti a barra di torsione. Nel 1951 un'auto efficiale della casa ha finito prima nella classe fino a 1,100cc alla 24 ore di Le Mans, iniziando così la lunga e vincente associazione della casa con il circuito de La Sarthe. Uno sviluppo costante ha visto il motore della 356 crescere, prima a 1,3 e poi a 1,5 litri, il parabrezza originariamente in due pezzi è stato sostituito da uno in pezzo unico e la trasmissione ha adottato un cambio Porsche sincronizzato. Una versione Cabriolet è seguita all'originale 356 Coupé poco dopo, e, nel 1952, un gruppo di 15 prototipi di una vettura aperta destinata al mercato americano "America Roadsters" è stato costruito su richiesta dell'importatore statunitense Max Hoffman, capace di persuadere Porsche del potenziale di vendita una vettura Porsche semplificata e con un prezzo di acquisto più basso. L'entusiastica accoiglienza di queste vetture negli Stati Uniti, ha portato, nel 1954, all'introduzione del modello Speedster. L'ispirazione della Speedster è accreditata anche a John Von Neumann, il distributore Porsche per la costa ovest, che aveva tagliato una coupé costruita a Gmünd alla fine degli anni '40, per creare una macchina da corsa leggera. Spiegando l'essenza di una tale vettura, Neumann ha detto una volta: 'In un sabato sera di giugno, i ragazzi vogliono andare, su e giù da Sunset Boulevard, con il gomito fuori dalla porta, e vogliono che le ragazze li possano vedere in macchina.' Niente è mai cambiato...

Immediatamente riconoscibile in virtù del sua parabrezza basso, avvolgente, al contrario di quello a V della versione normale, con un tettuccio più piccolo e completamente a scomparsa, la linea di cintura delle portiere più bassa, con una scalfatura orizzontale all'altezza delle maniglie delle porte e due sedili avvolgenti, tutte caratteristiche che servono sottolinearne l'immagine sportiva , la Speedster era in effetti un modello "economico" destinato a competere con le meno costose auto sportive inglesi. La Speedster è stata inizialmente mossa dalla versione di 1,5 litri del 4 cilindri piatti e contrapposti della Porsche, ricevendo solo in seguito il nuovo motore da 1,6 litri e 60Cv nel 1955, con l'arrivo sul mercato della migliorata 356A. Offerta a $ 2.995, la Speedster era la più leggera delle 356, godendo per questo di una nuova "verve" nelle sue prestazioni che la rendevano capace di raggiungere i 160 km/h (100 mph). Queste prestazioni, abbinate alle già note caratteristiche di maneggevolezza, hanno fatto sì che la Speedster diventasse un immediato successo nel fiorente scenario delle competizioni automobilistiche americane. Una delle 1700 unità prodotte di 1500/1500S Speedster, questo spettacolare esemplare è uno dei primi 200 modelli Pre-A prodotti nel 1954. E 'molto originale e dispone del corretto motore da 1.500cc e delle corrette ruote da 16 pollici. Il meticoloso proprietario ha importato l'auto dagli Stati Uniti intorno al 2011 e, successivamente, lo ha restaurato e preparato per poter partecipare alla Mille Miglia storica di quest'anno, con il numero di partenza "197", dove ha terminato l'estenuante evento in modo splendido. Essendo un perfezionista, il proprietario ha poi intrapreso un secondo restauro completo, che è stato terminato solo all'inizio di quest'anno. La carrozeria è stata portata a metallo nudo, con tutte le imperfezioni rimosse, per poi essere riverniciata nel più alto standard, nella tonalità corretta per il periodo, di Speedster Blue. Al tempo stesso, l'interno è stato rivestito in un vinile beige corretto per materiale e disegno, il tettuccio in tela rinnovato dal famoso specialista italiano Ferraresi Interni Auto di Ferrara, mentre il motore ha ricevuto un'accurata revisione. Il risultato è assolutamente spettacolare e questa preziosa e storicamente importante Speedster, è pronta per la sua prossima avventura in uno dei numerosi eventi in cui è ammissibile, inclusa, naturalmente, l'incomparabile Mille Miglia. L'auto è offerta con i documenti di immatricolazione italiani e documentazione fotografica del restauro. Un'occasione da non perdere.



1954 Porsche 356 Pre-A 1500 Speedster
Coachwork by Reutter
Chassis no. 80196

* Iconic Porsche roadster
* Present ownership since 2011
* Most recent restoration completed in 2017
* Eligible for the Mille Miglia

Although Ferdinand Porsche had established his automotive design consultancy in the early 1930s, his name would not appear on a car until 1949. When it did, it graced one of the all-time great sports cars: the Porsche 356.

Having commenced manufacture with a short run of aluminium-bodied cars built at Gmünd, Porsche began volume production of the steel-bodied 356 coupe at its old base in Stuttgart. The work of Ferry Porsche, the 356 was based on the Volkswagen designed by his father. Like the immortal 'Beetle', the 356 employed a platform-type chassis with rear-mounted air-cooled engine and torsion bar all-independent suspension. In 1951 a works car finished first in the 1,100cc class at the Le Mans 24-Hour Race, thus beginning the marque's long and illustrious association with La Sarthe.

Constant development saw the 356's engine enlarged first to 1.3 and then to 1.5 litres; the original split windscreen replaced by a one-piece; and a Porsche synchromesh gearbox adopted. A cabriolet followed hot on the heels of the original 356 coupé and then in 1952 a trial batch of 15 America Roadsters was constructed at the behest of US importer Max Hoffman, who had persuaded Porsche of the potential for a 'cut-price' entry-level model. The Roadsters' successful reception in the USA led to the introduction of the Speedster model in 1954. The Speedster's inspiration is also credited to John Von Neumann, Porsche's West Coast distributor, who had chopped down a Gmünd-built coupé in the late 1940s to create a lightweight competition car. Explaining such a car's appeal Neumann once said: 'Guys want to go, on a Saturday night in June, down Sunset Boulevard with their elbow over the door and the girls can see them in the car.' Plus ça change ...

Instantly recognisable by virtue of its low, wraparound - as opposed to V-shaped - windscreen, smaller and entirely retractable hood, lower door waistline, horizontal trim strip at the level of the door handles, and twin bucket seats - all of which served to emphasise its sporting image - the Speedster was, in effect, an 'economy' model intended to compete with the cheaper British sports cars. The Speedster was powered initially by the 1.5-litre version of Porsche's horizontally opposed four, gaining the new 1.6-litre, 60bhp engine with the introduction of the improved 356A in 1955. Priced at $2,995, the Speedster was the lightest of the 356s, enjoying a commensurate performance boost that meant over 100mph was possible. Allied to its already renowned handling characteristics, this meant that the Speedster was an instant success in the burgeoning American sports car racing scene.

Testing the Speedster alongside its Coupé sibling in 1956, Road & Track magazine declared, 'A more comfortable sports car for long, high-speed journeys would be very hard to find and certainly no other car achieves the combination of comfort, performance and fuel economy of the Porsche Continental Speedster or Coupé.' Its combination of style, performance and value for money made the Speedster deservedly popular - 4,822 examples being constructed between 1954 and '58 - and today this most handsome of the 356 variants enjoys iconic status.

One of only 1,700 1500/1500S Speedsters built, this truly stunning example is one the first 200 'Pre-A' models produced in 1954. It is very original and features a correct 1,500cc engine and correct 16" wheels. The meticulous owner imported the car from the United States circa 2011 and subsequently had it restored and prepared for him to compete in that year's Mille Miglia retrospective, carrying the start number '197'. It finished the gruelling event having performed admirably.

Being a perfectionist, the owner then embarked on a second comprehensive restoration, which was finished only earlier this year. The bodyshell was taken back to bare metal, with all imperfections removed, and then repainted to the highest standard in the period-correct shade of Speedster Blue. At the same time, the interior was re-trimmed in period-correct textured beige vinyl, and the hood renewed by the renowned Italian car interior specialist, Ferraresi Interni Auto of Ferrara, while the engine was treated to a thorough service.

The result is nothing short of spectacular, and this historically important Pre-A Speedster is ready for its next adventure on one of the numerous events it is eligible for, including, of course, the incomparable Mille Miglia. The car is offered with offered with Italian registration documents and photographic documentation of the restoration. An opportunity not to be missed.