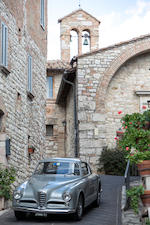 Iscrivibile alla Mille Miglia
1953 Alfa Romeo 1900C Sprint Coupé
Carrozzeria Pinin Farina
Telaio nr. AR 1900 C 01630

* Uno dei soli 100 esemplari costruiti
* Designata da Pinin Farina
* Numeri corretti
* Bella combinazione di colori
* Iscrivibile agli eventi più esclusivi

La prima nuova Alfa Romeo del periodo postbellico è arrivata nel 1950. Progettata dal dottor Orazio Satta Puliga, e destinata alla produzione di serie in grandi numeri, la 1900 è stata la prima Alfa ad impiegare la carrozzeria monoscocca e - in linea con il patrimonio sportivo dell'azienda - era mossa da un motore con il doppio albero a camme in testa. Quest'ultimo era un unità a quattro cilindri, di 1,884 cc e che sviluppava una potenza massima di 90 Cv, sufficiente a spingere la berlina a quattro porte a 150 km/h (93 mph).

Anche se apparentemente nata come normale vettura da famiglia, la 1900 era dotata di un potenziale sportivo che si estendeva ben oltre alla mera potenza massima. I suoi proprietari potevano beneficiare dei vantaggi della sospensione anteriore indipendente con molle elicoidali e di una posteriore ad assale rigido e biella longitudinale, perfettamente studiate. Non ha quindi sorpreso nessuno quando il potenziale della 1900, fu incrementato con la nascita di due derivati ​​ad alte prestazioni. Lanciata nel 1951, la versione Sprint della 1900 era caratterizza dalle carrozzerie realizzate dalla Pinin Farina (per la cabriolet) e dalla Touring (per la coupé), con entrambi i modelli che utilizzano il motore da 100 Cv utilizzato dalla versione sportiva della berlina 1900, la TI. Di un design incredibilmente bello, la Touring Sprint è stata progettata per offrire uno spazio sufficiente per una famiglia all'interno di una coupé sportiva a due porte: la sua griglia verticale a forma di cuore circondata dalle prese d'aria orizzontali, diventerà il simbolo delle vetture Alfa sui modelli successivi. Poco dopo l'arrivo della seconda serie, all'inizio del 1954, il modello è stato leggermente ristilizzato e aggiornato con la specifica Super Sprint, ottenendo 115 Cv da un un motore di 1.975 cc abbinato ad un cambio a cinque marce. Anche se incaricato di produrre il solo modello cabriolet ufficiale dell'Alfa, Pinin Farina ha costruito anche una vettura coupé sul telaio Sprint della 1900. Secondo il libro "Millenove" di HJ Döhren, solo 100 esemplari della coupé Pinin Farina, straordinariamente bella, sono stati costruiti nel breve arco di tempo dell'esistenza del telaio Sprint della 1900, tra il 1952 e il 1953. La coupé di Pinin Farina utilizzava la lamiera di acciaio per la sua carrozzeria, al contrario della versione prodotta dalla Touring Superleggera cartterizzata dai pannelli in alluminio montati su una struttura tubolare di supporto in acciaio, ma furono previsti, fin dalla progettazione, degli attenti risparmi di peso, con l'impiego di pannelli in acciaio con uno spessore di soli 0,7 mm e con l'utilizzo di cofano, il tetto e cruscotto in alluminio. Come risultato finale, la coupé Pinin Farina della 1900, pesa solo 50 kg in più della variante Touring, abbastanza per mantenere delle prestazioni interessanti e con l'arzillo motore da 100 CV, ottenere una velocità massima dichiaratam più che rispettabile, di 180 km / h. Questo delizioso esemplare ha lasciato la fabbrica il 25 giugno 1953, dipinta in Grigio Chiaro, venduta al suo primo proprietario di Roma. Passata attraverso varie proprietà in Toscana è poi entrata nella collezione privata di un farmacista e appassionato di Alfa Romeo di Firenze, che l'ha acquistata nell'aprile del 1979. All'interno della collezione, i "suoi vicini" erano, tra gli altri, una Giulietta Sprint Speciale, una Montreal e un GTA. A metà degli anni '80 il proprietario ha commissionato, al noto restauratore Faralli di Pisa, un restauro completo. Si ritiene che sia in questo momento che il motore originale è stato sostituito con un'altra unità, corretta per il modello, di motore Tipo 1308. Una volta terminata, l'automobile non è mai stata usata, rimanendo immobile nella collezione privata, fino a quando, alla fine del 2014 è stata comprata dal penultimo proprietario. Il restauro originale era di tale qualità che la carrozzeria e la sua verniciatura non hanno richiesto alcun lavoro e si presentavano con una piacevolissima patina. Il nuovo proprietario si è quindi occupato degli interni, rivestiti nel corretto panno di lana di colore grigio chiaro, ha fatto rinfrescare la meccanica e ha rivisto l'impianto elettrico per rendere l'auto ancora più utilizzabile. L'attuale proprietario ha acquisito l'Alfa nel 2015, e da allora il motore originale è stato recuparto, ricostruito e reinstallato in auto. Una lettera del Centro Documentazione di Alfa Romeo conferma che, ora, la macchina ha il numero di telaio e di motore corretti. Descritta dal venditore come in ottime condizioni, offerta con documenti di immatricolazione italiani, questa rarissima e attraente Alfa Romeo è utilizzabile sia per i viaggi e i raduni, sia per partecipare agli eventi più esclusivi del mondo, tra cui la retrospettiva della Mille Miglia.



1953 Alfa Romeo 1900C Sprint Coupé
Coachwork by Pinin Farina
Chassis no. AR 1900 C 01630

* One of only 100 examples built
* Classic Pinin Farina design
* Matching numbers
* Beautiful colour combination
* Eligible for the most exclusive events, including the Mille Miglia

Alfa Romeo's first all-new offering of the post-war period arrived in 1950. Designed by Dr Orazio Satta Puliga and intended for volume production, the 1900 was the first Alfa to employ unitary construction and - in keeping with the company's sporting heritage - was powered by a twin-overhead-camshaft engine. A four-cylinder unit, the latter displaced 1,884cc and produced 90bhp, an output sufficient to propel the four-door saloon to 93mph.

Although ostensibly a humble family conveyance, the 1900 was endowed with sporting credentials which extended beyond its type of power unit, owners enjoying the benefits of wishbone and coil spring independent front suspension and an exceptionally well located live rear axle. It should have surprised nobody therefore, when the 1900's potential was realised in the form of two high performance derivatives. Launched in 1951, the 1900 Sprint featured bodywork by Pinin Farina (cabriolet) and Touring (coupé), both models utilising the 100bhp engine of the 1900TI sports saloon.

An immensely influential design, Touring's Sprint was designed to offer family-sized accommodation in a two-door sports coupé format and its heart-shaped vertical grille with flanking horizontal intakes would become an Alfa trademark on later models. Shortly after the Series 2 arrived in early 1954, the model was mildly restyled and upgraded as the Super Sprint, gaining a 1,975cc, 115bhp engine and five-speed gearbox.

Although commissioned to produce the factory's official cabriolet model, Pinin Farina also built coupés on the 1900 Sprint chassis. According to the seminal book 'Millenove' by H-J Döhren, only 100 examples of the stunningly beautiful Pinin Farina coupé were built on the short 1900 Sprint chassis between 1952 and 1953. Although its coupé featured a steel body, as opposed to the Touring Superleggera design with its aluminium panels over a tubular steel supporting structure, Pinin Farina used weight saving methods in its design, employing steel panels with a thickness of just 0.7 mm, while the bonnet, boot lid and dashboard were all aluminium. As a result, the much rarer Pinin Farina 1900 coupé weighs just 50kg more than the Touring variant, enough for a very lively performance from the 100bhp engine, the top speed claimed being a very respectable 180km/h (111mph).

This delightful example left the factory on 25th June 1953 painted in grigio chiaro and was sold to its first owner in Rome. The car then passed via various owners in Tuscany to the private collection belonging to a pharmacist and well-known Alfa Romeo enthusiast in Florence, who purchased it in April 1979. Its stable mates there were, among others, a Giulietta Sprint Speciale, a Montreal, and a GTA.

In the mid-1980s, the owner commissioned well-known restorers Faralli of Pisa to undertake a comprehensive restoration. It is believed that at this point the original engine was replaced with another correct Tipo 1308 unit. Once finished, the car remained laid up in the private collection and was not used again until the end of 2014 when the immediately preceding owner purchased it. The original restoration was of such quality that the body and paintwork did not require any work and remain pleasingly patinated. Nevertheless, the new owner had the interior re-trimmed in the correct light grey woollen cloth, while at the same time the mechanicals and electrics were refreshed to make the car useable once more.

The current owner acquired the Alfa in 2015, since when the original engine has been found, rebuilt, and reinstalled in the car. A letter from Alfa Romeo Centro Documentazione confirms that it now has matching numbers.

Described by the vendor as in generally very good condition and offered with Italian registration documents, this very rare and most attractive Alfa Romeo is equally useable for Grand Touring as well as for the world's most exclusive events including the Mille Miglia retrospective.