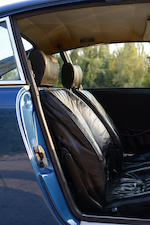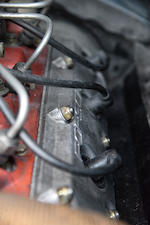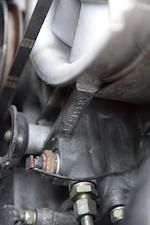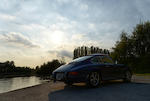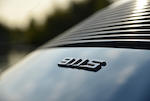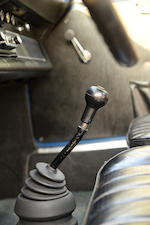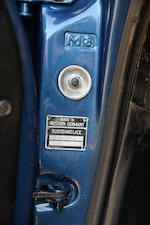 1973 Porsche 911S 2.4 litri Coupé
Telaio nr. 9113301047

* Consegnata nuovi in ​​Italia
* Cerchi restaurati, quattro pneumatici nuova
* Certificato di autenticità Porsche
* Immatricolata in Italia

Difficile immaginare una vettura che possa meritare la definizione di "un classico moderno" più della 911 di Porsche, arrivata nel 1964 per sostituire la 356 che aveva assicurato la reputazione della giovane società come produttrice di alcune delle più belle vetture sportive del mondo. Il primo di innumerevoli aggiornamenti è arrivato nel 1966 con l'introduzione della 911 S. Facilmente riconoscibile pe rle sue eleganti ruote in lega a cinque razze della Fuchs, la 'S' presentava un motore fortemente rivisto, che sviluppava 160 CV, ed aveva una velocità massima superiore di 16 km/h, arrivando a 216 km/h (135 mph). L'allungamento del passo, introdotto nel 1969, ha migliorato la tenuta di strada, a volte dalla gestione delicata. Nel 1970, il motore ha subito il primo di molti incrementi di cilindrata, quando è stato portato a 2,2 litri, sviluppando, sulla versione "S", più potente, anche grazie all'iniezione meccanica di carburante Bosch, 180 Cv.

Per l'anno 1972, tutte le possibili varianti di 911 hanno ricevuto l'unità da 2,4 litri (in realtà 2,341 cc); nello stesso anno la 911 S adotta la versione Tipo 915, più resistente, del cambio a cinque marce e delle nuove ruote in lega da 6 "x 15" come dotazione di serie. Porsche aveva già provato un motore d 2,4 litri nelle corse di durata, ottenendo l'incremento allungando la corsa, ma la spinta principale all'adozione di un motore di maggiore cilindrata è arrivata dalle nuove normative antinquinamento entrate in vigore negli Stati Uniti. Non venduta negli Stati Uniti, la 911 S sviluppava 190 Cv, circa 40 cavalli di potenza in più di quanto fosse disponibile per i clienti americani. La più evidente modifica esterna rispetto ai modelli di 2.2 litri era l'aggiunta di un piccolo spoiler, adottato per migliorare la stabilità ad alta velocità. Quando, nel 1974, Porsche passerà al motore da 2.7 litri, avrà costruito 1.430 esemplari di 911 S 2.4. La '2.7' sarà la prima 911 ad adottare i paraurti grandi, avvolgenti, non molto amati dai puristi per i quali la '2.4' è, e rimane, l'ultima 911 della 'vecchia scuola' e, per questo motivo, ancora più collezionabile.

Questa vettura è stata immatricolata la prima volta 1 ° gennaio 1973, in Italia. Verniciata in blu Scuro Metallizzato, con interni in pelle nera originale, l'auto è offerta con i documenti di immatricolazione italiani ed il certificato Porsche che ne conferma le specifiche originali. Viene inoltre venduta completa di crick, ruota di scorta, compressore per gonfiare i pneumatici e un set, nuovo, di pannelli porta. Recentemente i cerchi sono state restaurati professionalmente e sono stati completati da quattro pneumatici nuovi. Descritto dal proprietario come in condizioni buone o molto buone in tutto, questo è un senz'altro un ottimo esemplare di uno dei modelli di Porsche più ricercati.



1973 Porsche 911S 2.4-Litre Coupé
Chassis no. 9113301047

* Delivered new in Italy
* Wheels refurbished; four new tyres
* Porsche Certificate of Authenticity
* Registered in Italy

A 'modern classic' if ever there was one, Porsche's long-running 911 arrived in 1964, replacing the 356 that had secured the fledgling company's reputation as producer of some the world's finest sporting cars. The iconic 911 would take this reputation to an even more exulted level on both the road and racetrack.

The first of countless upgrades came in 1966 with the introduction of the 911S. Easily distinguishable by its stylish Fuchs five-spoked alloy wheels, the 'S' featured a heavily revised engine producing 160bhp, the increased urge raising top speed by 10mph to 135mph. A lengthened wheelbase introduced in 1969 improved the 911's sometimes wayward handling, and then in 1970 the engine underwent the first of many enlargements, to 2.2 litres, in which form it produced 180bhp on Bosch mechanical fuel injection when installed in the top-of-the-range 'S' model.

All 911 variants received the 2.4-litre (actually 2,341cc) unit for 1972, by which time the 911S featured the stronger Typ 915 five-speed gearbox and 6"x15" alloy wheels as standard. Porsche had already tried a 2.4-litre engine in endurance racing, the stretch being achieved by lengthening the stroke, but the impetus for the larger unit's introduction came from the USA's ever more stringent emissions laws. Not sold in the USA, the 911S produced 190bhp, some 40 horsepower more than was on offer to American customers. The most obvious external change from the 2.2-litre models was the addition of a small chin spoiler, adopted to improve high-speed stability. Porsche had built 1,430 2.4-litre 911S coupés by the time production switched to the 2.7-litre model for 1974. The '2.7' was the first 911 to incorporate the large impact-absorbing bumpers, disliked by many purists for whom the '2.4' is the last 'old school' 911 and therefor all the more collectible.

This car was first registered on 1st January 1973 in Italy. Finished in dark blue metallic with original black leather interior, the car is offered Italian registration documents and a Porsche certificate confirming its specification. It also comes complete with jack, spare wheel, tyre compressor, and a new set of door cards, while only recently the wheels were professionally refurbished and shod with four new tyres. Described by the owner as in good-to-very good condition throughout, this is a fine example of a much sought-after Porsche model.