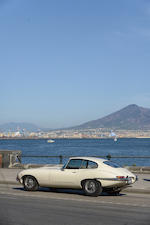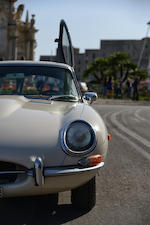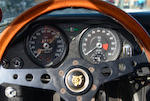 1965 Jaguar E-Type Coupé 4.2 litri, Serie 1
Telaio nr. 1E31380

* Consegnata nuova a Roma, Italia
* In Italia da sempre
* Un solo proprietario dal 1970
* Tutti i lavori, sin dal primo tagliando, svolti presso officine specializzate
* Schema colore originale e "matching number"

Concepita e sviluppata come un'auto sportiva aperta, la Jaguar E-Type ha debuttato al Salone di Ginevra del marzo 1961 con la carrozzeria Coupé. L'auto ha, sin da subito, sucitato un'enorme emozione, addirittura con un applauso nato spontaneo nel momento in cui alla macchina è stato tolto il telone che la ricopriva, con le sue linee sin da subito diventate un classico e una velocità massima di oltre 140 mph (225 km/h). Il progetto aveva preso molto dalla D-Type da corsa, con un telaio piatto che formava la struttura principale ed un telaio tubolare che si estendeva in avanti per sostenere il motore. Il propulsore era il 3.8-litri, con triplo carburatore, che, con il nome di "S" veniva offerto in opzione sulla precedente XK150. Aerodinamicamente superiore allla Roadster, la, Coupé si è anche dimostrata una migliore gran turismo, con una velocità massima molto più elevata ed il beneficio di uno spazio destinato ai bagagli indubbiamente più grande, accessibile attraverso l'ampio portellone posteriore incernierato lateralmente.

Detto del motore, la trasmissione non aveva invece goduto di alcun sviluppo significativo rispetto a quella montata sulla XK150, il cui resistente cambio a quattro velocità Moss è stato mantenuto invariato. Il cambio verrà rimpiazzato solo nell'ottobre del 1964, con il lancio della versione di 4.2 litri, con una versione sincronizzata certamente più facile da usare. Nella stessa occasione, sempre per meglio sfruttare le nuove prestazioni offerte dal 4.2, decisamente un motore dotato di coppia maggiore, tra le altre cose, è stato montato anche un nuovo servofreno Lockheed. Oltre al badge "4.2", l'aspetto esterno dell'automobile era rimasto invariato ma, sotto la carrozeria, c'erano numerosi miglioramenti di dettaglio, principalmente nell'impianto elettrico e in quello di raffreddamento, oltre che nei posti a sedere. La velocità massima è rimasta invariata a circa 150 mph (240 km/h), con il principale guadagno di prestazioni derivante dal motore più grande, legate ad una maggiore flessibilità di utilizzo.

Secondo quanto riportato dal Certificato della JDHT, disponibile in visione, questa E-Type ha lasciato la fabbrica il 21 luglio 1965, quando è stata spedita all'importatore ufficiale Jaguar di Roma, Fattori & Montani. Dal 1970 la vettura è rimasta con l'attuale proprietario, all'epoca proprietario di un'officina Jaguar-Rover a Napoli. Da allora, quindi, la vettura è sempre stata minuziosamente mantenuta e sporadicamente utilizzata per raduni di vetture d'epoca e occasioni speciali. Si calcola che, dal momento del suo acquisto nel 1970, l'auto abbia coperto solo circa 5.000 dei 48.795 chilometri riportati dallo strumento al momento della preparazione di questo catalogo, un dato ritenuto corretto. Come è naturale aspettarsi vista la sua provenienza, l'E-Type è stata regolarmente tagliandata dagli esperti meccanici dell'officina, abituati a prendersi cura di marche diverse come Jaguar, Rover, BMW, Ferrari e Honda. Nel 2014 l'auto ha beneficiato di un "tagliandone" che ha comportato l'installazione di una nuova frizione, nuovi paraolio sia anteriori sia posteriori, nuove cinghie, un nuovo treno di pneumatici, nuovi dischi freno e pistoncini dei freni. Contemporaneamente è stata riverniciata nella sua tonalità crema originale. L'auto è offerta con l'immatricolazione italiana, ASI Targo Oro ed il suddetto certificato JDHT. Una rara occasione per acquistare un'E-Type Coupé italiana da sempre, evidentemente ben curata e con una storia conosciuta ed ininterrotta dal 1970.


1965 Jaguar E-Type Series 1 4.2-Litre Coupé
Chassis no. 1E31380

* Delivered new to Rome, Italy
* Resident in Italy from new
* Present ownership since 1970
* Professionally maintained since acquisition
* Original colour scheme and matching numbers

Conceived and developed as an open sports car, the Jaguar E-Type debuted at the Geneva Salon in March 1961 in Coupé form. The car caused a sensation - spontaneous applause breaking out at the unveiling - with its instantly classic lines and a 140mph-plus top speed. The design owed much to that of the racing D-Type, a monocoque tub forming the main structure while a tubular spaceframe extended forwards to support the engine. The latter was the 3.8-litre, triple-carburettor, 'S' unit first offered as an option on the preceding XK150. Aerodynamically, the Coupé was superior to the Roadster and the better Grand Tourer, enjoying as it did a marginally higher top speed and the considerable convenience of a generously sized luggage platform accessed via the side-hinged rear door.

Its engine aside, only in terms of its transmission did the E-Type represent no significant advance over the XK150, whose durable four-speed Moss gearbox it retained. The latter was replaced when the 4.2-litre engine was introduced on the Series 1 in October 1964, a more user-friendly all-synchromesh gearbox and superior Lockheed brake servo forming part of the improved specification together with the bigger, torquier engine. Apart from '4.2' badging, the car's external appearance was unchanged, but under the skin there were numerous detail improvements, chiefly to the electrical and cooling systems, and to the seating arrangements. Top speed remained unchanged at around 150mph (240km/h), the main performance gain resulting from the larger engine being improved flexibility.

According to the JDHT Certificate on file, this E-Type left the factory on 21st July 1965 and was despatched to the official Jaguar importer in Rome, Fattori & Montani. Since 1970 the car has been cared for by the current owner, who at that time owned a Jaguar-Rover workshop based in Naples in Southern Italy. Since that date it has always been meticulously cared for and only used on classic car events and special occasions. It is believed that since its acquisition in 1970, the car has only covered some 5,000 kilometres out of the believed-genuine total of 48,795 displayed on the odometer at time of cataloguing.

As one would expect of such provenance, the E-Type has been regularly serviced by the dealership's trained mechanics, who are used to caring for marques as diverse as Jaguar, Rover, BMW, Ferrari, and Honda. In 2014 the car benefited from a comprehensive service, which included fitting a new clutch, new front and rear oil seals, new belts, a new set of tyres, new brake discs, and brake pistons. At the same time it was repainted in the original cream livery.

The car is offered with Italian registration documents, ASI Targo Oro, and the aforementioned JDHT Certificate. A rare opportunity to purchase a classic E-Type Coupé - resident in Italy from new - with continuous history from 1970 and which has clearly been well looked after.