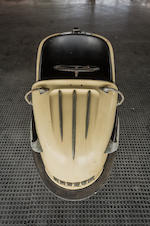 c.1950 Dodgem Bumper Car
* Vetturetta per autoscontro d'epoca, di produzione americana
* Costruita dalla Dodgem Corporation
* Ideale strumento di attrazione o promozionale

Come come la Hoover lo è per gli aspirapolveri, la Dodgem è simbolo di autovetture per autoscontro. Per decenni, la Dodgem elettrica da autoscontro è stata una delle piu popolari attrazioni durante le fiere, sia tra gli adulti sia tra i bambini, come un raro simbolo di "violenza autorizzata" fine a se stessa. L'originale Dodgem con le ruote sterzanti posteriori, è stata l'invenzione di Max e Harold Stoehrer di Methuen, nel Massachusetts, e nonostante, o forse proprio grazie a questo, il suo comportamento imprevedibile ha avuto un successo immenso. Le carenze della Dodgem non sono passate inosservate ai fratelli Lusse – Joseph e Robert – proprietari di un officina meccanica a Filadelfia che forniva compoenenti per le montagne russe, che hanno creato un'alternativa considerevolmente più raffinata, depositando il loro primo brevetto nel 1922. Circa sei anni dopo, hanno trovato una soluzione che ha reso la vettura per autoscontro molto più controllabile, spostando il motore elettrico della Dodgem da posteriore, sotto il sedile, alla parte anteriore della vettura e adottando la trazione anteriore. La Lusse Auto-Skooter, senza dubbio la versione finale della vettura per autoscontro americana, era nata. La Lusse prosperò e, dopo la seconda guerra mondiale, la ditta ha introdotto vari miglioramenti, incluse le carrozzerie in fibra di vetro, i fari, i paraurti ad assorbimento e, anche, le cinture di sicurezza. Nei primi anni '70 l'azienda originale Dodgem è entrata in crisi e marchi stranieri - soprattutto italiani - sono diventati i principali rivali della Lusse. Quella offerta qui è un'automobile straordinariamente originale, del 1950, prodotta dalla compagnia americana Dodgem Corporation di Lawrence, Massachusetts. Verniciata in livrea beige con interno nero, ricorda le auto americane della stessa era e potrebbe essere un'aggiunta divertente in qualsiasi collezione privata, o anche un punto di attrazione in ufficio o nella sala esposizioni.


c.1950s Dodgem Bumper Car

* Classic American bumper car
* Built by the Dodgem Corporation
* Ideal display or promotional tool

As Hoover is to vacuum cleaners, so Dodgem is to bumper cars, the two terms being effectively interchangeable. For decades the electric Dodgem of bumper car was one of the most popular of fairground rides among adults and children alike, being a rare example of licensed violence for its own sake. The original rear-steering Dodgem was the invention of Max and Harold Stoehrer of Methuen, Massachusetts, and despite, or perhaps because of, its unpredictable behaviour proved an immense success.

The Dodgem's shortcomings did not go unnoticed, and the Lusse brothers - Joseph and Robert - who owned a machine shop in Philadelphia that supplied parts for roller coasters, eventually came up with a considerably more refined alternative, filing their first patent in 1922. Some six years later they found a solution that made the bumper car that much more controllable, shifting the electric motor from the Dodgem position beneath the seat to the front of the car and adopting front-wheel drive. The Lusse Auto-Skooter – arguably the definitive American bumper car – had arrived. Lusse prospered, and after WW2 the firm introduced various improvements including glassfibre bodies, headlights, air-filled bumpers, and even safety belts. In the early 1970s the original Dodgem company folded and foreign brands – chiefly Italian – became Lusse's main rivals.

Offered here is a remarkably original 1950s bumper car from the American company Dodgem Corporation of Lawrence, Massachusetts. Presented in beige livery with black interior, it reminds one of American cars of the same era and would be a fun addition to any private collection, or indeed a talking point in the office or showroom.