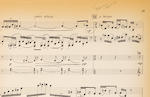 BARBER, SAMUEL. 1910-1981, AND JOHN BROWNING. 1933-2003.
Early working copy of the reduced two piano score for Barber's Concerto for Piano and Orchestra, Op 38, heavily annotated by pianist John Browning with performance notes, as well as a few autograph musical changes to the second piano line in Barber's hand, first and second movements only, in two volumes, folio (346 x 278 mm), 36 and 12 pp, [September, 1962], in black synthetic cloth wrappers, leaves toned in the margins; WITH: second copy of the same, inscribed by Samuel Barber to "Mr. and Mrs. Browning, to remember much excitement and John's wonderful performance," dated "Sept 29, 1962," uniformly bound, the first and second movements bound in one volume, 48 pp total, with some autograph annotations from Barber to Browning, and additional annotations in a 3rd hand, with additional accordion copies of the second movement laid-in at rear, one headed in ink "Barber" and the other "Browning," toning.
Provenance: the estate of John Browning.

JOHN BROWNING'S ANNOTATED WORKING COPY OF THE REDUCED SCORE FOR SAMUEL BARBER'S CONCERTO FOR PIANO AND ORCHESTRA, OP 38, which was written for Browning specifically and earned Barber his second Pulitzer Prize in 1962, as well as the 1964 Grammy for Best Composition by a Contemporary Composer. Browning would revive the piece in for a 1991 RCA Victor recording with the St Louis Symphony, for which he was awarded a Grammy.

In 1959, Samuel Barber received a commission from his publisher G. Schirmer for a piece of music to commemorate their hundredth anniversary, to be performed in the inaugural week of performances at the newly constructed Lincoln Center for the Performing Arts. Barber had long admired the Russian style of piano, and admired the pianist John Browning, rigorously trained in that style. Of Browning, Barber would note: "to have anybody who is such a musician ... who is so plastic in his approach for new work, who is able to change interpretations when we find out something ... doesn't go ... who can change the way Browning can with his musicianship and with his technical equipment is just wonderful." Over the next two years, with Browning in mind, he wrote what became his most famous and well-regarded piano concerto, delivering the final section just 3 weeks before the scheduled performance, at which point Barber's plasticity served them both well. There was little time for rehearsal, and they made changes right up to the day of the performance, September 24, 1962.

The annotations in the present manuscript, similar in composition and content to Heyman H-132.E, are mainly in tempo and style, in Browning's autograph, and have a descriptive flair, such as sorrowful- sighing," "shimmering – aerial," or "arrogant." There are also more traditional notes also in autograph, including "sost. ped" and "poco meno," as well as questions, posed to himself or to Barber, "twice as slow?" or a simple question mark over the printed direction "poco rall." Toward the end of the first movement, there are a number of changes in Barber's hand to the second piano (orchestral) line, changes which would appear in the printed Schirmer score.

The second copy of the manuscript, this one inscribed from Barber to "Mr. and Mrs. Browning," and dated September 29, 1962. Scattered throughout the volume are autograph notes from Barber to Browning, including "J- less pedal" and "J- start more definitively," as well as the note "don't like 1-2-3-4-5-6" over the piano part just before the introduction of the orchestra.

Samuel Barber was one of most important American composers of the 20th century, and his Piano Concerto one of his most important works; in these working manuscripts, we get a glimpse of the process behind the Barber-Browning relationship, one of the great collaborations of the 20th-century. Heyman, Samuel Barber: The Composer and His Music, (Oxford, 1992). Heyman, Samuel Barber: A Thematic Catalogue of the Complete Works, (Oxford, 2012). And additional thanks to Barbara Heyman for her gracious help in reviewing and cataloguing these scores.