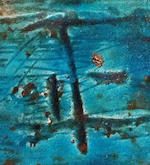 A very rare pair of monumental fahua Buddhist lions on stands
Late Ming Dynasty, 16th/17th century
The imposing pair, each superbly modelled as male and female beasts seated on their haunches with wide bulging eyes and wide gaping mouth, wearing a tassel-hung collar around the neck, the mane, thighs and flames issuing from the powerful body glazed amber, the female with the right forepaw over a playful cub, the male with the left forepaw over a brocade ball, both creatures resting on a square and waisted lotus base elaborately carved with bands of peony scrolls, petal lappets and ruyi, the central constricted section decorated with a rabbit, deer, recumbent cow and qilin, the lower section of one base a wood replacement and painted to match. 203.3cm (80in) high overall. (4).
Footnotes