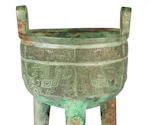 A very rare archaic bronze ritual food vessel, Ding
Late Shang Dynasty, 12th/11th century BC, inscribed Yu
The deep round body flanked by two upright loop handles and supported on three cylindrical legs, crisply cast on the sides with three taotie masks intersected by flanges, each with prominent eyes, upright horns and small claws, beneath a band of twelve stylised kui dragons on a leiwen ground, the wall of the interior cast with a pictogram, the bronze covered with an attractive olive patina with areas of encrustation, Japanese wood box. 21cm (8 2/8in) high. (2).
Footnotes