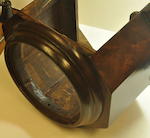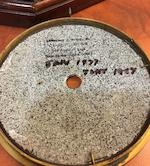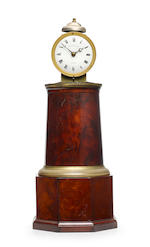 A rare Simon Willard lighthouse timepiece
Date: Circa 1820-1822
Movement: Weight driven timepiece surmounted by a decorative bell, arched brass plates joined by four pillars, now with Brocot escapement, but apparently retaining the remainder of the original train, modified back cock for current spring pendulum suspension, (original?) iron rod pendulum with pierced brass bob and rating nut modified with a hook for current suspension, later cylindrical weight
Dial: White enamel within gilt brass bezel, minute ring enclosing roman chapters and signed "Simon Willard's Patent," blued Breguet hands
Case: Molded octagonal base (formerly with feet, replaced back door), tapered column with gilt brass ring around its base, supporting a circular sheet iron movement rest and glass dome
Size: height 27 ½ in. including dome, movement plates 5 5/8 in. high, dial and bezel 4 7/8 in. diam.

Footnotes