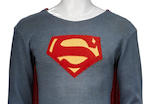 A George Reeves costume from Adventures of Superman
Superman, Inc. 1952-1958. Smoky blue wool long-sleeved leotard with a stitched-on red and yellow felt Superman "S" logo on the center chest, bearing an interior "Western Costume Co." label inscribed "No. 99-2471-1 / Name: George Reeves / Chest: 44," with a red silk cape attached to the collar of the tunic and a similarly stitched felt Superman "S" logo on the cape, with matching form-fitting stirrup pants and a pair of red trunks.

Adventures of Superman, a novelty television series based on the DC comic book character, became a phenomenon when it first aired in 1952. With television in its early stages, children and adults alike were captivated with its elements of both science fiction and crime fighting and its message of "justice and the American way." The barrel-chested George Reeves was perfect for the part: kind and gentle as "Clark Kent" and forceful yet fair as "Superman." Reeves, at first resisting the role because he wanted to pursue his film career, came to embody the character and was genuine in his desire to send a positive message to children (he even quit smoking to set a good example). Actors Noel Neill as "Lois Lane" and Jack Larson as "Jimmy Olsen" were his supportive sidekicks at "The Daily Planet" newspaper.

Adventures in Superman was broadcast in black and white for the entire run of the series; however, from 1954-1957, the program was shot in color. Reeves' first "Superman" costume was brown, white, and grey, the colors needed for the black and white broadcasts. Once the show began shooting in color, however, the costume changed to the one offered here in colors of red, yellow, and blue. Audiences only got to see the color episodes starting in 1965, when the show aired in reruns.

Adventures of Superman was preparing for another season when George Reeves unexpectedly died from a gunshot wound to the head. Although ruled a suicide, details regarding the death remain a mystery.

Adventures of Superman was the catalyst that spawned a genre of comic book hero films and television shows that has only increased with time. Others have played "Superman" successfully, but none has become quite as synonymous with the Man of Steel as television's very first "Superman," George Reeves.

Accompanied by a color photograph of George Reeves wearing the costume.

Provenance: Gift of DC Comics to Robert Westerfield; sold by him to another; acquired by the present owner.