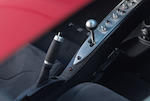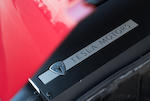 2008 Tesla Roadster
VIN. 5YJRE11B881000272

3-Phase 4-Pole AC Induction Electric Motor
3.0 80kWh Battery
288bhp and 295ft.lb. of torque
BorgWarner Single-speed Transmission
4-Wheel Independent Suspension
4-Wheel Disc Brakes

*Just 414 miles on the odometer at the time of cataloging
*The 272nd of the first Tesla Roadster run of just 500 cars
*Recently upgraded by Tesla with new improved R80 3.0 batteries
*A sports car that marked the beginning of an era

THE TESLA ROADSTER

Named after Nikola Tesla, a genius who, more than 100 years ago at the dawn of the electric age, invented alternating electrical current, the radio, and the AC motor, among other things, Elon Musk's Tesla Motors has made quite an impact on the automobile industry and the cars of today. Introduced at the 2006 San Francisco Auto Show, the Tesla Roadster was Musk and teams first car, and first highway legal serial all-electric car to use lithium-ion battery cells and the first production all-electric car to travel more than 200 miles per charge. Based on the Lotus Elise, the Tesla Roadster was built at Tesla's Menlo Park plant, as is a high-performance sports car motivated by a completely electric powertrain. The innovative car was featured on the cover of Time Magazine in December of 2006 as the recipient of the magazine's 'Best Inventions 2006 - Transportation Invention award'. The first 100 Tesla Roadsters sold out in less than three weeks, and general production began on March 17, 2008, with just 500 of these first-generation Roadsters to be built. The Tesla Roadster marked the beginning of an era, and remains a very sporty and entertaining car to drive.

THE MOTORCAR OFFERED

Offered here is a superb example of the 1st generation Tesla Roadster, with just over 400 miles from new. This Roadster was kept in a private garage among other performance vehicles until 2017, by just one owner. Today, Tesla offers battery upgrades for Roadster owners, of which this example recently received the ultimate R80 3.0 upgrade to the tune of $30,000.00. All work was carried out by trained Tesla technicians. Finished in the factory Radiant Red, the car is offered with the original owner's manual set, alternate soft top, tool kit, 3 key set and wall-charger. This Roadster is the 272nd of just 500 produced, and is ready to be enjoyed, while on its way to becoming a future classic.