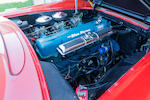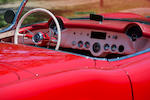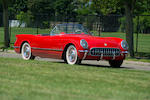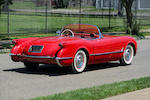 1954 Chevrolet Corvette
Chassis no. E54S002706
Engine no. 05I58 I6 F54YG

235ci OHV Inline 6-Cylinder Engine
3 Carter Carburetors
150bhp at 4,200rpm
2-Speed Powerglide Automatic Transmission
Front Independent Suspension - Live Rear Axle
4-Wheel Drum Brakes

*Desirable Early Corvette
*Rare original red color scheme
*Excellent Harley Earl Styling
*Great car for weekend cruising.
*A true piece of Americana

THE CHEVROLET CORVETTE

The sports car boom was in full swing by the early 1950s, fueled by the desire of American GIs returning from WWII who wanted something like the lithe Jaguars and MGs they had seen over-seas. American manufacturers like Chevrolet therefore felt pressure to introduce a competing model. Introduced in 1953 at the Motorama display in New York City, the Harley Earl-designed Corvette started life as two seater sports car powered by simple powerful 6 cylinder engine. It was built with a fiberglass body over a steel frame. However, thanks to its more pedestrian un-derpinnings, the Corvette was available at an accessible price, and a strong dealer network meant that buyers would not have to endure long waits for British or Italian parts to come from over-seas.

For 1954, production was moved to the St. Louis plant in expectation of high demand. The over-head valve 235ci Blue Flame Six, which already had dual exhausts and solid lifters for perfor-mance, was upgraded with triple Carter carburetors and a new camshaft for increased power. Unfortunately, sales were still below expectations, and only 3640 were built for that year, nearly resulting in the Corvette's demise.

Luckily for the Corvette, there was a second chance. Thanks to the introduction of the Thunder-bird, the Chevrolet 265ci V8, and Zora Arkus-Duntov's influence, the very first Corvettes did not fade away. Instead, the new V8-powered Corvette was sent back into battle in 1955, making these earlier cars the genus of what is arguably the most popular American sports car.

MOTORCAR OFFERED

This particular 1954 Corvette is job number 1706. In 1953, the models first year, 300 Corvettes were built. The only color available was white. The 1954 models were very similar, but black and red finishes were also available. This car is one of 100 Corvettes sold in 1954, finished from the factory in Sportsman's red lacquer the original owner and details of the cars first 7 years are un-known.

In 1961, the car was sold to a Pennsylvania owner. According to an old title on file for the car, it was owned by Mr. James Moore, of Philadelphia, in 1971. The remainder of the cars history is not known. In 1990 the car had a body off restoration. The original factory color scheme of Sportsman Red acrylic lacquer was retained. The chrome was redone by Martins Chrome of Phil-adelphia. Mechanicals, including the engine, original Powerglide transmission and braking sys-tems have been serviced and are in good order.

A few years ago the car was purchased by the consignor a passionate Corvette collector. Today it is in excellent driving condition, and the restoration still shows well. The early Corvette is one of the icons of American design. It has a substantial national following. This rare red on red Corvette will bring years of enjoyment to its next owner.
Saleroom notices
Please note that this vehicle is partially restored. Among the items we note are missing, are the door cards, trunk latch, and hood latch. Buyers are advised to satisfy themselves with the condition of the car prior to bidding.