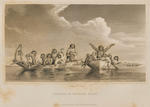 BEECHEY, FREDERICK WILLIAM. 1796-1856.
Narrative of a Voyage to the Pacific and Beering's Strait, to Co-Operate with the Polar Expeditions: Performed in His Majesty's Ship Blossom ... in the Years 1825, 26, 27, 28. London: Henry Colburn and Richard Bentley, 1831.
2 volumes. 4to (274 x 209 mm). xxi, [3] errata, directions to binder, 392; vii, [1] directions to binder, [393]-742, [2] pp publisher's ads. 23 engraved and lithographed plates, 3 maps (2 folding), errata slip in volume 2. Contemporary calf over marbled boards, spines with gilt-lettered black leather labels. Foxing to plates and occasionally to text margins, offset from folding maps, volume 1 with half-title and front flyleaf detached, upper joints cracked, tape repairs to spines, light shelfwear.
Provenance: Thomas Peers Williams; Allen L. Chickering (bookplates).

FIRST EDITION. Beechey's book "provides an important account of Monterey and San Francisco before the American conquest ... Beechey described the Eskimos of the north and relates his meeting with John Adams, last survivor of the mutiny on the Bounty, who gave Beechey a lengthy account. In the course of this voyage Beechey discovered several islands in the Pacific" (Hill). "Captain Beechey and Sir John Franklin had arrived within fifty leagues of each other, when the latter was compelled by the weather to return. One of the most valuable of modern voyages, containing a most interesting visit to Pitcairn's Island, the coast of California, etc" (Sabin 4347). Cowan II p 42; Hill p 18; Howes B309; Lada-Mocarski 95; Zamorano 80 4.