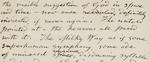 WHITMAN, WALT. 1819-1892.
Autograph Manuscript, 1 p, bound in:
The Complete Writings of Walt Whitman Manuscript Edition. New York and London: G.P. Putnam's Sons for The Knickerbocker Press, 1902.
10 volumes. 8vo (244 x 174 mm), manuscript leaf bound in volume one, being an passage from "Hours for the Soul" in Specimen Days & Collect, with some revisions in Whitman's own hand. Limited edition, number 11 of 32 sets, signed on page G.P. Putnams Sons, followed with a certification leaf signed by Jeanette Gilder. Contemporary gilt-stamped brown crushed morocco with decorative floral motif, top edges gilt, brown silk endpapers.

MANUSCRIPT LEAF FROM SPECIMEN DAYS & COLLECT BOUND INTO AN EXQUISITE SET OF THE POSTHUMOUSLY PUBLISHED COMPLETE WRITINGS. Undertaken by Whitman's friends and literary executors Horace Traubel, Richard Maurice Bucke, and Thomas Harned, each set contained one manuscript page in Whitman's hand, drawn from his journals and literary drafts. Here crossed out phrases reveal the author's writing process.

The text of the manuscript leaf reads: "The spirit's hour—religion's hour—the visible suggestion of God in space and time—now once [revealed, crossed out] definitely indicated, if never again. The untold pointed at—the heavens all paved with it. The Milky Way, as if some superhuman symphony, some ode of universal [space, crossed out] vagueness, disdaining syllable and sound—a flashing glance of Deity, address'd to the soul [silently, crossed out]. All silently—the indescribable night and stars—far off and silently.

THE DAWN.[—The East., crossed out] July 23 '78.—This morning, between one and two hours before sunrise, [the miracle, crossed out] a spectacle wrought on the same background, yet of quite different beauty and meaning. The moon well up in the heavens, and past her half, is shining brightly. The air and sky of that [pure, crossed out] cynical-clear, Minerva-like quality, virgin cool—not the weight of sentiment or mystery, [or opulence, crossed out] or passion's ecstasy...." Myerson B4.