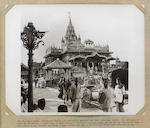 PHOTOGRAPHY: AMERICAN GI'S in INDIA.
WADDELL, CLYDE. A Yank's Memories of Calcutta. Houston: Waddell, 1946.
Oblong folio (254 x 305 mm). Printed introduction, 60 8 x 10 inch gelatin silver prints corner mounted to captioned pages. Original black cloth album.

Clyde Waddell worked as photographer on the Phoenix Magazine, an army picture weekly, from 1943 to 1945. Includes: fine views of Calcutta (Chowinghee Street, panoramas taken from the top of Hooghly Bridge, the Hindustan Building, the Burra Bazar on Harrison Street, Juma Masjid mosque, Nimtolla burning ghat); bustling street scenes (buffalo herds, beggars, snake charmers, "a native madman... accosting cars"), American servicemen interacting with the locals (street vendors, bookstall holders "specialising in lurid novels", brothel keepers).