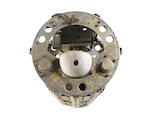 U.S. Airforce School of Aviation Medicine Rhesus monkey biopack
Aluminum frame with centrally mounted harness/seat for a rhesus monkey in fiberglass and foam rubber with a mesh harness. 33 inches high and 17 inches diameter, with corresponding fiberglass shell, 18 inches in diameter. In front of the harness is an aluminum lever used to activate a camera and two sockets for flash bulbs. Beneath the harness is an oxygen tank in green painted metal, and a battery of five transistor amplifiers by Taber Instrument Corporation.

The Little Joe Rocket was named by Mercury Spacecraft designer Maxime Faget after the slang term for a roll of four in craps, which at first was based on a cross-sectional drawings of the rocket engine which resembled the double deuce configuration of two dice. Later, with the rocket's four large fins, the name stuck. The Little Joe was used as a less expensive way to test the launch escape system and heat shield among other things for Project Mercury as the Atlas Rockets cost $2.5 million each.

NASA Space Task Group collaborated with the Air Force School of Aviation Medicine in San Antonio, Texas on 2 of the 8 Little Joe missions to include a biological package. The forth mission, Little Joe 2, included the rhesus monkey Sam, an acronym of School of Aviation Medicine. LJ-2 was launched on December 4, 1959 and traveled to an altitude of 53 miles. Sam in his "biopack" experienced weightlessness for three minutes. Mercury astronauts Alan Shepard and Virgil Grissom traveled to Wallops Island, Virginia to view the launch and were particularly interested in how Sam fared. When the capsule was recovered in the Atlantic Ocean, they found Sam to be in excellent condition, having withstood Mach 6 flight and all of the rigors of rocket travel.

Miss Sam, Sam's female counterpart was launched in LJ 1-B on January 21, 1960. The rocket projected to an altitude of just under 9 miles before the escape rocket fired in order "rescue" the Mercury capsule replica from a simulated booster failure. Miss Sam was recovered and also found to be in excellent condition. Based upon the feedback of Miss Sam pulling a lever every time a light shown, she was thought to be badly shaken when the escape rocket fired, but recovered within 30 seconds. The launch was a success in that the sequence system and capsule landing systems were shown to work perfectly.

The present biological package (biopack), which is an aluminum-framed tubular structure, includes the inner harness suit into which the rhesus monkey was sewn as well as a lever-operated camera, two areas for flash bulbs, an oxygen tank and a battery of 5 transistor amplifiers below. Also included is the fiberglass shell that covered the aluminum structure. Markings on the side of the shell are mostly illegible, but include the insignia of the U.S. Air Force School of Aerospace Medicine, the words Aerospace Medicine - Medical Division, and the partly legible [Brook]s Air Force Base, Texas. It is uncertain whether this was used by Sam or Miss Sam, or both, and whether or not it was flown, but the unit appears to have been fully functional and to have been used.