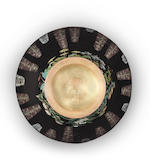 An important and early cloisonné-enamel ovoid vase
By Namikawa Yasuyuki (1845-1927), Meiji era (1868-1912), late 19th century, circa 1890s
Delicately worked in silver wire of varying gauge with a continuous design of purple and white fronds of wisteria trailing vertically and asymmetrically around the shoulder from beneath scrolling branches and overlapping green leaves above assorted clumps of wild flowers including kiku (chrysanthemum), nadeshiko (pink), tanpopo (dandelion) and suisen (narcissus) around the base, the waisted neck decorated with a wide band of repeated stylised foliate motifs interwoven among karakusa ('Chinese grasses'), the upper rim and foot with a narrow band of hanabishi shippo-zunagi (flowery-diamond linked-jewels), the mouth with a band of lappets enclosing a repeated pattern of white and red half-chrysanthemum heads, all reserved on a midnight-blue ground, applied with a gilt-brass metal foot and rim; signed directly on the base plate with engraved signature Kyoto Namikawa. 22.2cm (8¼in) high.
Footnotes
Saleroom notices
Please note that this vase is probably made by one of the craftsmen who worked in the studio of Namikawa Yasuyuki. Similar examples are known to exist by an artist who was known as Shibata.