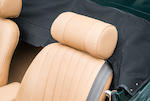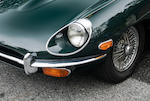 1970 Jaguar E-Type Series 2 4.2 Liter Roadster
Chassis no. 1R 13285
Engine no. 7R 12119-9

4,235cc DOHC Inline 6-Cylinder Engine
3 SU Carburetors (see text)
265bhp at 5,400rpm
4-Speed Manual Transmission
4-Wheel Independent Suspension
4-Wheel Disc Brakes

*Offered from long term ownership
*Presented in the archetypal British livery
*Excellent example for rallies and tours such as the Copperstate 1000
*Former concours award winner
*Offered with Jaguar Heritage Certificate

THE JAGUAR E-TYPE

Introduced in 3.8-liter form in 1961, the Jaguar E-Type caused a sensation when it appeared, with instantly classic lines and a top speed of 150mph. Nowadays it would be impossible for a single model to cause such a stir but here was a civilized production sports car that looked like a Le Mans prototype and could outperform just about anything else on the road.

The first significant upgrade occurred in October 1964 with the launch of the 4.2-liter version. Along with the bigger engine came a user-friendlier gearbox and servo brakes. From September 1968 Series II E-Types, incorporating safety upgrades previously fitted only in America, were released worldwide. In addition to revised lighting and switchgear, the front air intake was larger and sat behind a full-width bumper.

THE MOTORCAR OFFERED

In the Spring of 1970 Jaguar delivered this E-Type to their U.S. counterpart British Leyland, New York guised in Fawn paint and with a striking contrast of Cinnamon interior and a black top, as verified by its Heritage certificate. It would seem likely to have spent its life on the East Coast as it is known by title to have resided in New Jersey in 1988 when it moved into the first of three latter Pennsylvanian ownerships.

Then owned by Hoffman Classic Cars of Easton, it quickly passed to Andrew (Andre) Kantor in the same town. 8 years later, more than two decades ago the current long term owner purchased the Jaguar.

Arriving in this ownership, the car was by now in red livery. Initially work was carried out to match the engine area to the rest of the car, the engine rebuilt and brakes also. All of this was carried out by expert Terry Lippincott, of Sinking Spring, Pennsylvania.

After a decade of showing the E Type, a decision was made to return the car to Lippincott and to go further with its condition. Preferring the classic British Racing Green over tan scheme of so many U.K. cars, the Jaguar was repainted, at the same time the chrome was refinished, new wheels and tires were fitted and a new windshield installed. Again in terms of preference a few slight adaptions were made to its aesthetics/performance. The stock twin Strombergs were switched for three SUs, Series 1 style exhaust resonators was fitted and sensibly an enlarged Howe aluminum radiator was exchanged for the perennially deficient original. Another nice feature was to have a zip down rear window fitted to the top. The car is presented with the Jaguar Daimler Heritage Trust Certificate, owner's manual and complete tool kit.

All told the expense for this work was considerable, heading towards six figures across the two rebuilds. Today, it remains in very good order both in terms of presentation and road worthiness. Frequently it has been shown at the Delaware Valley Jaguar Club Concours at the Oakborne Mansion where it has always garnered praise.

With good looks and preparation this is an eminently usable XKE ideal for the coming Summer.