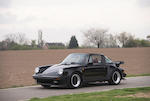 One of only 3 examples delivered new to the Gulf States (EU-specifications)
1989 Porsche 911 Type 930 Turbo Targa 5-speed G50 gearbox
Chassis no. WPOZZZ93ZKS010076
Engine no. 67K00303
•Extremely rare and desirable 'one-year-only' model with the five-speed G50 gearbox
•One of only 26 European-specification Turbo Targas produced for 1989
•Currently showing slightly over 109,000 kilometres
•Presented in generally excellent condition

'The new engine turned out to have enormous marketing power. It became a real status symbol to have that little word 'turbo' on your rear deck, and this fashion spread right across the motor industry.' - Peter Morgan, 'Original Porsche 911'.

A 'modern classic' if ever there was one, Porsche's long-running 911 sports car first appeared at the 1963 Frankfurt Show as the '901' but shortly after production proper commenced in 1964 had become the '911' following Peugeot's complaints about the use of '0' model numbers. The preceding Type 356's rear-engined layout was retained but the 911 switched to unitary construction for the bodyshell and dropped the 356's VW-based suspension in favour of a more modern McPherson strut and trailing arm arrangement. In its first incarnation, Porsche's single-overhead-camshaft, air-cooled flat six engine displaced 1,991cc and produced 130bhp; progressively enlarged and developed, it would eventually grow to more than 3.0 litres and, in turbo-charged form, put out well over 300 horsepower.

Much of the Porsche 911's development had resulted from the factory's racing programme, and it was the then Group 4 homologation rules, which required 400 road cars to be built, which spurred the development of 'Project 930': the legendary 911 Turbo. In production from April 1975, the Type 930 Turbo married a KKK turbocharger to the 3.0-litre RSR engine, in road trim a combination that delivered 260bhp for a top speed of 250km/h. But the Turbo wasn't just about top speed, it was also the best-equipped 911 and amazingly flexible - hence only four speeds in the gearbox - being capable of racing from a standstill to 162km/h in 14 seconds.

The Turbo's characteristic flared wheel arches and 'tea tray' rear spoiler had already been seen on the Carrera model while the interior was the most luxurious yet seen in a 911, featuring leather upholstery, air conditioning and electric windows. The Turbo's engine was enlarged to 3.3 litres for 1978, gaining an inter-cooler in the process; power increased to 300bhp and the top speed of what was the fastest-accelerating road car of its day went up to 257km/h. Originally sold only as a closed coupé, the Turbo became available for the first time in both Targa and cabriolet forms in 1988.

More refined than hitherto yet retaining its high performance edge, the Turbo sold in the thousands, becoming the definitive sports car of its age. When Porsche revealed that the original 911 would be replaced by the new Type 964 in 1990, dealer stocks of the existing Turbo model sold out overnight. Production of the Type 930 ceased in September 1989, and there would not be another 911 Turbo until the Type 964 version was launched in September 1990.

One of only three European-specification examples delivered new to the Gulf States, chassis number '10076' was completed on 8th December 1988 and is an early Turbo Targa example for model year 1989, a very rare model equipped with the desirable five-speed G50 gearbox, newly introduced on the Type 930 for 1989. That this car should be delivered new to the Middle East is not surprising given its exotic specification - a Turbo with the Targa body - and high price (the equivalent of €65,000, so very expensive at the time).
The Porsche was delivered in May 1989 to its first owner by Porsche Ali & sons Motor in Abudabi, a little under 6 months after its completion date, and was originally finished in black with a 'weinrot' (wine red) leather interior, a restrained yet stylish choice. Several options were specified, including a heavy-duty battery; Auto Lock differential (an option much sought after by Porsche purists); short shift; and a Blaupunkt Toronto radio.

The car has been serviced regularly at Porsche Ali & sons from new until 1997 and at Behbehani Centre until 2008, by which time it had covered some 107,000 kilometres. In 2008 the car moved to France and since then has been driven only occasionally. Today this desirable 930 Turbo Targa has benefited from cosmetic and mechanical works (Porsche Centre Liège) bringing it to generally excellent condition. Accompanying documentation consists of a French Carte Grise; the service booklet; Porsche Certificate of Authenticity confirming factory specifications, options and matching colours/numbers; and all books/manuals in their original pouch.

Displaying a little over 109,000 kilometres on the odometer, this ultra-rare 930 Turbo Targa 5-speed G50 is an exciting opportunity not to be missed by any serious Porsche collector or enthusiast.