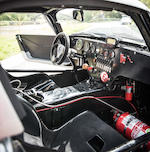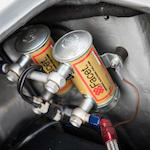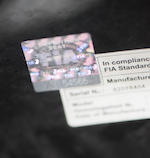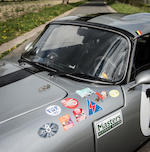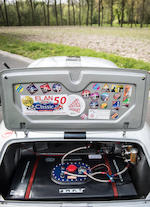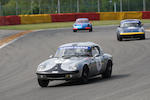 Ex-Simon Hadfield, Peter Austin, Michael Schryver, Christophe Van Riet
1965 Lotus Elan to 26R FIA specification
Chassis no. 26/4839
•Extensively prepared to 26R Specifications by Gipimotor
•Rebuilt during 2009-2010
•Full FIA papers valid until 2026
•Extensive history file with invoices and race results
•Road registered
•Race ready, very competitive and eligible for many prestigious events such as Tour Auto, Spa 6 Hours, Le Mans Classic, Masters series, etc

An Elite-type glassfibre monocoque having proved insufficiently rigid when applied to an open car, Lotus boss Colin Chapman came up with a simple but effective steel backbone frame for the company's new Elan sports car. Launched in October 1962, the Elan was available as a complete car or a kit at reduced price. Suspension was independent all round with unequal-length wishbones at the front, while a wide-based lower wishbone and modified Chapman Strut, ¬ as used in Lotus Grand Prix cars, ¬was employed at the rear. Triumph Vitesse rack-and-pinion steering was used and there were Girling disc brakes all round. The Elan's engine was a highly modified 1,498cc (later 1,558cc) Ford Cortina unit incorporating Lotus's own twin-camshaft cylinder head, and both the gearbox and differential came from Ford. Introduced in November 1964, the Series 2 featured numerous detail styling changes and improved brakes.

As one would expect, given its background and specification, the Elan proved to be a highly capable circuit racer. Capitalising on the numerous successes achieved by privately entered cars, Lotus introduced their own version - the '26R' - in 1964. A stiffened chassis, up-rated suspension, wider wheels, lightweight coachwork, and a BRM-built engine were among the many features distinguishing the 26R from its road-going counterparts. Some of the top Grand Prix drivers of the day were associated with the Elan 26R including Jim Clark, Jackie Stewart, Jochen Rindt, Stirling Moss, and Jackie Oliver. In UK club racing its foremost exponent was John Miles, who won every race at the Goodwood Easter meeting in 1966 driving a Willment-entered example. The factory's record keeping was less than perfect and so it cannot be known for certain how many 26Rs were produced, the official figures being 52 1st-series cars and 45 of the Series 2. Approximately 30 genuine examples are known to survive.

Offered here is an original Lotus Elan Series 2 roadster that has been converted to 26R specification for historic racing. Originally built by its owner, Simon Hadfield, the Elan was owned in 1992 owned by Peter Austin, who registered it with the Historic Sports Car Club (see Vehicle Identity Form dated June 1992 on file). This form also lists Simon Hadfield and Michael Schryver as previous owners, both of whom are believed to have raced the car previously. The Elan was then owned by a Mr Marshall until it was sold in March 1996 and exported to Germany for competition use.

In 1997, the car was registered by Georg Rudolf Penzkofer, and stayed in Germany until 2006. Later it came to Belgium and in 2008 was bought by Christophe Van Riet, well-known historic car racer and owner of Brussels-based Gipimotor. Van Riet then had the car rebuilt for his personal use by Gipimotor to maximise its potential, exclusively using parts supplied by marque specialists Tony Thompson Racing (TTR). Specification highlights include a strengthened lightweight body, 26R chassis, fully adjustable TTR suspension (with race/rally settings); full 26R/TTR cooling system; TTR straight-cut close-ratio gearbox; 80-litre fuel cell; two FIA-specification Tillett racing seats; FIA plumbed-in fire extinguisher; TTR Salisbury heavy-duty 4.12:1 differential and driveshafts; lightweight hubs; and 13" magnesium alloy wheels shod with Avon road-racing tyres. The car has a very strong 1,588cc engine, dynamometer tested at a reliable 175bhp, which has been run for less than 10 hours since being rebuilt. Over €60,000 was invested in this Elan, and since the rebuild's completion in 2010 it has proven very competitive, securing some excellent results for Van Riet, including a 4th place finish in 2011 in the Spa Summer Classic.

In 2014, the Lotus was purchased by the current owner, who has raced it only occasionally and left it in the same specification as prepared by Van Riet. Fresh FIA homologation has been obtained, which is valid until 2026. A service was carried out in September 2016 (see invoice for €4,200 on file) and the car has only been driven some 20 kilometres since. Presented in generally very good condition, both inside and out, it is 'on the button' and ready to race.

Accompanying documentation consists of sundry invoices and receipts; various race results and period photographs; extensive correspondence with Tony Thompson Racing; various Tony Thompson Racing price lists; RACB Attestation; fuel cell certificate (valid until 2019); old German Fahrzeugbrief (copy); Historic FIA-papers (1992 and 1997); HSCC Vehicle Identity Form (1992); FIVA Identity Card (2008); photographs of the engine overhaul; and an FIA Historic Technical Passport for GTS 10 valid until 2026. The car also comes with a reprint of Mike Taylor's book 'Lotus Elan - The Complete Story'. A spare radiator, spare exhaust, and a quantity of tyres are all included in the sale.

A competitive car and potential GTS 10 class winner in the right hands, this Elan is eligible for a wide variety of race championships including Masters, GT & Sports Car Cup, Peter Auto Le Mans Classic, Tour Auto, Modena Cento Oro, and Legendary Circuits, as well as prestigious events like the Le Mans Classic, Spa 6 Hours, Silverstone Classic, Zandvoort Historic Grand Prix, Copenhagen Historic Grand Prix, Angoulême Circuit des Remparts, etc.
Road registered, this Elan comes with Belgian Registration documents.
Saleroom notices
Please note that the hardtop of this car has been damaged during transport and will be repaired by the vendor after the auction.