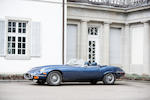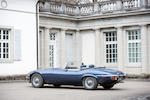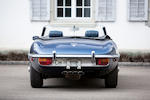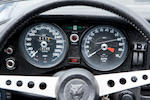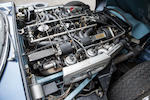 1972 Jaguar E-Type Series III V12 Roadster
Chassis no. 7S7474SB
Body no. 4S2219

•Supplied new to the USA
•Manual transmission
•Registered in Switzerland

'The V12 E-Type was at its best as a long-distance, high-speed tourer. There were few cars which could match its top speed and 120/130mph cruising ability, even amongst the exotica from Italy, and none at all the silence and smoothness of its engine.' – Paul Skilleter, The Jaguar E-Type.

One consequence of the E-Type's long process of development had been a gradual increase in weight, but a good measure of the concomitant loss of performance was restored in 1971 with the arrival of what would be the final version - the Series III V12. Weighing only 80lb more than the cast-iron-block 4.2-litre XK six, the new all-alloy, 5.3-litre, overhead-camshaft V12 produced 272bhp, an output good enough for a top speed comfortably in excess of 140mph. Further good news was that the 0-100mph time of around 16 seconds made the V12 the fastest-accelerating E-Type ever.

Other mechanical changes beneath the Series III's more aggressive looking exterior included ventilated front disc brakes, anti-dive front suspension, Lucas transistorised ignition and Adwest power-assisted steering, while automatic transmission was one of the more popular options on what was now more of a luxury Grand Tourer than out-and-out sports car. Flared wheelarches, a deeper radiator air intake complete with grille, and a four-pipe exhaust system distinguished the Series III from its six-cylinder forbears, plus, of course, that all-important 'V12' boot badge. The interior though, remained traditional Jaguar.

Built in two-seat roadster and '2+2' coupé versions, both of which used the long-wheelbase floor pan introduced on the Series II '2+2', the Series III E-Type continued the Jaguar tradition of offering a level of performance and luxury unrivalled at the price.

This Series III roadster despatched from the factory to the British Leyland distributor in New York, USA on 16th June 1972, and was originally finished in light blue with dark blue interior. Now fitted with a 'km/h' speedometer, the car has been restored by a specialist in Winterthur, Switzerland and is finished in metallic blue (a Mercedes-Benz colour) with original dark blue interior and black soft-top. Accompanying documentation consists of a Jaguar Heritage Trust Certificate and Swiss Carte Grise.

Please note this motor car is subject to the reduced local import tax should it remain in the EU.

Although the car also comes with a Swiss Carte Grise, ASI document, and a Carta di Circolazione, please note the car will be subject to re-import tax should it return to Switzerland with a new owner.


Saleroom notices
Please note that the chassis number is not complete: UC1S20793