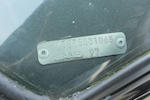 1972 Saab Sonett III Coupé
Chassis no. 977 2500 1063
•Rare SAAB sports car
•Formerly the property of the Belgian Saab importer
•1.7-litre model
•Extensively restored in the mid/late 2000s

After a succession of relatively low volume Sonett models, intended principally for racing, series production finally got underway with the arrival in 1967 of the Ford-engined Sonett V4. The latter's installation in the previously two-stroke-engined Sonett necessitated an unsightly bonnet bulge, prompting a redesign that emerged as the Sonett III. Introduced in 1970, the Sonett III was a pretty glassfibre-bodied two-seater coupé styled by the Italian designer, Sergio Coggiola, with production engineering adaptations by Swedish designer, Gunnar A Sjögren. The Sonett III was powered by the 1,500c Ford V4 engine up to 1971 when the 1,700cc unit was standardised, and by the time production ceased in 1974 a total of 8,368 cars had been made. The reason for Sonett's discontinuation was the cost of making it meet all new United States safety and emissions legislation.

Delivered new in the USA and original finished in yellow, this 1,700cc Sonett III was registered on 15th September 1972 in California by its first owner, Mr Michael James Kirch, as evidenced by the Californian Temporary Identification and the original maintenance booklet, both on file. The history of the car is particularly well documented with dozens of invoices and documents evidencing the trail of ownership and the great care taken of it. The SAAB's last US owner, Mr Keith Corey, sold the car in 2005 to a prominent Belgian collector.

As the country's former Saab importer, this gentleman had the car brought back to European specifications and extensively restored, changing the colour to black and having the interior re-trimmed in beige leather at a cost of approximately €15,000 (see photographs and invoices on file). The gearbox was overhauled in 2011. Acquired by the vendor in early 2014, this Sonett has since been enjoyed on numerous occasions, and recently caught the attention of a journalist who devoted almost a full page to the car in a regional newspaper. The car is equipped with a fully functioning Tripmaster and is ready to compete in regularity events.

Registered in Belgium, the Sonett is offered with a period brochure and other related information; the original service book and last original Californian title; numerous period service invoices; assorted pre-restoration photographs; rally entry document; and a FIVA identity card from 2008.